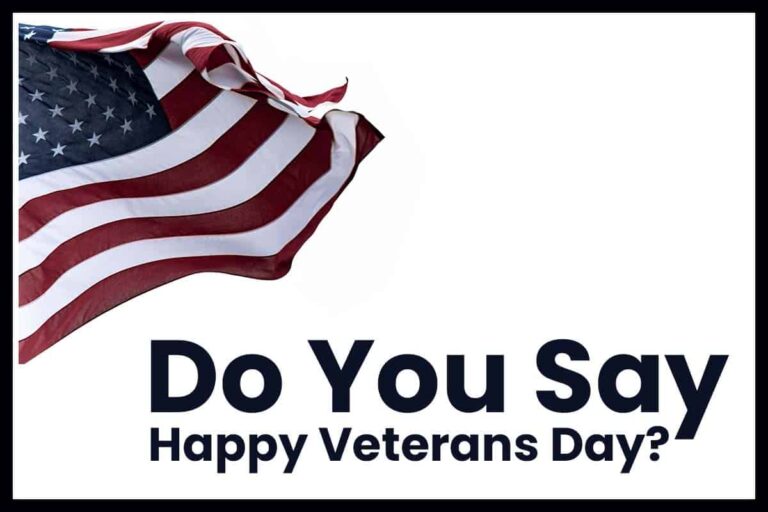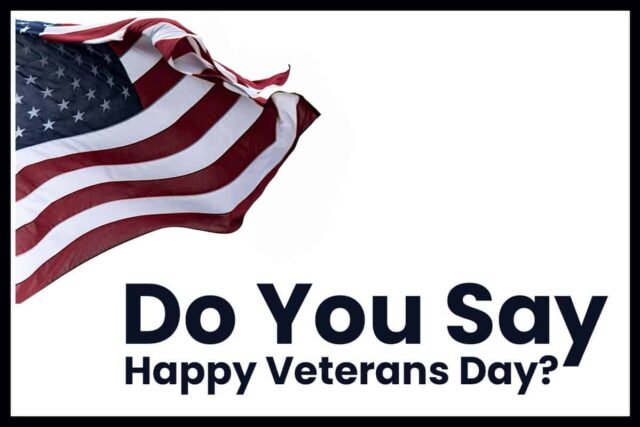 Do you say happy Veterans Day? Veterans Day is a federal holiday in the U.S. It's observed every year on the 11th of November.
Veterans Day was formerly known as Armistice Day. The day is saved to show gratitude to military veterans. Serving honorably in the military automatically makes you a veteran.
Veterans provide our rights and freedom as U.S citizens. The veterans also offer medical aid, food, and water in other places around the world.
These places are usually in great disasters and no one opts to go there. We owe a debt of gratitude to these courageous men and women.
Do you say happy Veterans Day?
It is okay for you as a civilian to say happy Veterans Day. Well, this should reduce your troubles of coming up with something appropriate to say.
You are simply showing gratitude for the sacrifices they've made. Any form of thank you is acceptable; public or in person.
Veteran Day History
Armistice Day was the original name for Veterans Day. It was on the 11th of November 1919, which marked the first commemoration of the end of WW, I. The armistice was an agreement that ended the First World War.
The Armistice was a preliminary to peace negotiations. The negotiations began at 11 am on 11 November 1918. Armistice Day became a national holiday in 1938.
The name was changed to Veterans Day in 1954. Later, Congress passed the Uniform Holidays Bill in 1968, the Veterans Day changed to the Monday 4th October. The law was in use from 1971to 1975.
President Gerald Ford changed the date back to November 11. November 11 had a historical significance. Despite Veteran Day changing names and dates, it still and has always been for the remembrance of those who served the U.S in war.
Now Veterans Day honors and commemorates veterans of all wars. Hang your flags proudly on those porches.
Veteran Day Observance
Veterans Day is set aside to recognize and appreciate all living members of the military who served the United States in wars. On Veterans Day, the American flag hung at full-mast. It is full-mast since it is a day of celebration and not mourning.
A moment of silence may be held at 11 am. The silence usually lasts for two seconds. The silence was observed during the Armistice negotiations hence the two seconds of silence.
There are usually parades and church services in celebration. Officially Veterans Day is observed on November 11 but the celebrations can be pushed to the weekend. Federal Government offices close on November 11.
Schools and non-governmental businesses may or may not close.
Ways Of Honoring` a Veteran
The sacrifices made by veterans should not be taken lightly. Take a moment of your time to show them gratitude and love. Many are the times that words can fail you but we all know actions speak louder than words.
Honoring those who served our country in war can be done in so many ways. Such simple gestures include:
Attend a Veteran's Day event and celebrate with the veterans.
Ask and listen to a Veteran about their time in the military.
Hang the U.S. flag in your front yard or porch.
Visit the gravesite of a veteran and take flowers with you.
Visit a homebound Veteran in their home, and thank them for their service to the country.
Visit a veterans' hospital and also take care packages and goodies.
Teach the young ones about veterans and the importance of Veterans Day. You can also invite a veteran to school.
Veteran Benefits
There are different types of benefits and this depends on the type of veteran you are. Yes, there are different types of veterans. All veterans are due the same amount of respect and gratitude.
Behind these veterans, there are families who also sacrifice a lot while their loved ones are in service. Luckily, veterans get to avoid the costs of senior medical care and even senior housing.
There are plenty of resources available for veterans that can help them in their financial journey, such as this disability rating calculator which can help veterans figure out the disability compensation rate they are eligible for. This calculator allows veterans to input various factors such as disability type, disability severity, and income level to determine their disability rating score. Using this score, veterans can then understand how much disability compensation they are eligible for and can use this information to make decisions that are beneficial to their overall financial health.
Types of veterans include:
Disabled veteran:
Former active duty or reserve military personnel injured in the line of duty.
War veteran:
These veterans have been on active duty in another country. The wars are usually in an area of conflict and fighting a national enemy.
Combat veteran:
combat veterans have experienced combat involving an enemy. Combat veterans can either be active duty or reserved military members.
Retired veteran:
Medically retired members or those who have served a minimum of 20 years, whether in reserved or active duty.
There are so many benefits veterans get as a sign of gratitude for the services they offer. Some of the benefits and programs are given to veterans as a way of honoring them are:
Veterans with disabilities are compensated. Veterans with service-related disabilities qualify for monthly compensations.
Monetary allowances for burial are provided. This doesn't whether the death was service-related or not. This way, veterans avoid the logistical stress of death and burial.
The veterans are given pension, aid, and attendance. Aid and attendance are for those veterans who any need daily assistance.
Veterans also get geriatrics which is specialized health care. Home-based and community services are also offered.
If you are a disabled veteran, then you are entitled to Veteran Readiness & Employment services.
Things You Shouldn't Say To A Veteran
It is always a good day to thank a veteran for their service. But what are the right things to say? How do you avoid being awkward?
Being a veteran often means your life can change significantly and in ways, you hadn't imagined. It is never right for you to give them your two cents about what they should or shouldn't have done or anticipated; before, during, and after the war.
Finding the right words can be quite hard but this section will make things easy for you. Some of the things you should avoid saying to a veteran on Veterans Day are:
You should definitely avoid asking how many people they've killed while in service.
Never ask about the type of combat they saw while in action.
Don't question veterans for leaving their families.
Never a veteran ask if someone they know died or tell them you know someone who died in combat.
Don't ask veterans if they are guilty or bring up your disapprovals.
Don't ask a veteran if they are okay after combat.
Never try acting or assuming that you know and understand what a veteran feels.
FAQs
What flower is the symbol for Veterans Day?
The poppies are a symbol of Veterans Day. When red poppies are used during Veterans Day, they show respect and solemnity for the veterans who died in the line of duty.
The use of poppies as a symbol for Veterans Day was motivated by the World War I poem "In Flanders Fields."
Why is Veteran Day celebrated on 11th November and at 11 am?
The 11th hour of the eleventh day of the eleventh month of the year 1918marked the end of WW I. This Day was originally Armistice Day before changing to Veterans Day in 1954. The Day now honors those who died in the war.
How many years is a veteran?
Anyone who has served for a minimum of 20 years is a veteran. They may or may not have been activated on a federal order. These veterans will be getting their retirement incentives.
A service member must have been 180 days of consecutive active duty or a Day in a combat zone.
Does a DD214 make you a veteran?
A Certificate of Release or Discharge from Active Duty, DD214, allows you to apply for benefits and jobs. Not everyone with a DD214 is qualified to be a veteran.
You don't have to have served during a war or been overseas to be a veteran.
What is the difference between Memorial Day and Veterans Day?
Veterans Day is a federal holiday that honors all veterans. It is usually celebrated on November 11.
Memorial Day on the other hand is marked on the last Monday of May. Memorial Day was conserved to pay tribute to fallen soldiers.
What president made Veterans Day a national holiday?
The 34th president of the United States, Dwight D. Eisenhower made Veterans Day a national holiday.
President Eisenhower, who was an American military officer, had signed a bill which was later passed by congress. The bill manifested November 11th as the national Veterans Day. This was in the year 1954.
Conclusion
Veterans Day preserves the historical significance of November 11th. This Day also aims at honoring the selfless, patriotic veterans who went to war for our country as well as others. Our daily lives are nothing compared to what veterans go through.
Many veterans experience hardship from Post-traumatic stress disorder. The veterans may have been at a young age at the time of the trauma. The countries and enemies they go to war with are among the factors that lead to PTSD in veterans.
Things that may trigger PTSD in a veteran may include sights, sounds, or smells that remind you of the traumatic event.
You May Like These Articles As Well:
Why You Should Not Play Pubg : Top Reasons