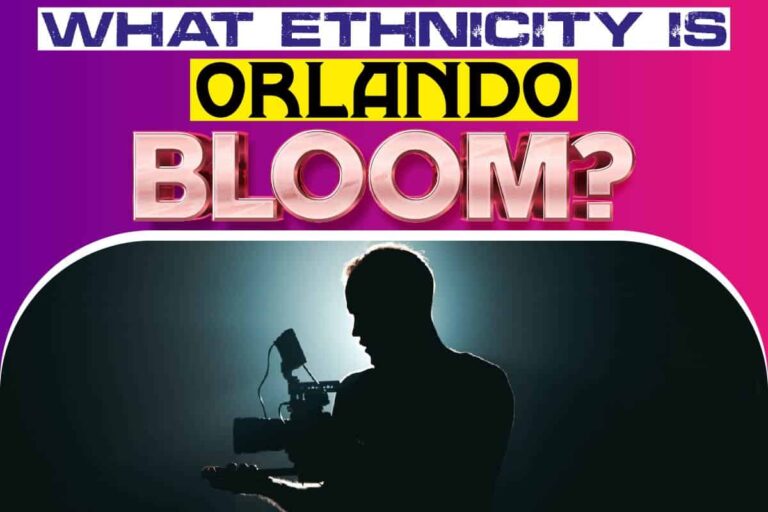 Orlando Bloom is one of the successful actors of his time because of his talent, handsome face, and beautiful personality. He has played several roles since his debut in 1997. 
However, he is remembered for the characters he played in Troy, The Three Musketeers, The Pirates of the Caribbean, and The Lord of the Rings movies. He has made a lot of impact in the film industry and has received many awards for his amazing performances.  
However, his fame comes with both advantages and disadvantages. As a famous celebrity, Orlando Bloom is constantly asked various questions during interviews, one of which includes "what ethnicity is Orlando Bloom."
Growing up, Bloom thought himself to be half-South African and Jewish like the man he thought of as his father. However, this was not the case as both his biological parents were English, making Orlando Bloom's ethnicity English.
With that said, continue reading below to learn more about Orlando Bloom and the different aspects of his life, including his career and ethnicity.
Bloom's Early Life
His full name is Orlando Jonathan Blanchard Copeland-Bloom.  Harry Saul Bloom, his father, was a Jewish-African man while Sonia, his mother is English. He has a sister named Samantha. He was born on the 13th of January in 1977.  
Sonia, his mother, is a businesswoman. She owned a language school. On the other hand,  his father was a lawyer, an author, and a human rights activist. He even fought against apartheid. 
His father lived in South Africa before moving to Canterbury and is a known friend of Nelson Mandela. They have worked together to fight against Africa's political and social conditions at that time. 
Unfortunately, his father Harry Saul died due to complications after suffering a stroke. Orlando was four years old when his father died. This moment triggered a lot of changes in his life. 
It started when a long-time family friend Colin Stone stepped up afterward. He took responsibility for the guardianship of Bloom and his sister. Little did Bloom know that this occasion would change his life forever and his perspective. 
At 13 years old, Orlando Bloom learned the truth about his ancestry. He found out that Colin Stone is his biological father, not Harry Bloom.  Though he was still young then, it is indeed surprising that it didn't affect him that much.
His mother had an affair with Colin Stone, who is a businessman and a family colleague. Harry Saul knew about their affair. He was even aware that he was not the biological father of Orlando and Samantha. Yet, he did his best to become a good father, provide for the kids, and raise them properly until his death. 
After learning the news, Orlando did not have a hard time accepting this truth. Just like any normal family, he and his sister would spend the weekends with Colin. The newly-introduced father did what he could to be a father to them. But, Colin cannot live with them since he was still married. Apart from that, he had another family to support. 
Throughout Orlando's teenage years, his mother ensured that her kids will live well. She was a supportive mother. Sonia even encouraged her kids, Orlando and Samantha, to be involved in the field of arts. She has always been a real advocate of the arts, that's why she wanted her children to appreciate it. She even named Orlando after Orlando Gibbons, her favorite English composer. 
While growing up, Sonia's favorite bonding activity with her kids was to visit theaters. She enrolled the kids in several classes involving drama and Bible reading. As early as eight years old, Bloom had joined school plays and performed in several presentations. He and his sister are known to be active in the theater. They participated in competitions and even won from time to time.
Bloom's Love For Theater
As a child, Bloom grew his love for arts. Acting became his first love. Since he was introduced to the world of theater, Bloom dreamed of being an actor.
Art was his release when he was having problems, even when he was young. He was a frail kid and has been diagnosed with having severe dyslexia. He struggled with his studies but found art to help him cope.
Nonetheless, this did not stop him from pursuing what he loves most –drama and arts. His mother had been supportive of his dreams since she loved arts too.
He took up courses in sculpture, drama, and photography before attending the British American Drama Academy. Later, he went to the Guildhall School of Music and Drama in London to pursue his acting studies. 
He had several opportunities a few days after graduation. 
Bloom's Acting Career 
Orlando debuted his first film in 1997. He first appeared in the biopic Wilde.  After his debut, he performed in stage production while took on roles from a few television series. 
After playing the character Legolas in the famous Lord of the Rings franchise, he began to rise in popularity. 
He won several awards because of his talent in acting. He received Hollywood Festival Awards, Empire Awards, European Film Awards as well as Teen Choice Awards.  
What Ethnicity Is Orlando Bloom?
So, what ethnicity is Orlando Bloom? Although Orlando accepted the truth, it had affected his individuality. Orlando grew up with Harry Saul Bloom, a Jewish South African. 
On the other hand, Colin Stone, his biological father, is English. However, his perception of his nationality and ethnicity didn't change at all. For him, he still regards himself as part of the culture. 
When asked during interviews about his ethnicity and nationality, he answers by saying that he is lucky enough to have two dads. His relationship with Colin is great but he has always thought of Harry as his father. 
Orlando is proud of the man his father Harry had become. He also is indeed proud of his South African heritage even though Harry is not his biological father. It's one of the reasons why he pursues humanitarian work despite having an acting career.
Bloom's Family Life
Orlando Bloom's nationality is English but he grew up immersed in the South African culture. He was supported by his mother in pursuing a career in the arts. 
Nowadays, Orlando is finally starting his own family. He currently has two children, a son with Australian model Miranda Kerr and a daughter with his current partner, American singer Katy Perry. 
He has mentioned that he wants his kids to learn about his culture. He has even mentioned before that he will make great efforts so his kids can learn about their English heritage. 
According to Bloom, he will teach his kids English traditions as well as introduce them to his favorite foods like mash and bangers. His goal is for them to have a basic understanding of his culture. 
Although he is English, he still wants his children to learn South African culture because of his father, Harry Saul. 
Orlando Bloom wants his children to be immersed in a mixed cultural background. It opens up your perspective and it helps you understand different people from different backgrounds. Learning different cultures helps you to grow humble and appreciate cultures.
Bloom's Recent Activities
Since 2000, Bloom has been actively involved with several humanitarian organizations. He was also involved in fundraising activities to help people in emergencies and those experiencing national calamities such as the Australian wildfires. He even became a UNICEF Goodwill Ambassador because of his initiatives. 
Currently, Bloom spends his time in California with his current partner. He is now a known Buddhist practitioner under Soka Gakkai International where he joined back in 2004. He is fond of doing a variety of activities from meditation and yoga to active sports such as mountain bike riding. 
Orlando's childhood may have been a little difficult for him to understand at such a young age, but through arts and with the support of his family, he was able to withstand these challenges and rose to become the best in his field. His love for the arts has been so great that even his condition of having dyslexia did not become a hindrance. 
His influence has also reached far and wide. His acting has been loved by many people. Amidst his fame and wealth, he still chose to focus his initiatives outside his acting career on helping people in need. 
Now that he has his own family, he wants to teach his children the importance of taking pride in one's culture and traditions. Coming from a mixed background, he wants them to appreciate each culture they are part of. 
Conclusion
Overall, Orlando was born English and respects his nationality, but the influence of his father, Harry, played a significant role in his identity. Harry's Jewish and South African heritage has lived on in him even after his death. 
The richness of Orlando's background and ethnicity made him appreciate people of all cultures. It led him to create initiatives for other nationalities that are in deep need. He even involved himself with humanitarian works.