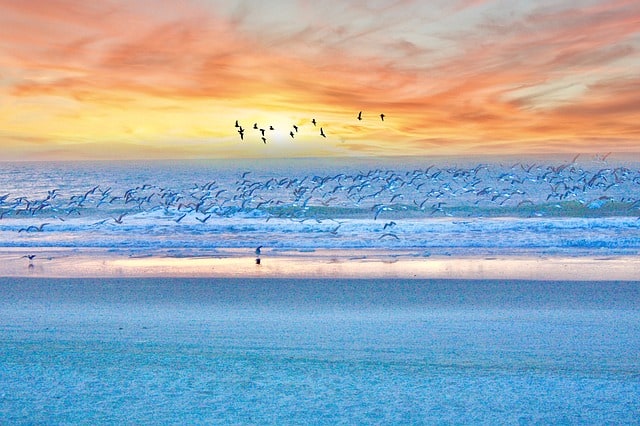 Summers can be really hot in Charlotte, NC, which is why many of its residents decide to hit the beach during the scorching days.
But, which beaches are closest to Charlotte?
The answer might surprise you because the closest beach to Charlotte NC is not located in North Carolina, but in another state. We're talking about Myrtle Beach, S.C.Then Wrightsville Beach, Nags Head Beach, Topsail Beach, Kure Beach, Sunset Beach etc would be good choice for you as well. 
This Myrtle Beach is actually a resort town, located some 175 miles from downtown Charlotte. What this basically means is that in order to get there, you need about three hours in total. Not too long, but does this beach deserve your visit?
Visiting Myrtle Beach, S.C
The fastest way to get from Charlotte to Myrtle Beach is by plane. The flight takes about an hour, but the problem with this is that it's not too cheap. A much more affordable solution is to go by your own car.
If you're going to trust Google Maps, it takes about three and a half hours to get to your destination during the rush hour. If you don't mind taking your time to get there, perhaps your best option is the bus. It's the cheapest option of them all and even though it takes a bit longer than if you use your car for this purpose, it does pay off.
And once you get there, you will see why Myrtle Beach is one of the most visited beach towns not only in this part of the country but the entire United States. The fact that over 14 million tourists visit it every year suggests that this town has a lot to offer.
As you might have guessed, the main attraction of Myrtle Beach is its long sandy beach. And by long, we mean miles and miles. But, when it comes to Myrtle Beach, it's not just about quantity, but quality as well. The beaches at this place are thought of as some of the most beautiful in the country.
Nature did its job very well in this place, creating a true paradise for beachgoers. But, Myrtle Beach residents also did play their part in making this town famous. One of the favorite man-made attractions of Myrtle Beach is its boardwalk, which was crowned as the best boardwalk in the US by a number of prestigious magazines, including National Geographic.
The town is also packed with luxury hotels and villas where you can stay. But, those who don't want to pay too much can always return to their home in Charlotte the same day. Sure, the roundtrip might take time, but the fresh air and breathtaking scenery of Myrtle Beach is bound to make everyone full of energy. But if you come by car and don't want to spend another 3 hours driving back, then you can stay at the campground. There are numerous of them on Myrtle beach. Just imagine, you set up a tent, put a warm double sleeping bag in it to make it comfortable at night, lit a fire in the evening, sat down around it with your family, raise your head and see the night starry sky. So beautiful!
Other Beaches Close to Charlotte, NC
If for some reason you're not too impressed with Myrtle Beach, or you just feel like an adventurer, you can always visit some other beaches nearby. There are a couple of them in the 200-mile radius from Charlotte. And we're now going to discuss some of the most beautiful ones.
North Myrtle Beach
As its name suggests, this town is located just a bit to the north from Myrtle Beach. Same as its southern cousin, this beach is also famous for its fantastic sandy beaches, amazing scenery, and beautiful architecture.
And same as Myrtle Beach, this resort town is also about 3.5 hours away from Charlotte. Speaking of its location, the town is just a mile to the north from the center of Myrtle Beach.
What this means is that you can visit Myrtle Beach as well on foot. Actually, there practically isn't any border between the two places. So, if you just keep on walking south, you're going to reach Myrtle Beach.
Folly Beach
Situated on the island of the same name, Folly Beach is very close to the city of Charleston in South Carolina. The main reason why it's famous is not that its beach is wonderful. Its glory comes from the fact that the Folly Beach Pier, its main attraction, stretches over 1,000 feet into the Atlantic Ocean.
Apart from the Pier, Folly Beach is also famous for its wildlife. There are many forests in the area, as well as a pelican rookery. So, if you consider yourself a nature lover, you're going to have a lovely time here.
Hilton Head Island
The island has planty of beaches at your disposal, but the main reason why this place has gotten on travelers' maps is that it's packed with amazing golf courses.
The island is also interesting for the tourists for the fact that it has a large lighthouse on its southwest tip, which now serves as a museum.
There's another museum on the island, the Coastal Discovery Museum, which features all kinds of heritage structures, gardens, and endemic trees. And finally, in the area between the island and the mainland, there's a wildlife refuge, where the visitors can see alligators in their natural habitat.
Charleston
This is an old port city, founded back in 17th century. There aren't many towns as old as Charleston in this part of the world, which is why history buffs adore this place. Its main attraction is its town center, with cobblestone streets, where you can take a ride in a horse-drawn carriage.
Charleston also has a beautiful promenade, which overlooks the harbor and the Fort Sumter, a stronghold that played an important role during the Civil War. So, if you think of yourself as of a history buff, visiting Charleston should be on your itinerary.
Closest North Carolina Beaches
Thanks to the peculiar location of Charlotte, the beaches that are closest to this North Carolina city are mainly in the neighboring state. Still, there are some beaches that belong to NC, which aren't too far from Charlotte. And some of those really deserve your visit, whether for its natural beauty or cultural offerings it has at your disposal. Here are some of those North Carolina beaches!
Wrightsville Beach
Wrightsville Beach is actually a town that's located in New Hanover County of North Carolina, close to the city of Wilmington. It's a small town, thus ideal for those looking to spend some time at a quiet beach, far away from the crowd and noise of a big city.
Its sandy beach is a marvel to behold, with a fantastic open view of the ocean. Because of its unbridled nature, the beach is also very popular among anglers and birdwatchers.
Nags Head
The reason why this beach is on our list is that it is packed with large sand dunes that dominate the landscape. The most impressive ones are found at a place called Jockey's Ridge State Park. The area is also famous for its wildlife and a beautiful forest.
Apart from its natural beauties, Nags Head also attracts the tourists with its man-made structures. For instance, there is a lighthouse on Bodie Island, which was built in the late 19th century. You can visit the lighthouse, from where you can get a breathtaking view of the shore.
Topsail Beach
Another beach that's only a couple hours ride away from Charlotte, NC is Topsail Beach. This place is ideal for romantic souls who wish to spend time alone on uncrowded sandy beaches, with the sound of ocean waves in the background.
There are also many places to visit in this area, including small family-owned restaurants, where local dishes are served.
Kure Beach
Here's another beach from the region of New Hanover County, close to the city of Wilmington. It goes without saying that the beach here is beautiful. But, what's real attraction of this town is that there's not much crowd there. So, if you're looking for a calm place to relax, this is the place to go.
Of course, if you feel like hitting the town after a few hours on the beach, you can always go to Wilmington, which is only about 15 miles to the north.
Lake Beaches in Charlotte, NC
Strictly speaking, Myrtle Beach isn't the closest beach to Charlotte, NC. Myrtle Beach is the closest beach on the ocean, but Charlotte has several lakes with beautiful beaches nearby. Here are some you might wish to visit.
Lake Norman
This is the largest man-made lake in the state, which serves as a reservoir for a hydro-electrical plant. Sure, you can't expect a freshwater lake to have a beach that's as beautiful as beaches on the Atlantic shore, but if you're looking for a day out in nature, Lake Norman seems more than suitable.
Lake Wylie
Here's another man-made lake that's pretty close to Charlotte. Same as Lake Norman, this one too is famous for its wildlife and beautiful forest. Therefore, it's a very popular natural escape for Charlotte residents, especially during autumn.
Mountain Island Lake
Here's another late ideal for nature lovers. It's famous for Carolina Raptor Center, where orphaned and injured raptors are taken care of. Apart from that, the lake also has a 60-mile long shoreline, which makes it incredibly popular among hikers.
You May Like These Articles As Well:
Does Cafe Patron Have Caffeine? Things You May Not Know
Which Is Worse Pandemic Or Epidemic?
Resources:
https://www.charlottesgotalot.com/city-guide
https://www.nationalgeographic.com/travel/destinations/north-america/united-states/north-carolina/charlotte/