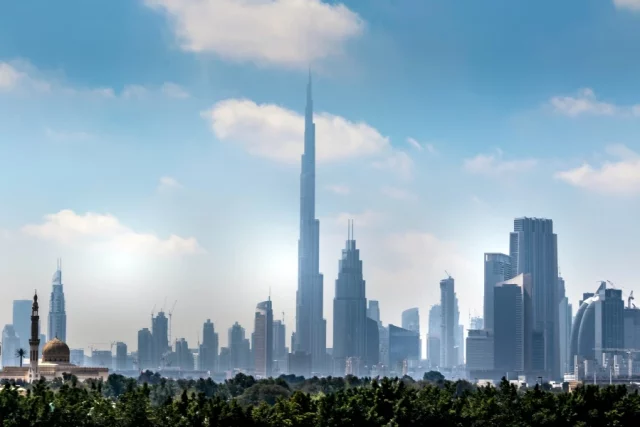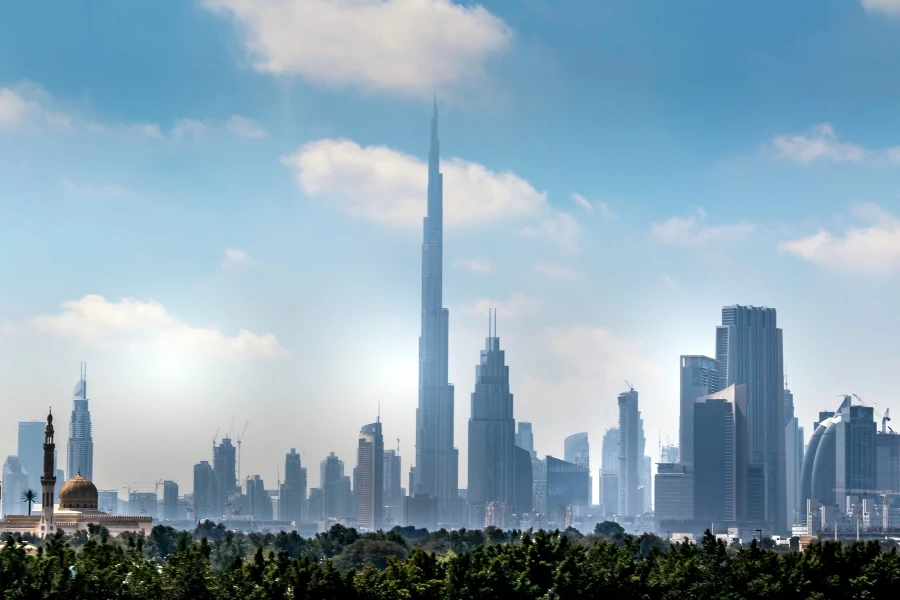 DAMAC Hills is a well-established stand-alone community of villas, apartments, a hotel and serviced residences. It is quite natural that many people are looking for real estate for sale in Damac Hills, wishing to invest their money and get high ROIs. DAMAC Hills, which is also home to the Trump International Dubai Golf Club, boasts almost four million square feet of parkland offering a variety of themed areas for recreation and sports, including tranquil gardens and lakes, a skate park, stables, football field, tennis courts and much more.
Popular food trucks and an ice cream van are on site. There is also a Carrefour supermarket, a Jebel Ali school, salons and offices of cleaning companies, a special green area where you can buy plants, as well as a shuttle service to the Mall of the Emirates.
DAMAC Hills is located along the Umm Sukim road, close to the city's major highways and close to major business and entertainment areas. DAMAC Hills organizes activities for the whole family. Popular destinations such as Global Village, IMG Worlds of Adventure, Mall of the Emirates and Dubai Butterfly Garden are only a short drive away.
World Of Comfort, Luxury, And Smart Design
Cavalli Estates is a residential complex consisting of 200 luxury villas. The project is the result of a fruitful collaboration between Dubai's major developer of premium real estate Damac Properties and the famous Italian couturier Roberto Cavalli.
The houses in the designer residential complex are luxurious residences with six or seven bedrooms with magnificent furniture and exquisite finishes with premium quality materials.
The layout of the houses provides for separate living and dining rooms, elevators, rooms for staff, large wardrobes.
Each villa is surrounded by a spacious fenced private area, which includes recreation areas with an infinity pool and landscaped gardens.
The Cavalli villas have an excellent ergonomic layout, designer renovations, as well as large basement floors that can be used both as parking spaces and as a personal gym, cinema or games room.
Also, the owners of the villas can use all the amenities of the Damac Hills area, including:
Zoo farm;

Love Lake, a figured lake in the form of hearts;

Long paths for walking and jogging;

Malibu Bay wave pool;

Tennis courts;

Cricket grounds;

Football field;

Ice rink;

Volleyball Court;

Skate park;

Landscaped green areas for barbecues and picnics;

Playgrounds for children.
In the Dubai real estate market in 2021, the demand for large houses has increased. Many local residents and visitors to the emirate prefer to settle in separate houses in order to have a private area for relaxing with family and friends.
Luxury villas are a good option for those who want to get into the rental business. Designer finishes and a large area of ​​housing are attractive for both tourists and local residents. The area is considered a prestigious place due to its proximity to major golf clubs.
Investments in Cavalli Estatese real estate in the Damac Hills area will bring a stable passive income.
The average annual income from renting a villa in Dubai is 4-9%.
Do you want to profitably invest your money? Contact our experts right now. They will definitely help you understand all the nuances of investing in real estate in the emirate, as well as select the best option for real estate in accordance with your wishes.
Villas In Loreto, Damac Hills
The apartments in Loreto offer stunning views of the lush greenery and the manicured golf course. Among the main advantages of the complex are a steam room, a sauna, a temperature-controlled swimming pool, a gym with modern sports equipment, landscaped gardens, central air conditioning, balconies, built-in wardrobes, fully equipped kitchens, as well as pet permission. Restaurants, retail stores, entertainment venues, a hotel, an organic market, and other infrastructure facilities can be found in the immediate vicinity of the subcommunity.
Luxury villas in Gems Estates, Damac Hills

In the elite villas of Gems Estates, you can immerse yourself in an atmosphere of luxury living with numerous amenities available only to you. A spacious house territory with a swimming pool and a garden will allow you to comfortably relax by the water, enjoying the peace, tranquility and homeliness. You can also have a great time with family and friends in a private home theater. Car and motorcycle collectors will appreciate the spacious basement garage.
The room at the roof level allows you to add another functional area to the house at your discretion. Here you can make a gym, a children's playroom, a study, etc.
Exclusive finishes, exquisite furniture and thoughtful design make Gems Estates villas a true work of art. Such a property will always be highly valued and have good liquidity in the market.
The houses provide various rooms that are designed to make the living space as comfortable as possible. For example, six and seven bedroom villas will have two kitchens. One of them is a closed or so-called dirty kitchen, which is intended for cooking. The second kitchen is open, which is already used to set the table, make coffee, etc.
Beverly Hills Drive And New Recreation Centers For Damac Hills residents
Beverly Hills Drive is a new development of luxury villas from DAMAC Properties inspired by the California lifestyle. The project, which will complement the Trump Estates cluster in the iconic DAMAC Hills community, launches in Q3 2022.
Beverly Hills Drive will consist of three-story villas (including roof level) with six bedrooms and an additional seventh bedroom that can be used as a games room. All of them will be equipped with their own dressing rooms. From the master bedroom of 50 sq. m on the second floor, residents will be able to enjoy stunning views of the golf course.
Residents of Beverly Hills Drive will be able to enjoy premium interiors with stone, polished wood and gold finishes, and special screens inspired by flower petals in the exteriors. It is also planned to install crystal chandeliers in the premises.
Besides, concurrent with the launch of the Beverly Hills Drive project, Trump Estates will begin construction on two new resident entertainment centers: Active Hub and Serene Hub for active and relaxing pastimes.
The Active Hub will include a private swimming pool with separate changing rooms, a gymnastics park, frisbee, racquetball and mini golf areas.
At the Serene Hub, you can practice yoga in the Zen Garden or painting in the Art Garden Gallery, as well as enjoy outdoor recreation in the outdoor relaxation area.
Investment Opportunities
New residential developments in the area are an example of luxury real estate, which has recently been in high demand in the UAE.
Buying a luxury villa will be a sound investment both in the long term and in the short term. In the first case, you can rent out a house, receiving a stable income. The average rate of return for villas with five and six bedrooms in the Damac Hills area is 4.5% per annum.
For a short-term investment, you can purchase a villa during the construction phase at a discount from the developer and resell it after commissioning already at market value, earning up to 20% of the total amount.
Spacious villas, located in a closed cluster among flowering gardens, green fields and pristine lakes, as well as surrounded by social infrastructure, entertainment and transport interchanges, will be an ideal place for those who appreciate a luxurious lifestyle in unity with nature in the heart of the metropolis. Every detail in the exclusive residences is carefully thought out for maximum comfort and safety of residents, so these spacious houses will be the perfect place for large families with children to live. In the immediate vicinity there is a wide range of educational institutions and entertainment, so residents will be able to provide children with education and leisure of the highest quality.
Now you can buy a villa in a new complex in installments according to a convenient payment plan from the developer. By purchasing property in the area, you will be able to obtain a 10-year Golden Visa for all family members, as well as sponsor your domestic help.
Start Choosing Real Estate In Dubai
If you're ready to move to the UAE and is choosing a real estate unit to purchase, you can start choosing an apartment or a villa in Dubai right now! Please find the details at Emirates.Estate official website.