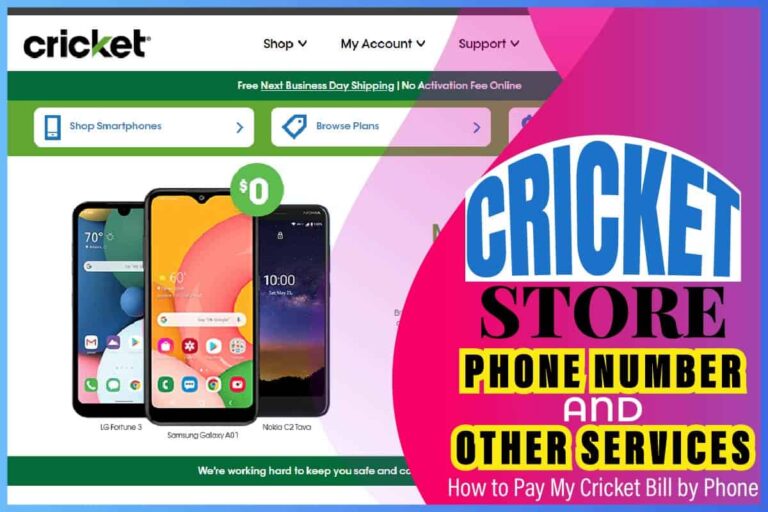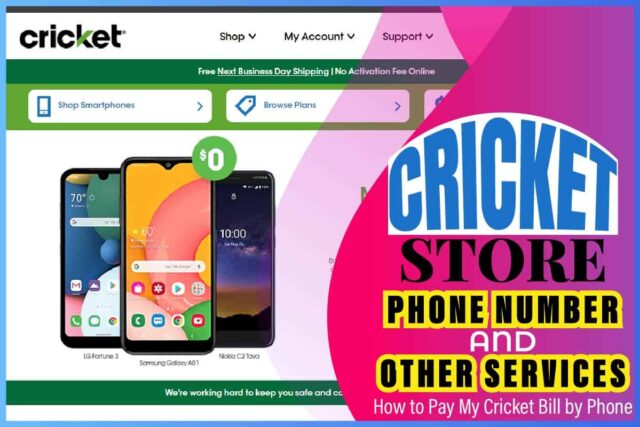 Cricket Wireless is a branch of American Telephone and Telegraph (AT&T), and it is an American Wireless Service provider. Cricket currently serves over 10 million customers in the US alone. 
Leap wireless established Cricket wireless in 1999. AT&T later acquired it in 2014.  This led to the merging of Cricket wireless with Aio Wireless, leading to the current company. The current headquarters are in Atlanta, Georgia.
Most people use their phones to pay their bills, and you can do the same with Cricket. So let us help some of the 10 million subscribers with their cricket bill payment by phone;
How To Pay My Cricket Bill By Phone
If you use a cricket phone, you can dial *PAY (*729) to connect to the payment menu.
You can use your phone to make payments to your cricket account using a credit card, debit card, gift card, reloadable prepaid credit cards, service payment card, and a Cricket refill card.
 You could use Visa, MasterCard, Discover Card, or American Express in making the payments.
1. Credit card
Select quick pay on the top of their website. 

Input your phone number and click the blue arrow on your right for debit or credit card.

Input your debit card information and the amount of money you need to pay.

Read and accepts the company's Terms and conditions, then select the review payment option.

If all the details of the payment are correct, submit the payment. If there are any errors, this is a chance to correct them before submitting them.

Cricket will send you a text to confirm the payment, and it would be best to keep the text for your records.
2. Cricket refill card or service payment card 
Select quick pay on the top of their website. 

Enter your contact and click the blue arrow on your right for Cricket refill Card or Service Payment Card

Enter your respective card information in the spaces and the amount you want to pay. 

Click on the CAPTCHA check box to confirm you are not a robot, then validate.

Review the payment you have made to ensure all information is correct, then submit it.

A screen to confirm the payment will come up, and a Cricket will also send a text.
How To Change Cricket Number
You can change your cricket phone number if you need to, but you would have to pay for the service. A 15 dollar fee is paid for changing your number when you use customer service to do it.
Dial 1-800-CRICKET (274-2583), 611 or *PAY (*729) (for those with Cricket phones) to talk to the Cricket customer service.

Follow the automated menu to talk to a cricket Customer service agent.

You would need your full name, signature, date of birth and the last four digits of your social security number. This is information that the agents will use to prepare your new phone number.

Tell the agent that you want to change your number. You can use any number that is available in any area code.

The agent will have to verify if you are the primary holder of that account before any changes are made. If you are a secondary user, then the owner will have to verify the changes before they happen.

The agent will then help with changing your number, and you will get a new one.
Cricket Store Phone Number
The cricket store phone number will give you access to live agents to help you whenever you need help. The line used to contact Cricket wireless is 800-274-2538
How To Call A Live Customer Support At Cricket  
Cricket has a team of customer support representatives on the line ready to help you whenever you need it. To talk to the agents, dial 1-800-CRICKET or 611 on your phone. 
The system will then provide you with an automated menu from which you can select the option to speak to a representative. You will then get help on whatever issue you had with your account.
You could also get help online if you have a question about your phone or account. Go to www.cricketwireless.com/support, and you will get any help you need regarding your device. 
Cricket Wireless Social Media Links
Cricket wireless has accounts on several social media platforms on which you can connect with the staff. Below are links to some of the platforms;
Cricket Wireless Email And Live Chat
If you need to contact customer service, you would have to use the phone number since there is no email address for you to use. The other option would be to get a live chat with a Cricket representative.
Live chat will allow you to get responses a lot faster from the customer service agents. To get the live chat, go to www.cricketwireless.com/contactus. On the web page, click on "Click to chat."
Cricket Wireless Mailing Address
The mailing address is that of their headquarters in 575 Morosgo Dr. NE, Atlanta, Georgia.
Cricket Important Help Pages
Some of Cricket help pages you will find to be useful include;
Cricket Wireless Blog 
 In case you don't get live support, you can use the Cricket wireless blog. It has a lot of updated information on various cricket products that are on the market. 
To get solutions to most of your daily issues and products, visit www.cricketwireless.mediaroom.com/cricket-wireless-blog. 
Cricket Wireless Support Site
If you need some additional information regarding your issue, then you can visit the Cricket support site. This is a source of quick and always available answers to most of your problems. Go to www.cricketwireless.com/support 
What Time Does The Cricket Store Open?
Cricket has a rather simple and consistent opening and closing timetable. All the stores start serving customers at 10 am from Monday to Saturday and lock up at 8 pm. 
The working day is a lot shorter on Sunday, starting at noon and ending at 6 pm. The Cricket customer service is operational from Monday to Sunday, starting 9 am to 9 pm on all days except Sunday when the line is open from 10 am to 9 pm. 
You can call 800 Cricket (1-800-CRICKET) to get in touch with them. These hours are extended to ensure that customers are aided as much as possible to keep them satisfied.
How To Find A Nearby Cricket Store
You might need some services, and you are wondering how to find cricket stores. You could use the Cricket wireless store locator to find a store near you. 
The site is easy to use, all you have to is enter your town, city, or ZIP code, and the location of the nearest store will be provided. The full list of all the stores is provided in case you are looking for a specific store.
Conclusion
Cricket wireless is one of the fastest-growing Internet service providers in the United States.  You need to know how to use and pay for your account to benefit from their services fully. 
Dial *PAY (729) on your cricket phone or call 1-800-CRICKET (274-25380) on other phones to get into the payment system. You can then follow the automated prompts to make the payment to keep the services coming.
Most cricket stores start operations at 10 am from Monday to Saturday and wrap it up at 8 pm. On Sundays, they open at noon and close at 6 pm to give the employees a break. Customer service is available for more hours to help customers with any issues that may come up.