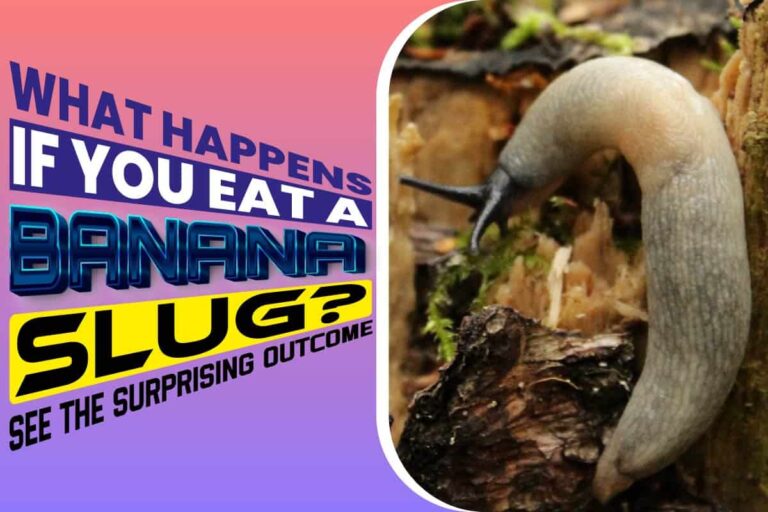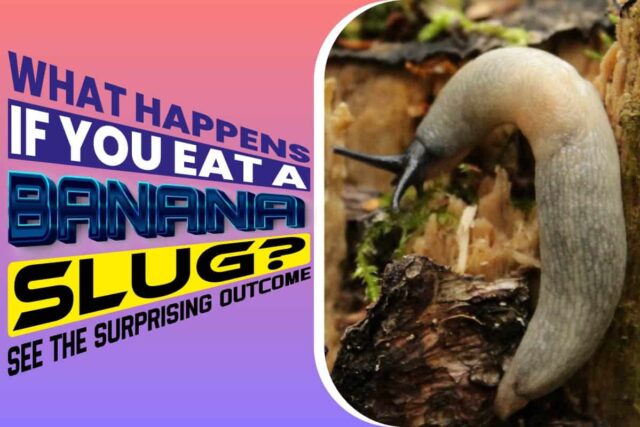 Have you ever thought about the usefulness of the banana slug? Do you see it as a poisonous or edible organism? 
Well, surprisingly, many people may find the idea of eating banana slug a bit squeamish due to its appearance. However, we have seen people in some other parts of the world consume the unimaginable. 
If you are on this page, chances are you want to know if this organism is edible. So please, before consuming a banana slug, read this post. 
But first, here's the answer to the question. 
What happens if you eat a banana slug? 
If you eat raw or undercooked slugs, you can get an infection by a parasitic nematode known as Angiostrongylus cantonensis, or rat lungworm.
If you get curious enough to prod the banana slug with your tongue or nose, you will discover that the slime is an anesthetic. It's due to the anesthetic that predators avoid the slug.
This guide will explain whether banana slugs are edible or not, as well as everything you need to know. So, keep reading!
Can I Touch Banana Slug?
While some animals may think the banana slugs are poisonous because of their bright yellow color and would rather not eat or touch them, these slimy organisms are not harmful.
If someone picks up a banana slug and holds it, it won't have any adverse effect on them, but it can hurt the organism. Slugs produce thick mucus or slime when they are scared or stressed.
The slime they produce is very thick and intense, making holding them or trying to consume them very unpleasant. This slime also contains a chemical that scientists have claimed to numb the consumer's tongue and throat, making it harder to eat.
So, it is advised that one should not try to handle banana slug. However, if you have to hold one, then make it very quick and wash your hands immediately after dropping them.
What Does Banana Slugs Do To Your Tongue?
If you think banana slugs taste delicious, then you are wrong. These organisms do not taste like bananas, so putting them in your mouth won't give you the same feeling the fruit provides. 
If you lick or eat a banana slug, you might start to feel a little numbness or tingly sensation in your mouth and the back of your throat. This sensation comes from the chemical compound that is present in the slime.
The slime is there to stop the organism's chances of being eaten by predators. The function of the slime is to numb the predators' tongues, which makes it harder to eat the slugs. 
It is not possible to eat a slippery slug when your mouth has gone numb.
What Does A Banana Slug Eat?
Banana slugs are decomposers or detritivores. These organisms process leaves, moss, animal droppings, and dead plant material, which are then recycled into soil humus. Slugs seem to like mushrooms. 
Slugs spread seeds and spores while eating, and they excrete a nitrogen-rich fertilizer.
How Can I Get Rid Of Banana Slugs?
If you want to get rid of these organisms, use a banana trap. Use a trap if you wouldn't want to touch the slugs. Place a banana skin, melon rind, or grapefruit peel near the affected plant at night and throw the peel away.
How Many Teeth Does A Banana Slug Have?
These organisms have a long "tongue" that is coated in tiny teeth, which they use for tearing and chewing their food. This part of their mouth, referred to as a radula, has as many as 25,000 teeth!
When you pour salt on a banana slug, it mixes with the water in the mucus secreted by the slug, creating a salt-water solution. If the salt you pour is enough, the banana slug will lose a lot of water and dehydrate.
This dehydration will cause the slug to die and wind up, looking dry and shriveled.
Do Banana Slugs Benefit The Environment?
Yes. Banana slugs are good for the environment. These organisms are detritivores, meaning they specialize in surviving on dead organic material. 
Banana slugs travel along the floor, eating every decayed plant leaves, bits of plant material, faeces from animals, and every other decaying thing they find.
Once the slugs digest their food, they defecate a dark substance rich in nutrients. This is referred to as soil humus and is made of organic material, which scientists sometimes misunderstand.
The soil humus excreted by slugs is an integral part of the soil, and it can help increase the soil's quality. The slugs keep generating soil humus, and this means that they make the world a better place.
What Does A Banana Slug Taste Like?
Generally, slugs are not poisonous, and they are edible. However, the yellow invertebrate doesn't taste very good. The mucus that coats around them tends to have a bitter taste. 
The bitter taste stops them from being eaten by predators. Slugs are not worth the stress of cleaning and eating, but if you clean them appropriately, you can eat them.
Do Banana Slugs Bite?
Slugs don't bite humans or predators. However, when these organisms mate, there is usually a reciprocal exchange of sperm. The slugs produce eggs, and both of them have a penis. The slugs will bit each other, removing small chunks of flesh.
Do Banana Slugs have eyes?
These organisms have a set of tentacles on the head. Slugs' eyes are located at the terminus of the longer optical tentacles, which rotate in every direction. The location of their eyes allows the slugs to see beyond any obstacles on their path.
Where Do Banana Slugs Live?
Banana slugs are usually found in woodlands, and they eat fungi, decomposing plant material, and living plants. If banana slugs are in your garden, then they will most likely eat your vegetables. However, they are not dangerous pests, so you don't have to be bothered. 
Are Banana Slugs Poisonous To Dogs? 
Banana slugs can be poisonous to your dogs if eaten. The slugs carry a parasite that causes lungworm in dogs. However, the most common garden slugs are not harmful to dogs, but they can increase the risk of lungworm.
If your dog eats a slug, it can also react badly with its digestive system. Your dog can start vomiting and, in some cases, diarrhea. Lungworm can also cause the death of a dog that eats slug.
How Do I Eat Banana Slugs?
If you are curious and want to eat banana slug to see how it tastes, then here is how you can make it edible; the key to cooking banana slugs is to cook them over fire like roasting or frying. Roast the slugs till the slime falls off. 
Cooked banana slugs are pretty delicious. Slugs are hermaphrodites, and they have all their reproductive organs in the front part of their heads. This feature makes the whole front area tasty.
Follow these steps if you want to eat banana slugs.
Leave the slugs a bucket or terrarium filled with healthy wild greens and allow them to live there for at least a few days. This method ensures that they've excreted any potentially toxic substance they may have ingested before they were harvested and they have eaten enough healthy greens.

Now, drop the slugs into a bowl with ½ vinegar and ½ hot water. Leave the slugs for about 10 minutes to remove the slime. 

Rinse the slugs and they boil them for about three minutes and then, change the water.

Rinse, and boil the slugs again until the slime stops. Stir the slugs well to separate them from the slime, and then rinse thoroughly.

Pick each slug and slit along the ventral side. Slit the slug carefully so that you won't slice the organs. Open inside and remove the digestive gland, which is in the posterior of the slug. Also, remove any other organs that come out of the slug quickly.

Rinse slugs again and cut them into bite-sized pieces. You can add seasoning, pepper, cumin, ginger, turmeric, salt, and anything you want to add.

Deep-fry the slugs until they are nice and brown

You can also cook it over a fire the way you will cook your hot dog.
Feeding Banana Slugs
Feeding Banana slugs is not a difficult task. You have to make sure you remove all the food they've not eaten before they decay. You should also make sure that the food you give the slugs is SALT-FREE. Salt can kill slugs.
Foods such as spinach, lettuce leaf, carrot slices, cabbage, and maple leaf are good for slugs. There are also uncommon choices such as Pellet Fish-Food, Nuts, oatmeal, cat-food; peanut butter can also be used to feed banana slugs. 
Whatever your choice is, make sure it's easily cleaned from the slugs' environment. Slug keepers can use a feeding dish to feed your slugs messier foods.
Do not use a standard water dish for banana slugs. This dish cannot hold enough water, and the slugs can drown in the deeper ones. Two methods work very well.
The most recommended method is to furnish the slugs' environment with plenty of live moss. The moss soaks up the water how a sponge soaks up water; then the slugs can drink water directly from them.
Some people have also had great success using chicken waterers. Pour the water and place moss in the dish that the birds drink their water from. This method helps keep the slugs hydrated if you will be away for a few days.