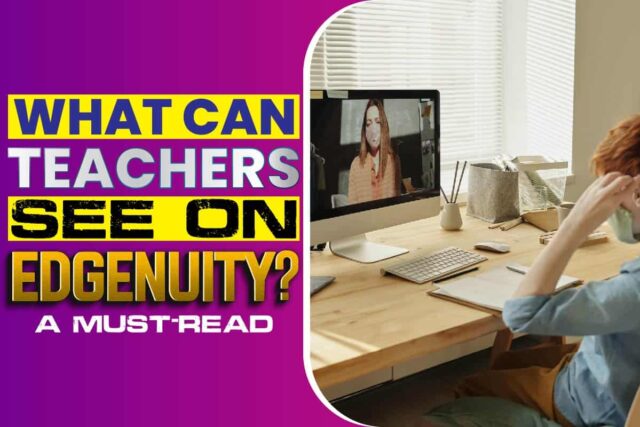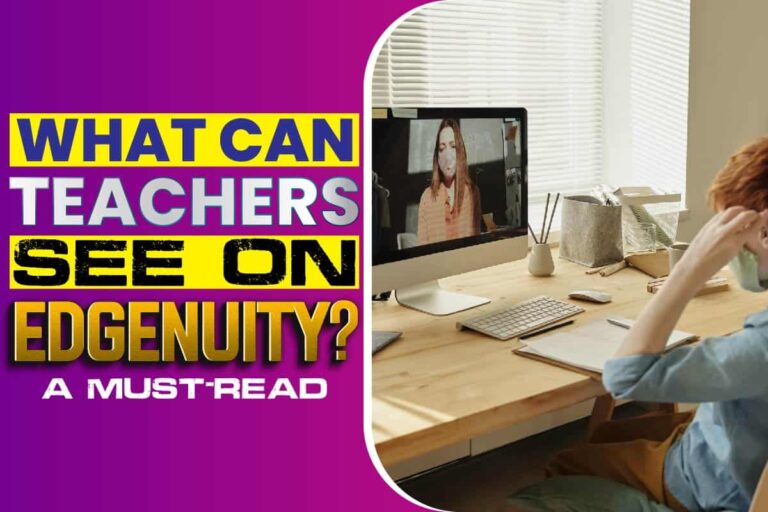 The successful outcome of any new technology in schools depends on teachers' understanding of the innovation.
With Edgenuity, teachers guide their pupils to be masters of various sorts of technology. The tool helps learners to excel in online chatting, web searching, sending and receiving emails.
Edgenuity supports over 20,000 schools in 3,500 regions each year, totaling 3.5 million learners. This figure includes twenty of the top 25 schools in the USA.
Edgenuity is a perfect integrated instruction tool for teachers. Teachers use these real-time tools to track student progress and deliver daily, tailored feedback to each student.
Now, let's go over the main question.
What can teachers see on Edgenuity?
Teachers can see all three stages of students' work in the essay viewer window. These stages include pre-writing, raw manuscript, and revision. 
Teachers can switch between these three views using the tabs at the top of the window. 
The Edgenuity's educator dashboard provides teachers and administrators with a better understanding of student performance. Teachers can also see the progress report and students' scores on the screen.
This feature allows them to track and measure academic achievement and classroom engagement in real-time.
Continue reading this article for more information on the Edgenuity learning site.
What Is Edgenuity? 
Founded in 1998, Edgenuity has become one of the top providers of blended learning solutions and online curriculum for K-12 students.  
Edgenuity is headquartered in Arizona, the United States of America. And they boast over two thousand employees. 
The company provides valuable services to students seeking credit recovery. They also offer instructional services, online courses and other academic-related services that students require.  
 

Can A Student Cheat On Edgenuity?
No, it's tough for you to cheat on Edgenuity. Edgenuity boasts diverse features that enable educators to monitor tests. These settings ensure that pupils do not cheat and are working by themselves. 
When a student reaches a test or exam, this feature notifies the educator. The teacher can then review the learner's work before unlocking a high-grade examination.
Is Edgenuity A Safe Learning Platform?
Edgenuity's multimedia learning solutions are built on an intelligent learning platform developed with end-users in mind.
The system is safe, simple to set up, and compatible with the most popular browsers and hardware. However, you may encounter a few technical glitches while using the app. 
Ensure you clear the cache in your browser. Then, delete the previous Internet data and cookies from your browser. You may do this by using the buttons CTRL + SHIFT + DEL on your keyboard. 
Does Edgenuity Use Live Teachers?
Yes, Edgenuity employs the best of the best in Education. They use state-certified teachers who can make a long-lasting impact on the lives of the students. 
Edgenuity's Instructional Service always aims to provide a successful student-centered virtual education program through a creative, comprehensive, and best-in-class curriculum. 
Hence, their teachers provide great academic support through student-centered monitoring, coaching, mentoring, and teaching, 
Which Courses Can I Take On Edgenuity?
Edgenuity has over 300 courses. In addition, Edgenuity offers a broad range of first-credit classes in English language arts, math, science, and social science for middle and high school students.
These courses are designed to engage learners and assure subject-area proficiency. The study outlines blended direct-instruction videos with challenging assignments, performance practices, and evaluations.
Is It Possible To Skip Edgenuity Videos?
No, skipping videos is not possible during Edgenuity courses. 
Edgenuity online courses are challenging, with each class taking an average of 80 hours to finish. However, some lessons can be a little less or more than 80hours.
How Does Edgenuity Grade Learners?
There is a set end date for each course. Learners are expected to finish their course far ahead of the deadline. Any class that is not completed by the submission deadline will be archived. Such a student will be graded an F.
The Actual Grade is the grade you received on the work you submitted. This grade will be reduced if you are behind schedule. 
Grade Point Average (GPA): When all undone assignments are set to zero, you earn a Relative Grade. 
Overall Grade: The overall score is the mark you receive for all the assessments you submitted.
Retaking Your Tests On Edgenuity
On Edgenuity, only teachers can unlock assessments, navigate and provide additional retakes. 
It's up to your teacher to use any of those features so their learners can retake their tests. 
How Do I Locate Answers On Edgenuity?
These are steps to getting to the Edgenuity test questions and answers
Step 1: Select View Course Structure from the more menu.
Step 2: To see the assessment answers, go to the lesson—select Quiz Answers from the drop-down menu.
Step 3:The pop-up window contains all of the assessment questions for the lesson. Then, select a question number to see the question and answer.
How To Deactivate And Activate A Course On Edgenuity
Some learners have several studies allocated to them. However, students should only take one course at a time. The goal is for students to devote all of their attention to one class. They should finish a lesson before moving on to the next.
Deactivating a course:
Here's how to "disable" courses so that students can focus on just one:
Step 1: Search for and select the desired student.
Step 2: A page containing a list of the student's current courses will appear.
Step 3: To disable a course, click the icon next to it.
Step 4: Select disable.
Activate a course:
You can follow the steps below to enable a course for your chosen student. 
Step 1: Search for and select the desired student.
Step 2: A page containing a list of the student's current courses will appear.
Step 3: Select View Archived Courses from the drop-down menu.
Step 4: Choose the desired course.
Step 5: Select Enable.
How Teachers View Students' Answers On Edgenuity
Teachers can use the Score Overview to keep track of student work on a per-course approach. This report displays the lessons and activities performed in a course. The score sheet also allows teachers to see the related scores, test attempts, and submission dates.
Unlock, Bypass, And Add Retakes On Edgenuity
As an educator, you can unlock tests, Bypass, and provide additional retakes as the facilitator in Edgenuity. Here are steps to use any of the three features for your class.
Unlocking:

 
All directive and unit tests are locked. You'll need to activate the tests before learners can access them. However, a request to unlock an exam will display in your notifications. Therefore, it is advisable to wait for learners to contact you before opening. 
Before students may progress, they must complete some "verification." The following is the quickest approach to unlock a test:
Select the courses from the drop-down icon.
Select the Gradebook icon
Select Unlock Activity when the panel appears.
Bypassing Content:

 
There will be occasions when a student needs to be, "Bypassed" through activity to keep them going forward. The teacher, though, has the last say on this.
Search for a learner through the manage students icon
Select View Courses from the drop-down menu.
Choose a particular course.
There are two links on the right side of the screen. The links are tagged Bypass with a score and Pass with a score.
It will be necessary to input a score if you pass with a score. Bypassing links will demand a justification for moving the learner forward. 
Retakes:
Students often have two or three retakes for quizzes and examinations, depending on the course and level (not the Prescriptive or Pretests). You'll find the option to Add Retakes on the same screen as shown above. It is entirely up to the teacher to give a learner a chance to retake a test. 
Using The Dashboard To Reset An Activity
When you reset an activity, the former score is erased. The retake grade is used instead, even if it is not as high as the first trial.
When it comes to assessments, the highest score earned counts as long as it hasn't been reset. If it was, that score is no longer valid.
Before you can follow the steps highlighted below, you will need to have the "Reset Assignments" checked in Gradebook Options.
Step 1: Select the Dashboard from the Reports tab.
Step 2: Select the Course tab.
Step 3: The students' names and the classes in which they are enrolled will appear here.  
Step 4: Use the filter icon to see a specific group of students. 
Step 5: Click Apply after each filter.
Step 6: Select a course.
Step 7: The data for the educator's students is now visible.
Step 8: Expand the unit and lesson to find the activity.
Step 9: Select the activity of choice.
Step 10: Select View.
Step 11: Reset the activity by clicking Reset Activity.
Step 12: Explain your request.
Step 13: Finally, select Reset from the drop-down menu.
Guided Notes To Help You With Your Edgenuity Classes
Guided Notes are optional, ungraded learning aids that educators can provide to students. Each downloadable worksheet corresponds to a specific session. This worksheet includes lesson-specific materials to help students concentrate on essential concepts and terms.
The materials also serve as a guide to the learners while taking more notes that are Comprehensive.
However, there's a new student experience on Edgenuity. So, if you haven't yet made the switch to the unique Student Experience, you won't be able to use the Edgenuity Guided Notes.
Conclusion
Edgenuity has around 300 online programs for middle and high school students in a variety of subjects. The courses consist of video tutorials, online projects, examinations, and assessments. 
Teachers can see all three stages of students' work in the essay viewer window. These stages include pre-writing, raw manuscript, and revision. 
Teachers can switch between these three views using the tabs at the top of the window. 
These tools allow them to track and measure academic achievement and classroom engagement in real-time.