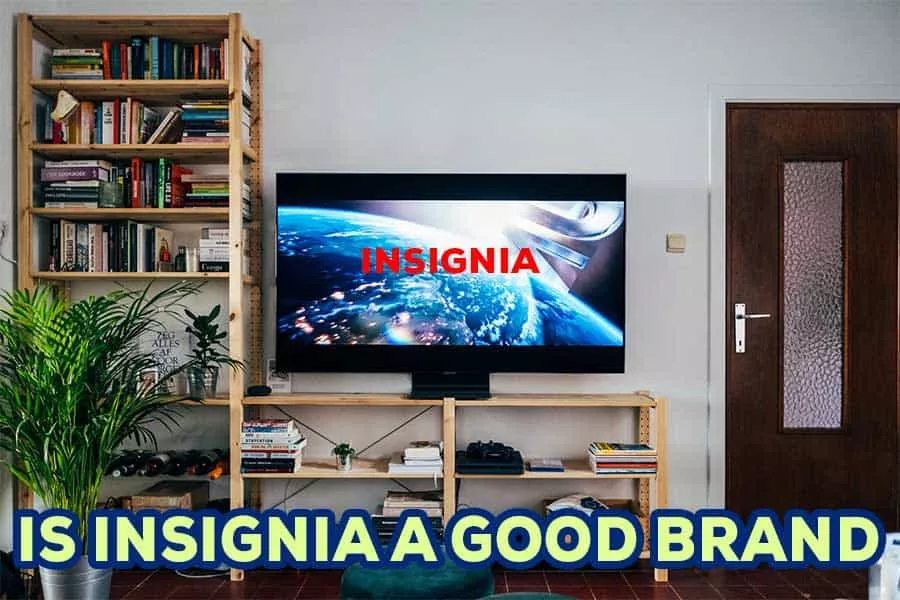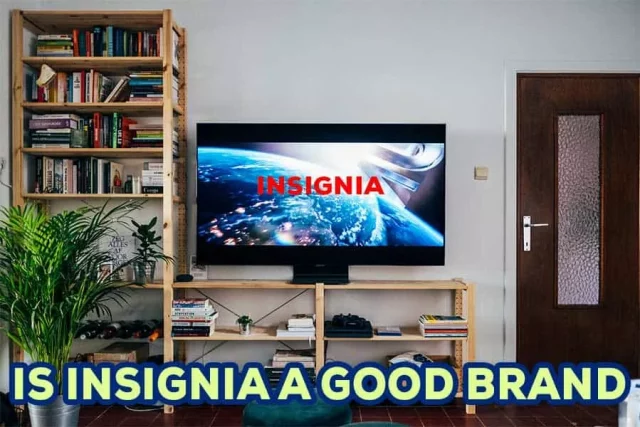 You wouldn't get any brand cheaper than Insignia in most mainstream markets where cost is a concern. Insignia is a tech company that produces many different products.
Insignia has it all, ranging from televisions, tablets, laptops, and desktops to other peripheral devices like keyboards and controllers.
Many people who have delved into online shopping platforms tend to notice the considerable difference in the pricing of Insignia products from others. In indeed makes Insignia attractive, but can you trust the quality of their products?
Many people are wary about injecting vast sums of cash into tech without the assurance of quality. 
It applies primarily to computer equipment, as they are supposed to last at least three to five years if you upgrade your equipment regularly.
So, is Insignia a good brand?
Insignia is a good brand for people on a tight budget. Their equipment is quite affordable. Insignia does not skimp on quality either. They make high-quality TVs, speakers, soundbars, gaming equipment, cables, projectors, etc. It is the ideal value brand.
Insignia Product Line
Insignia has a wide variety of products. Some of which include:
1. Televisions
Insignia makes a whole host of televisions. They have in their line LCD, UHD, and 4K televisions. Most of these products are under 600 dollars.
Insignia was one of the pioneer companies for smart television technology. They have a long-standing relationship with Amazon. Most of their smart televisions use Fire OS, so you do not have to buy the Fire Stick.
Fire OS is a proprietary operating system that runs on Amazon smart devices. One of their more popular brands is the Insignia NS-55F301NA22.

The TV has a variety of sizes ranging from 43 inches to 75 inches. It has 4K capabilities and a mid-tier 60 Hz resolution. It utilizes DTS technology for smooth and crisp sound quality.
The Television supports High Dynamic Range. The colors pop, and the contrast is truly striking. The response time is above average, making it ideal for gaming. The Television has voice command. It supports Alexa, the amazon voice command AI.
The LCD technology is ideal, as it will not suffer from burn-in, though the sharpness takes a hit.
2. Tablets
Insignia manufactures some of the cheapest tablets in the market. These tablets are ideal for media consumption or children, as they are not powerful.
Insignia manufactures both Microsoft and Android tablets. These devices are decent if you are looking for a device that will get the job done.
Most insignia tablets are under 100 dollars. The Insignia NS-P11W7100 is a tablet that natively supports Windows 10. It is an 11.1-inch tablet with an optional keyboard attachment.

The device runs an Intel Atom 5X chip optimized for minimal power draws. The CPU is efficient enough to run all your essential applications. The tablet uses a capacitive touchscreen with up to 10 pressure points.
The cameras on the device are pretty average, as you would expect with even the high-end tablets from any manufacturer. It has a 2MP front-facing and a 5 MP rear camera. The screen is crisp, with 1920 by 1080 resolution.
3. Projectors
Insignia makes budget-friendly projectors. The projectors are pretty decent and crisp enough to pass as good-quality.
Insignia projectors are popular because they provide excellent audio quality. You barely need secondary speakers with Insignia projectors, though it is recommended that you have a soundbar for the best quality.
The typical price range for Insignia projectors is between 75 and 175 dollars. It is an absolute bargain, considering how costly projectors can be.
The Insignia Projector NS-PR200 is one of the best projectors in their product line.

These projectors use digital light processing technology to reflect images onto the external screen.
The NS-PR200 can emit 100 lumens of light, which is ideal for moderately lit conditions. It also displays 100 inches as the maximum image size. The projector has powerful inbuilt speakers and a standard HDMI in the slot.
These speakers are Bluetooth capable. It is one of the more portable projectors from Insignia.
4. Insignia soundbars
Insignia makes decent-quality mid-range soundbars that are powerful and appropriate for residential buildings. Most of their speakers and systems are less than 100 dollars. They are a real bargain.
Insignia speakers use all the latest and greatest technology. These speakers have multiple input modes, making them ideal for different devices such as televisions and phones.
The Insignia 2.0 Channel Soundbar is quite famous.

The system supports connection over Bluetooth and the standard RCA input for older devices. It is pretty compact and is perfect if you are pressed for space, as it slots in perfectly in tight areas.
If you want to enhance your audio experience without breaking the bank, insignia soundbars will suit you perfectly.
5. Insignia keyboards
Alongside multiple other peripheral devices, Insignia offers excellent keyboards. Most Insignia keyboards are affordable compared to other brands.
They have mechanical keyboards that appeal to gamers and also other wireless options that are super convenient.
Insignia keyboards are incredibly cheap, with options as low as 8 dollars and most excellent-quality keyboards being priced under 30 dollars.
The Insignia TM is one of the cheapest and decent keyboards in the market.

It is appropriate for office use and casual gaming. 
The keys have excellent travel, and they also have a satisfying click sound. The keyboard uses a standard USB for connection.
Why Do People Like Insignia Products?
Insignia products are pretty popular and not just among tech enthusiasts. The products come with a host of perks that many users find attractive. So, why are they so popular?
1. Insignia products are affordable.
If you look at the prices of the base models for most mainstream devices produced by major tech companies, their prices are exorbitant compared to those of insignia products.
Insignia is renowned for making inexpensive products. It is the best value brand in the market. Insignia products are ideal if you are on a tight budget. Very few reputable brands can match Insignia's value.
Insignia's affordability cuts across its product line. If you exclusively buy Insignia products, you will end up saving thousands of dollars. 
Insignia products are available in all major retail stores and online shopping outlets, unlike most value products.
2. Decent quality products
Most value products offer sub-par and borderline appalling quality for their products. These are usually off-brand products mass-produced and dumped in online market platforms. It is not the case with Insignia.
Insignia makes excellent quality products despite the comparatively low pricing. These products pass the certification checks that other brands must pass. They undergo rigorous quality and standard checks in the course of their production.
Insignia products are trustworthy, and they have a good reputation, going by customer satisfaction indexes. They check the boxes that most buyers look for in a product: affordability and quality.
3. Warranty and guarantee
A red flag that many value products exhibit is a lack of warranty. These products are usually flimsy and not to be trusted. Insignia offers excellent value products; it assures its customers of standard warranties.
The warranty on Insignia products usually is reasonable. Different products have varying warranty lengths, with some products having more extended warranties than others.
Insignia also honors reasonable warranty requests. Many companies are generally disingenuous regarding warranty claims, but Insignia covers claims made within the active period, as per the terms.
4. Decent customer support
Insignia provides its customers with relatively good customer support. The brand is available on all major social media platforms, so you have many ways of reaching them for any queries with your device.
Insignia has a reputation for providing timely responses to their customers at most hours of the day. The company builds rapport with its customers by actively engaging with them through the various platforms.  
5. Latest and upgradable tech
Most value technology products typically lack a decent platform for upgrades. The issue is pretty standard, especially with software. 
The products ship with the original software, and the manufacturer seemingly cuts all ties with the product. It is not the case for Insignia products.
Insignia products are upgradable, particularly the operating systems sunning on their televisions. The Fire OS has been licensed and supported by Amazon for a decent number of years. It makes the Insignia products great for the consumer.
6. Amazon certified
Insignia televisions are Amazon certified. It means that the software is authentic and entirely supported by Amazon. The devices, therefore, run a reliable OS.
Conclusion
Electronics and tech equipment doesn't have to be expensive to be good. We can see it in many third-party peripheral manufacturers and mainstream products.
The most important thing to remember when purchasing value electronic devices is checking the overall quality. There is value equipment in the market that is great. Insignia manufactures excellent quality and affordable equipment.
Insignia is a famous brand among tech enthusiasts. The company manufactures a wide variety of electronics, including televisions, speakers, keyboards, TVs, monitors, etc.