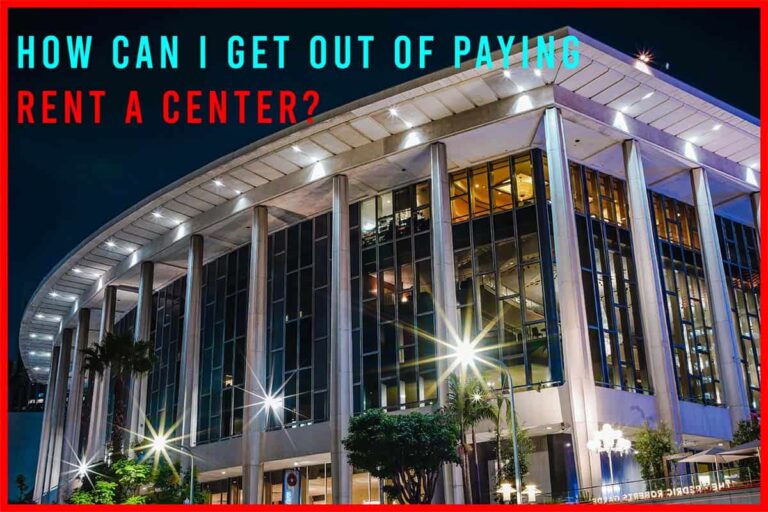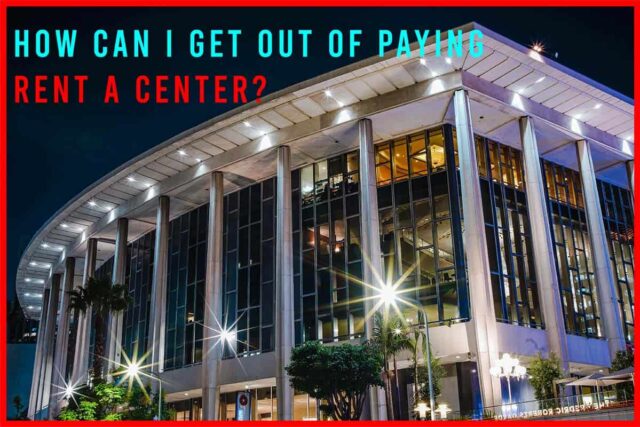 Many people try to get out of paying rent. Life happens.  With the current tough economic times, any option that seems to give you financial relieves is all you want. And there is where the rent-to-own services come in. Big mistake.
Rent a center, just like other rent-to-own services providers, allow you to take home an item without paying for it in full. You have to make a down payment and set up your payment plan.
They sell items from big brands. The items range from the living room and bedroom furniture, kitchen appliances and electrical gadgets such as computers. Rent a center may seem like a solution to your financial needs, but it's not.
Shifting focus back to our subject matter,
How Can I Get Out Of Paying Rent A Center?
Well, the safest and easiest way is to return their rented items. You can do this anytime you want, then pause your payments. Unfortunately, the company doesn't offer any refunds. The best deal you will get is to continue with your payments when ready.
How to rent a center works
The application process of rent a center is very simple.  You can apply for an item, be processed, and go with it at home the same day.
1.Submit your order
You can either submit your order to the nearest rent a center store or on their online platform. For verification purposes, some information about your place of residence and income may be required.
2.Payment plan
You will agree to the payment plan. Usually, it is in installments.  It can either be weekly, bi-weekly or monthly. You have to start by paying a down payment of as little as $10, depending on the state.
3.Delivery
Delivery will be made on the same day after you have been processed. You will also enjoy free after-sales services. This may include transportation, setting up the items, and free repairs during the payment period.
Questions you need to ask yourself before signing any binding contract with rent a center
When is the due date of your payments?
What will happen to you if you miss a payment?
What is the total cost of your payment?
Are there any hidden fees, and what would be your total cost, including the fees charged?
When will you fully own the rented item?
Are you responsible for damage to items?
Who will pay for the repair if the item breaks down?
Is there a grace period for late payments?
What are the consequences of not paying in time?
Here are some options if you are unhappy with rent a center
Shop online
There are tons of online shops with discounts to buy your furniture and other house appliances.  Some include Amazon, Brad's Deals, Wayfair and Overstock. Such sites are the perfect place to get some high-end furniture at a pocket-friendly price.
Holiday sales
 Holiday sales such as Black Friday and 4th of July sales can help you save between $100-200$ on a single item. Generous offers are often given on such holidays. It would be wise to sit on the floor for few weeks then save hundreds of dollars.
0% APR credit card
This may only work for those with good credit scores.  It is a great alternative to a rent-to-own store. You can make an urgent purchase with a 0% interest credit card.
Resale shops
You can save hundreds of dollars on gently used items. You can find such items on platforms like the Facebook marketplace and other resale shops. The items are usually in good shape and a great alternative to rent a center.
Ways you can make payment at rent a center.
There are plenty of options to make your payments at a rent center.
Cash
While some retailers have a problem taking cash payments, you can make your payments in hard cash with rent a center.
You will use a digital bar code given to you to make payments. Just visit the nearest store, scan your bar code, and then hand over the money. Your account will be credited instantly.
Phone
You can call your local rental center customer service. They will help you make payments using Visa or MasterCard. A $1.99 convenience fee may apply.
In-person
To make your payment in person, you need to stop by the original store where you signed your agreement.
Online
To get started, you need to download the rent a center app. After that, create an account using the rental agreement number assigned to you. When logged in, follow the simple steps to pay your bills.
Advantages of rent to own services
Convenient
Due to lack of a better word, let's call it convenient. This is what attracts many ordinary people. The option to buy high-priced items without paying for them in full.
You only need to have a verifiable source of income and make a down payment. Of course, it's not convenient as you will pay more at the end due to charged interest.
No credit score
Many rent-to-own stores boast of their leniency to credit card scores. You don't need good credit to lease an item.
All you need to have is a source of income, some referees, and a place of residence. Your credit information may only be pulled to verify your financial information. The leasing company may or may not report your payments to credit bureaus.
You are covered
Most rent-to-own stores will deliver the items you rent to your place. They also set them up at no cost. Customers are also covered from any replacement or repair cost if an item gets damaged during the payment period.
Disadvantages of rent to own services
Doesn't help you build your credit score
Some rent-to-own stores will report your payment to credit bureaus. Some won't. While this may be a relief to some, to many, it's not. Rent a center is a good example of a rent-to-own store that won't help you build your credit score.
In the end, it's expensive
We all can agree that items bought in rent-to-own stores are ridiculously expensive. This is because of the outrageous interests they charge on their rented items. The payments are broken down into installments to make it look little, but it's not.
Try comparing the price of items sold at rent-to-own stores and platforms like Amazon & eBay. The difference is quite alarming. Some argue that the enticing after-sales services justify their high price tags. But still, too many, it's too much!
Sketchy contract terms
Here is where the trap lies. Thousands of customers have complained of being trapped into a contract with their leasing store simply because they didn't clearly understand the bidding agreement.
Unfortunately, many organizations seem to take advantage of this. They formulate too hard to understand terms or sketchy rules, and they don't properly explain them to their customers.
The result is a customer with piling debt stranded in a leasing agreement with no way out. And, of course, leasing companies making profits.
 FAQs
Can I cancel my agreement with rent a center?
Yes, you can. As a customer, you can terminate the lease agreement anytime you want and return their products. Or you can choose to pay for them until you own them.
Can I be jailed for not paying rent to a center?
Yes, if reported, you could be arrested on a warrant and go to jail. You will likely be charged with failure to return leased property or theft. Rent a center normally hires lawyers to file breach of contract lawsuits against those with underlying debts and costs.
What information will I need to rent from rent a center?
Some basic information is all you need. Personal information and contact information. You will also need to verify your source of income. Residential information and at least two referees are also required.
Can I get a refund from rent a center?
Unfortunately no, the company does not give refunds to its customers. On the bright side, there is an option to return the items and pause your payments. This can be done anytime within your lease cycle.
What is rent a center return policy?
Rent a center allows its customers to return the rented items anytime they want. No penalty will be charged, and the payments will be paused. When ready, you can get the item back and pick it up where you left it. You can also pick a different item but of the same value.
Does rent a center call your employee?
Rent a center conducts a background check on all their applicants. One of the checks they do is to call your employer. This helps them to verify your source of income and the attached references. And if you are interested in what are the best background check websites you can read this article by The Denver Post.
Conclusion
Thousands of Rent-A-Center customers across the United States have complaints against them. Even the Federal Trade Commission has warned people against signing agreements with rent-to-own services.
There are some alternatives that are way cheaper and convenient. Don't be in a hurry to own that furniture or appliance. Unless it's urgent, you can always wait a little bit longer until you can afford it. And if stuck in agreement with rent-to-own store, you now know how to get out.
You May Like These Articles As Well:
How Much Does It Cost To Ground A House? Must-Know Information