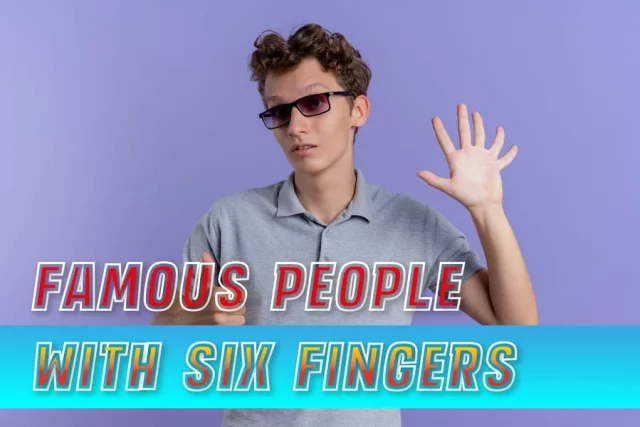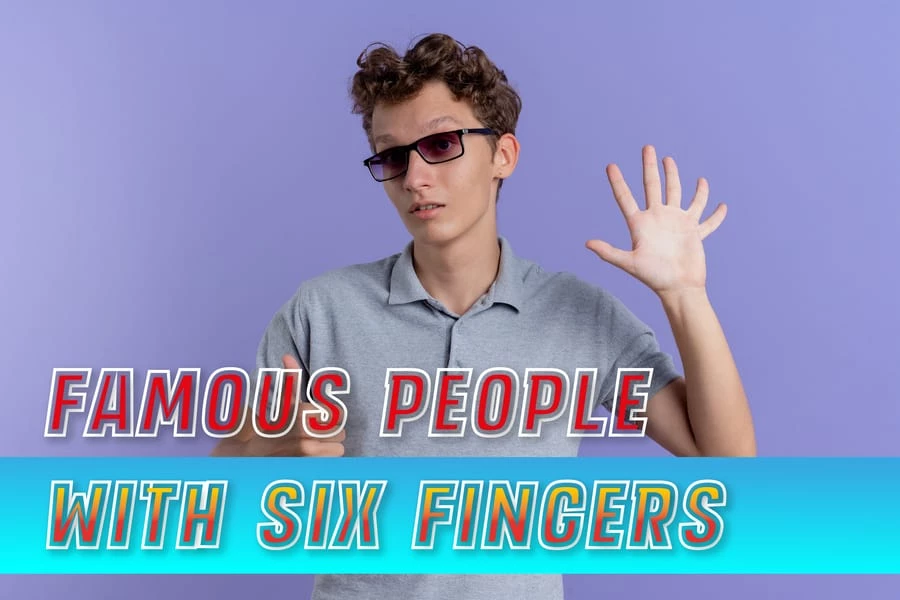 Have you ever heard of the term "polydactyly?" It refers to a condition in which a baby is born with extra fingers or toes. It could be one or more extra fingers or toes on one or both hands or toes.
Now, do you know most famous people have six fingers? Some might even have more.
This post is about famous people around the world with six fingers. And we want you to know that this post is for educational purposes, not to body-shame anyone.
So, are you ready to learn about famous people with six fingers? If yes, let's go!
1: Gemma Arterton
First on our list is Gemma Arterton. The actress admitted that polydactyly runs in her family; unluckily, she has it.
The actress claimed her granddad and dad had six fingers, and she's proud. However, she was born with two extra fingers, one on each hand.
Gemma Christina Arterton was born on 2 February 1986 in Gravesend, Kent, England, and was raised there. The beautiful Prince of Persia: The Sands of Time actress won her first professional role while still learning her trade in drama school. She featured in the famous BBC drama "Capturing Mary."
People in the movie industry classify Gemma as a highly professional actress and a nice person.
Gemma has also appeared in over 39 movies as of the time of writing. And there's a possibility we'll see more of her for decades.
For now, motherhood calls. The actress confirmed the report that she's pregnant with her first child and we can't wait to celebrate the good news when her child is born.
2: Scott Leo "Taye Diggs"
Taye is another famous individual with six fingers. Yes, he was born with the condition, polydactyly.
The actor was bold enough to speak about the condition during a CBS talk show. And he even went as far as showing off the scar during the show. The scar showed Taye had two extra fingers, one on each hand.
Thankfully, Taye has had surgery to help remove the extra fingers. But even if he had left the fingers, there's nothing wrong with that.
Unfortunately, polydactyly wasn't the only condition Taye Diggs had. He also had insomnia.
The actor mentioned that he was constantly waking up between two and five, a development that affected the quality of time he had with his son.
The actor was bold enough to admit he had insomnia during a talk show and didn't forget to mention how proud he was to have found help.
Born on 2 January 1971 in Newark, New Jersey, Taye Diggs has appeared on Broadway in various TV shows and films. However, he's best known for his incredible roles in Rent, Private Practice (A TV series), Malibu's Most Wanted, Brown Sugar, and How Stella Got Her Groove Back.
Taye Diggs was married to Idina Menzel in 2003. However, both couples went their separate ways in 2014.
3: Hound Dog Taylor
Taylor is another famous person born with the condition, polydactyly. But in his case, he had one finger in his left hand (You'll soon know why, though). And maybe that was the reason he was such an exceptional guitarist and singer.
The Chicago blues guitarist's debut albums "HouseRockers "and "Hound Dog Taylor" took him from abeyance to fame.
Now back to why Taylor had only one extra finger on the left hand. Initially, he had an extra finger on both hands. But everything changed one night.
The extra finger on Taylor's right hand was unmovable and made playing the guitar appropriately a considerable challenge for Taylor.
So, one night, he came home drunk and did the unexpected. He took a straight razor and sliced the extra finger on the right hand off.
Though Taylor is no longer with us, his music, spirit, and legacy live on. He was inducted into the Blues Hall of Fame posthumously in 1984.
The Chicago blues guitarist and singer was born on 12 April 1915 in Natchez, Mississippi, United States of America. His genres of music include blues rock, Chicago blues, and rock and roll.
4: Hrithik Roshan
Named the sexiest man in Asia, Hrithik boasts an extra thumb. Yes, a thumb, not the pinkie finger.
His double-digit thumb is something you may not have seen before. And the most incredible thing is that the Bollywood superstar isn't ashamed or afraid to show off.
If you're a fan, you probably have pictures of Hrithik Roshan displaying his double thumb finger to the world.
When addressing his title as the sexiest man in Asia, HR, as he's fondly called, made mention of the double thumb (even without anyone asking). He said his double thumb was imperfectly beautiful.
You may have come across people asking this question: how many fingers does Hrithik have?
Here is the simple answer. The extra thumb HR has is on his right hand. The left-hand doesn't have an extra finger. So, in total, HR has 11 fingers.
In other words, he has six digits on the right hand and five on the left hand.
Hrithik Roshan also spoke glowingly about his double thumb, which he claimed was repelling people back in his school days. The 48-year-old actor was also quoted to have said, "Make your weaknesses your strength. Be proud. You're beautiful."
So, HR wants people to find beauty in their imperfections and transform their weaknesses into strengths. He claimed that by so doing; life would be more beautiful for people.
Hrithik Roshan, aka HR, is an Indian actor born on 10 January 1974. He's one of the highest-paid actors in India.
HR plays various roles in his movies and is famous for his unique dancing skills. He has won several awards throughout his blistering career, which includes six Filmfare awards. And four of those awards he got were the best actor awards.
5: Garfield Sobers
Sir Garry Sobers is a famous name in the world of cricket. You cannot claim you love cricket and not know or love Sir Garry (Garfield Sobers).
So, does Sir Garry have polydactyly? Yes, he does. He had an extra finger on both hands, making it 12 fingers in total.
However, Sobers did something crazy to ensure he didn't have six fingers on both hands. The extra finger on one of his hands came off before he turned 10.
How did Sobers' first finger come off? It was jerked off with the help of a piece of catgut wrapped tightly around its base and hauled off using an extremely sharp tug.
So, yes, Sobers had 12 fingers at birth, but he played his first professional cricket game using 11 fingers.
By the time Sobers was 14, the second extra digit on his was gone. He severed the second extra finger using a sharp knife (oh, this hurts!)
Having 12 fingers doesn't take anything from the great player Garry Sobers was. He was a very successful cricketer.
The former West Indies Cricketer debuted in 1954 and is considered one of the best in the game. However, critics, fans, and the world of cricket regard Sir Garry Sobers as the sport's greatest all-rounder.
Gary Sobers was able to captain his side, the West Indies, from 1965 to 1974. Another thing that sets him apart is his versatility.
Garry was exceptional in all departments of cricket. He could turn a game in his team's favor in the twinkle of an eye.
Garry Sobers was born on 28 July 1936 in Bridgetown, Barbados. His nationalities include Australian and Barbadian.
6: Antonio Alfonseca
Antonio Alfonseca is another famous individual who has polydactyly. But what makes his case unique is the fact that he has extra fingers and toes.
In other words, Antonio has an extra finger on each hand and an extra toe on each leg. So, in total, he has 12 fingers and toes.
Antonio was a professional baseball player and one of the finest the game has ever produced. He's described as a formidable athlete and nicknamed El Pulpo ("The Octopus"). Other nicknames are "Six Fingers" and the "Dragonslayer."
Antonio played for several clubs in his remarkable career that lasted for 11 beautiful years. He played for the Florida Marlins and the Chicago Cubs, while the others include the Atlanta Braves and the Texas Rangers. He had 400 strikeouts in his entire career, including 35 wins and 37 losses.
Now, the question is, did the former pitcher's extra finger give him any edge during games?
Antonio's extra digits can best be described as tiny extra pinkies. But, unfortunately, they didn't touch the ball and, thus, didn't give the player's curveballs any considerable edge.
Antonio was born on 16 April 1972. Antonio's place of birth is La Romana, Dominican Republic.
7: Jimmy Cliff
If you're familiar with the hit song "I can see clearly now," you'll know who Jim Cliff is. He's a legendary reggae musician and multi-talented instrumentalist.
Jimmy was born with six fingers, but they were chopped off immediately. And as you can see, the legendary musician didn't want anything to get in the way of his jamming.
Interestingly, Jimmy was among the famous musicians that made reggae popular across the globe. The Jamaican-born singer featured in the 1972 hit movie "The Harder They Come."
Furthermore, Jimmy also performed in the 2007 cricket world cup. So, he was instrumental in introducing Reggae to the world.
Only two reggae artists have made it to the Rock and Roll Hall of Fame. And the two legends are Jimmy Cliff and Bob Marley.
Jimmy Cliff's original name is "James Chambers OM." He was born on 30 July 1944 in St. James, Colony of Jamaica. He's a ska, reggae, rocksteady, soul musician, singer, multi-instrumentalist, and actor.
He's also the only reggae musician to have received the Order of Merit, considered the highest award from the Jamaican government for achievements in arts and sciences.
So, much respect to a legend, Jimmy Cliff, a man who popularized reggae across the globe.
8: Anne Boleyn
Anne Boleyn, Henry VIII's wife, is another famous person with polydactyly. Unfortunately, many regarded her as a witch for this. Another thing that made matters worse for her majesty was that many believed she had a third breast.
Anne's extra finger was on her right hand. So she had eleven fingers in total. Now, let's be logical in our thoughts.
Did Anne truly have a third breast? Was it all just rumors? It could be rumors. Her enemies or haters may have fueled the rumor to discredit her.
Years ago, a woman with a third breast or an extra body part like an extra finger was called a witch.
However, while some historians believed Anne might have had an extra finger or an outgrowth on her right hand that looked like one, the narrative that she had an additional breast seemed untrue.
Anne was born in 1507 (some historians believe she was born in 1501) and died on 19 May 1536. She's the most famous of King Henry VIII's six wives.
Unfortunately, Anne was falsely accused of committing adultery (many historians believe so). She was arrested and later executed by a French swordsman.
9: Hampton Hawes
If you're someone who enjoys listening to Jazz, you'll certainly like Hampton Hawes. Hampton was a highly skilled and cultured jazz pianist. And he touched a lot of lives with his music.
Now, did you know Hampton had polydactyly? Yes, he did. The jazz pianist had an extra finger on both hands, though most people never knew.
Hampton's extra fingers were not as well-known as the others on this list because they were chopped off right after birth.
Hampton watched his mother play the piano week in and week out. His mother was their church pianist. However, he didn't wait for his mother to teach him how to play the piano. Instead, Hampton learned it himself.
In addition to being a pianist, Hampton was also a writer. He displayed his writing skill with the 1972 jazz book titled "Raised Up Off Me."
This book is one of the most comprehensive and detailed jazz books ever written. Hampton also co-authored it with Don Asher.
Hampton was born on 13 November 1928. He was born in Los Angeles, California, United States.
10: Tyrone Rugen
In The Princess Bride, Tyrone Rugen is the six-fingered man. Count Tyrone Rugen acted as the secondary antagonist of the 1973 fantasy novel, The Princess Bride, written by the late William Goldman, including the film's live-action adaptation that took place in 1987.
In the film, Tyrone's name is Indigo Montoya. It's quite an exciting movie, and the extra finger looks good on the actor.
Conclusion
So, these are the famous people with six fingers. They have polydactyly, which is a condition that causes an extra finger or toe to develop.
Having an extra finger or toe doesn't make any of the names mentioned here sick. It is just an outgrowth and nothing more. Polydactyly isn't a sign of any underlying disease either.
We are so happy that these celebrities never allowed the conditions to affect their quality of life. Yet, they still went on to achieve many great things.