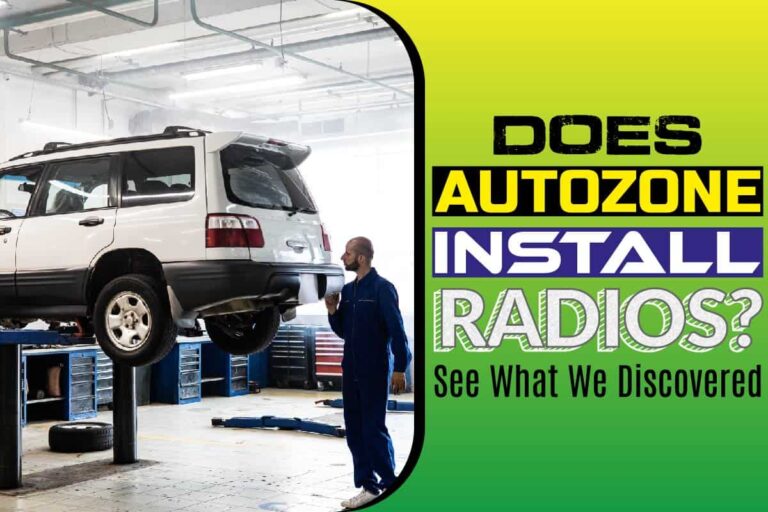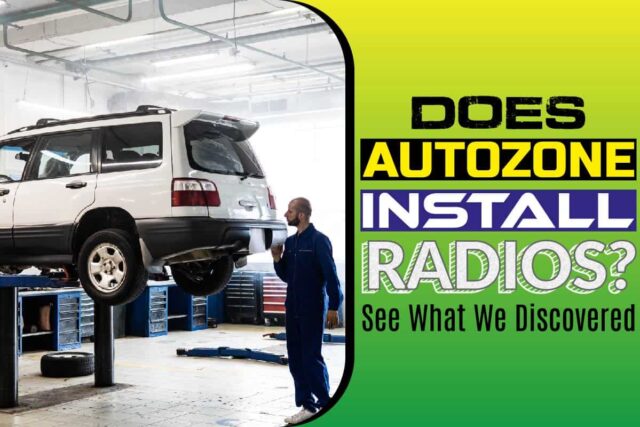 AutoZone is the largest retailer of automotive parts in the U.S. They have over 6,000 stores across the U.S. They also have retail stores in other countries like Mexico, Puerto Rico, and Brazil.
AutoZone is dedicated to offering a wide range of services to its customers. All their stores provide quality products for cars, sports vehicles, and trucks.
No doubt, AutoZone has made the purchase of auto parts across the U.S easy. Let's take their Same-Day Store Pick-Up as an example. With just your mobile, you can place an order in the comfort of your home.
However, many people have been asking the question below.
Does AutoZone Install Radios
No, AutoZone does not install radios. However, they offer services like installing batteries and wiper blades.
In addition, they distribute auto parts through various online websites. They offer diagnostic and repair information services through alldatadiy.com. You can also place an order for your auto and light truck parts and other accessories on AutoZone.com.
Keep reading to discover more about AutoZone!
Does AutoZone Offer Free Battery Installation
AutoZone offers customers a wide range of free services. One of such services is free battery installation.
However, you only get these benefits when you purchase a new battery from the company. Also, certain conditions might oppose this benefit.
First, AutoZone will not install your battery if it involves removing other components from your car.
Your battery location can also be a problem. Most batteries are located at unusual spots like under a seat or wheel well. In cases like this, AutoZone will not install your battery as well.
So you may have to check this out first before proceeding. Or you may need to install your battery elsewhere. However, Autozone would install batteries in the right location or spot at no cost.
Interestingly AutoZone also offers free battery testing. You could get your battery tested before purchasing a new one.
If all your battery needs is a charge, they can also do this for free. However, this may differ based on the store location. So, before heading out, contact the closest AutoZone store to you.
Other Free Services Offered By AutoZone
AutoZone checks your engine light for free. Interestingly, you'll also get a free report. They also check your alternator and starter at no cost. You can also get your newly purchased wiper blades installed for free too.
AutoZone offers a service called Loan-A-Tool. This allows you to borrow specialty tools for free. If you need to fix your vehicle, AutoZone offers excellent help.
They provide a step-by-step guide and information to assist you. And you get this at no cost as well. AutoZone also offers free store pick-up services to you.
This is available at any location in the U.S. Also, for orders of $35 or more, you can get free next-day delivery.
Lastly, AutoZone gives you credits for your used batteries. Also, they recycle your used oil as well.
How Much Does AutoZone Battery Cost
An AutoZone battery costs $50 to $120. However, the prices vary depending on the type of battery you want. The year and model of your car can also be a determining factor.
A premium battery costs $90 – $200. It is best to go for expensive batteries. Usually, the higher the price tag, the higher the quality. So you can be sure your batteries will last longer.
Again, expensive batteries have a longer warranty. However, your battery's lifespan is dependent on its age and not its usage.
AutoZone helps you make the right battery choice for your car. Usually, an AutoZone employee checks your car. And afterward, they will state the price options for you. They also explain the benefits of your choice. And, they may go further to recommend a suitable battery for your car.
How Does AutoZone Free Engine Diagnostics Work
AutoZone offers a free engine light diagnostic for your car. They offer you free reading and give you a free report, which usually takes only a few minutes.
Usually, they plug a code scanner into your car. The code scanner detects if there is an error. Afterward, they analyze the possible problem with your car. And provide a verified fix solution for it from various technician records.
Lastly, you'd receive the solutions as a printed report slip.
What Credit Cards Does AutoZone Accept
AutoZone accepts MasterCard, Visa, American Express, AutoZone gift cards, and AutoZone Loyalty Rewards.
You can also make use of your debit cards and PayPal. However, your debit cards should have Visa, MasterCard logos.
AutoZone does not accept CODs, personal checks, and EBT cards. They also do not accept debit cards without Visa or MasterCard logos.
AutoZone also has a store credit card called the AutoZone merchandise credit. This card is issued as a declining balance card. Furthermore, you can use it to purchase merchandise at any AutoZone store.
If you're interested in using AutoZone gift cards, they're available at any of their stores. Alternatively, you can purchase it online at www.autozone.com/giftcards. AutoZone gift cards are used to purchase merchandise at any AutoZone store. Interestingly these cards never expire.
How Does AutoZone Same Day Store Pickup Work
AutoZone also offers a same-day store pick-up. And it is quite an easy process. The first thing you need to do is log on to the AutoZone website.
When you're logged in, select a nearby AutoZone store. You can find a nearby store by using the AutoZone store location on the website. When that is done, find the part you want to order on the website.
After selecting an order, select 'free store pick-up' as your delivery option. You will receive a confirmation email when your order is ready.
However, you need your credit card, confirmation email, and an I.D to pick up your order. But, if you made your payment via PayPal, all you'll need is your email confirmation and I.D.
The confirmation email usually contains the store's address and phone number.
You can pick up your order in two ways. The first is the 'In-Store Pick-Up.' This method requires you to go into the AutoZone store and pick up your order. They will verify your information before handing over your order.
The second method is the 'Curbside Only.' This method doesn't require you to go into the store. You can stay in your car while an AutoZone employee delivers your order. However, at your arrival, call the number sent to your email.
Then an AutoZone employee would bring your order to your car. AutoZone also offers Free Next-Day Delivery. But, you will have to place your order on or before 10 p.m. And you will get your order delivered to your doorstep the next day.
What Are AutoZone Rewards
AutoZone offers a free program called AutoZone reward. This program offers you a $20 reward for every five purchases of $20 or more. It also grants you access to other exclusive offers.
You can be part of the AutoZone program rewards by visiting any participating AutoZone store location. Preferably, you could create an account online. To do this, visit autozone.com/create.
However, if you join the program in a store, you'll have to connect the account with your AutoZone rewards I.D. when shopping online. For easy access, get the AutoZone app installed on your phone.
Benefits Of Working At AutoZone
AutoZone provides the best work environment and conditions for its employees. There are several benefits of working in the company.
As an employee, you'll receive a 20% discount on AutoZone merchandise. You'd also get access to discount programs from other retailers.
As an AutoZone employee, you're open to discounts from Apple, Verizon Wireless, Dell, AT&T, etc.
Autozone also offers its employees' life insurance, supplemental insurance, saving funds, and lots more.
What You Know About AutoZone
AutoZone started as a wholesale food company. The company was named Malone & Hyde, Inc at the time.
Later on, the business expanded to include a drug store, sporting goods stores, and supermarkets. In 1979, they started an automotive parts store.
The board of directors at the time identified the need to help people maintain their vehicles. And this led to its creation.
However, the business was first called Auto Shark. But in 1987, it was renamed AutoZone.
They purchased ALLDATA in 1996. Before then, ALLDATA was America's leading provider of auto parts and repair software.
In 1998, the business started expanding to other countries, beginning with Mexico. Today, they have over 6,400 stores across the US, Puerto Rico, Brazil, and Mexico. And they boast over 87,000 employees.
Their competitors include O'Reilly Auto Parts, LKQ Corporation, Pep Boys, Transamerican Auto parts, and Delphi Technologies.
Final Note
AutoZone does not install radios. But, they can install batteries and wiper blades. Interestingly, they can offer you free battery installations.
AutoZone offers other free services like engine diagnostics, alternator and starter check, free battery voltage test, etc.
They are the largest retailer of automotive parts in the U.S., with over 6,600 stores across the U.S., Mexico, Puerto Rico, and Brazil.
They are also recorded to have over 87,000 employees. AutoZone offers diagnostic and repairs information services through alldatadiy.com. You can place an order for your auto and light truck parts and other accessories on AutoZone.com.