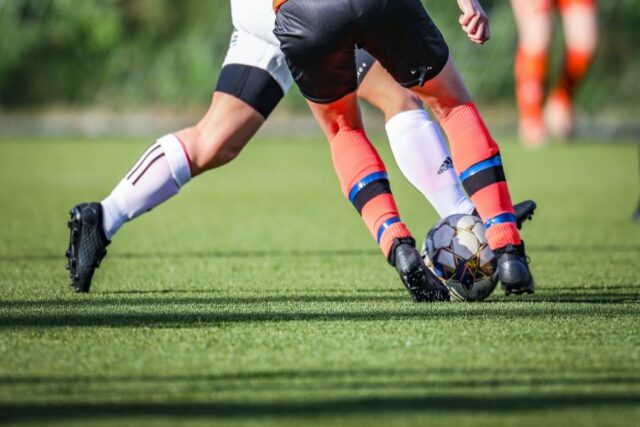 Why is Harry Maguire a meme? For various reasons, Maguire, an England and Manchester United defender, is always in the news.
For starters, the defender always trends for his own goals. For someone his size, he should be a mighty defender able to intercept balls primarily aerial.
You've probably seen numerous Harry Maguire photos in your feed because he's become an internet sensation.
He has always been on the receiving end from both opposition fans and Manchester's. The fullback's errors have proved costly to the team, leading to most of their own goals,
Since we are not discussing Maguire's recent poor form at Manchester United, let's find out why he's a meme.
Why is Harry Maguire a Meme?
England defeated Columbia in a penalty shootout in the 2018 World Cup. Maguire tallied the game's first goal, advancing his nation to the World Cup semifinals. After the match, Kyle Walker posted a photo of Maguire speaking to his wife with a funny caption.
Internet users have since been all over the photo, referring to it as "Smooth Harry Maguire." Soon after the game, the picture went viral, and people began saying things that made it seem like Maguire was flirting with his partner.
Manchester United Signs Harry Maguire
Manchester United agreed to pay Leicester City £80 million for center-back Harry Maguire. They required his services so urgently. Maguire's signing made him the world's most expensive defender.
In 2018, Liverpool paid Southampton over £75 million for Virgil van Dijk. Manchester United hoped that Harry Maguire would have the same impact on the team as van Dijk at Anfield. Man City also desired to acquire Maguire, but they were unwilling to pay the asking price.
According to a different report from Sky Sports, Manchester United believed the England World Cup sensation was worth approximately £65 million.
"Maguire is due to return from holiday in the next few days and is understood to be keen to move to Old Trafford," the statement read.
After losing crucial player Riyad Mahrez to Manchester City, Leicester wanted to keep the defender.
Maguire joined Leicester City from Hull City a year prior and performed well in the center of the defense. After a brief period of acclimatization to the King Power Stadium, the 25-year-old footballer was named the club's footballer of the Year.
The following summer, Maguire became a cult figure due to his outstanding performance for England at the World Cup.
His performance in the quarterfinal victory over Sweden caused everyone to discuss and make comments about him.
With Maguire's first goal for England, the team won its first major competition since 1986 and advanced to the following round.
Maguire was selected for Gareth Southgate's England squad for the 2018 FIFA World Cup due to his outstanding performance. He defended with vigor during the game and maintained the team's composure with the ball.
Nothing about his demeanor made anyone believe he would cause problems for Manchester—a team whose mentality has been questioned. Solskjaer had worked diligently to ensure that new players inspire optimism rather than anxiety.
United's defense needed Maguire's aerial ability. In the 2017 Premier League season, Leicester conceded fewer goals from set pieces than any other team. He can also strike with force and assess the game well.
His primary responsibility at United was to strengthen the defense. Presumably, alongside Victor Lindelof since Eric Bailly suffered a knee injury in preseason.
He was to be out for four to six months. Maguire was superior to the team's other center-backs at initiating attacks.
Harry Maguire Trolls
Maguire was one of the most sought-after Premier League center-backs in the summer of 2019. United landed him.
He only played for Leicester for two seasons because Hull City eliminated them from the Premier League in his rookie year. However, following the 2018 World Cup, his value increased to £60 million ($76 million).
Maguire intended to introduce something new to the table due to his mobility and awareness of attack maneuvers.
Maguire is also superior to all of the Red Devils' defenders because he can advance with the ball and play passes into the center of the field.
Manchester knew they had cemented their defense, thanks to the fullback. However, that wasn't the case.
United's first encounter of the season was a 4-0 victory over Chelsea, which Maguire helped lead to. He was awarded Man of the Match.
The Red Devils then lost eight of their next nine league matches, including stunning defeats at the hands of Crystal Palace, West Ham, and Newcastle.
By mid-January, they had dropped eight contests. The most humiliating defeat was a 2-0 home loss to Burnley. He was beaten to the two goals and was blamed for them.
30-year-old Maguire still boasts as the most expensive defender in the world. He has participated in 175 games for Manchester United, scoring seven goals and assisting on five others.
Both United and opposing fans have said negative things about him. By the conclusion of last season, he was merely filling in for Erik ten Hag, the fifth-choice center-back for the Dutch manager.
By season's end, he had made only eight Premier League outings. He was not even a substitute against Manchester City in the FA Cup final.
Stripped Captaincy
Solskjaer appointed Maguire captain in February 2020, following Ashley Young's departure. Even though Maguire had a difficult start, he was granted responsibility despite joining the club for only six months. This demonstrated the team's absence of leadership.
Maguire initially appeared to benefit from being in control, as both he and United improved significantly after acquiring Bruno Fernandes.
They won all 14 games during the season, and when football resumed following the coronavirus suspension, the stadiums were largely vacant. United placed third and qualified for the Champions League.
Then, Maguire was frequently blamed as United suffered humiliating defeat after defeat. At the King Power Stadium, he was responsible for all four of Leicester's goals in a humiliating 4–2 loss and Liverpool defeat 5-0 at Old Trafford.
Harry Maguire claims that Manchester United manager Erik ten Hag has stripped him of his captaincy.
During Ten Hag's first season in command at Old Trafford, he fell out of favor and has been heavily linked with a summer exit. West Ham is one of the interested clubs.
There was "extreme disappointment" on social media when the England back announced he had lost his leadership position.
"The manager informed me today that he is changing the captain," Maguire said. Ten Hag outlined and gave reasons why he felt Maguire should be stripped of the captaincy.
The fullback didn't take it well and expressed his disappointment. However, he vowed to do his best whenever he's on the pitch.
United has formally appointed Bruno Fernandes as team captain. Last season, the midfielder took over as captain after Harry Maguire was demoted.
Southgate Believes in Maguire
It's essential to remember that Maguire is still a key player for England. One of the first names on Gareth Southgate's team sheet, and a significant contributor to their recent revival.
He scarcely missed a step during the 2018 and 2022 World Cups and England's run to the Euro 2020 final.
Rashford, Sancho, and Saka all missed their penalties in England's shootout loss to Italy, whereas Maguire's landed in the top corner. It seems like issues with Manchester United disappear when he dons the England jersey.
"I've never seen a player treated so poorly," Southgate said, directing his ire at English media figures. He expressed disappointment at the home fans who had jeered Maguire after he entered the game as a second-half substitute.
"Scotland fans are somehow justified to mock the opponent. I don't have any concerns about what they did, but they treated him poorly for a long time before they did it.
Nothing is serious. Our experts, detractors, or whatever you want to call them, did it. They created something unlike anything I've ever seen before."
Maguire is receiving much negative press, which will hurt his confidence. Southgate cannot be faulted for not foreseeing it, as the player is evidently out of form.
However, he is partially to blame for allowing people to say negative things about him by selecting a player so severely out of form.
Although Maguire's own goal with the team proves costly, even the experienced defenders have bad days at the office.
Conclusion
Why is Harry Maguire a meme? Maguire has become an amusing meme thanks to his fans. Supporters and experts use every error he makes to justify keeping him off future England teams.
Despite giving his best on the pitch, Maguire is constantly exposed to public risk daily. Manchester has had its fair share of problems, but Maguire is always the scapegoat.
Jadon Sancho feuded with Ten Hag. Sancho refused to take responsibility for the team's poor performance.
Should Manchester United work on its problems, or should they blame the defenders and goalkeepers for their losses?