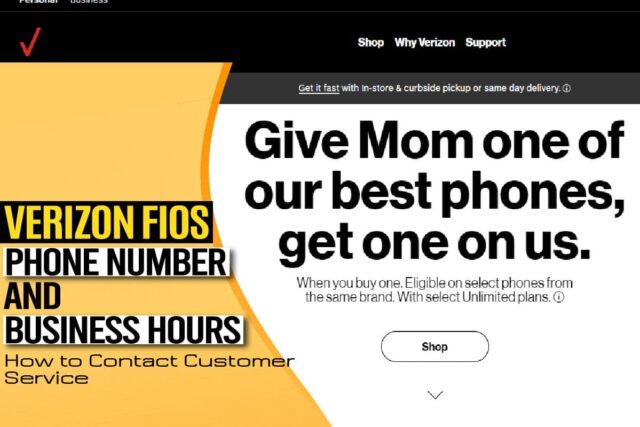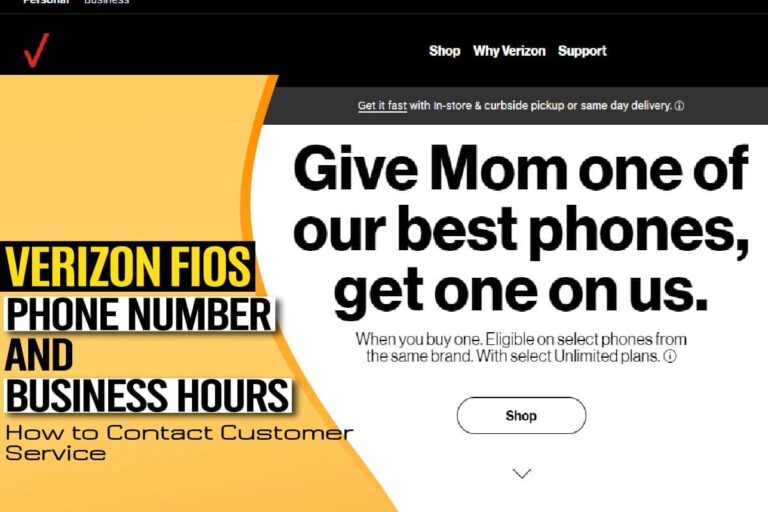 Verizon's Fios is a reliable, high-speed network that provides its users with incredible networking speeds. Like most services, every once in a while, you might experience some issues when using it.
For the most part, Verizon is quite reliable. If you experience challenges using the service, it would be convenient to have support on speed dial. Let us take a look at some of their phone numbers.
Contact Information For Verizon Fios
Here is a list that summarizes the relevant contact information for Verizon live support.
1-800-837-4966: Verizon Customer Service
1-844-371-1792: Business phone
1-844-687-7885: Home 5G
1-800-225-5499: Devices and upgrades
1-800-922-0204: Troubleshooting
1-800-922-0204: Accounts, billings, and payments
Verizon Fios Hours Of Operation
Verizon Fios operating hours for live support vary, depending on the type of service you are trying to obtain.
Here is a brief rundown on their operating hours for their different support services:
Customer service support for Verizon runs from Monday to Friday between 8 a.m. and 6 p.m. Eastern Time.
Verizon business phone plans live support run from 6 a.m. to 8 p.m. from Monday to Friday.
For home 5G, devices and upgrades, live support 8 a.m. and 6 p.m.
For troubleshooting, live support is available from Monday to Friday between 8 a.m. and 7 p.m. It is available on Sundays between 8 a.m. and 5 p.m.
Accounts, billings, and payments live support is available every day between 8 a.m. and 9 p.m.
How To Contact Verizon Fios Real Person
You can get in touch with live support, depending on what your issue is. We shall look at the various categories of said issues and how to contact the most relevant Verizon number.
1. Verizon Fios customer service phone number
Here is how to quickly get in touch with live customer service assistance:
Dial 1-800-837-4966
You will then need to input your wireless phone number provided by Verizon.
Once you enter your phone number, you will need to press 6.
In a few seconds, you will be in touch with support.
Alternatively, you can follow the voice prompts once you've dialed 1-800-837-4966.
The list of services can be accessed by:
Pressing 1: This will help you enroll in the service. It will also allow you access to customer service if you have a prepaid account.
Pressing 2: This gives you access to a full range of access services relating to your T.V., internet, and phone.
Pressing 3: This will help you find any information with regard to your existing Verizon phone number.
Pressing 4: This will assist you in gaining access to matters regarding backdated payments. They include collection notices on existing accounts and discontinued services.
Pressing 5: Checking on orders.
Pressing 6: This is for accessing any other service apart from the ones listed above from 1 to 6.
2. Verizon Business Phone Plans
If you want to set up a VoIP service for your business, you can get in contact with Verizon by simply following these steps:
Dial the Fios contact 1-844-371-1792.
You will be transferred to a live agent.
This is a helpful service for any business wishing to switch from conventional landline communication.
You will get information on set-up costs, and also packages that they offer. This includes bulling information for the multiple services available.
3. Verizon 5G Home internet support
If you require information on setting up a 5G network for your home office and use:
Dial the Verizon Fios internet technical support: 1-844-687-7885.
You will be transferred to live support for the 5G home network
Here you will get extensive support on matters to do with everything 5G. This includes set-up costs, billing information, and rates.
You can contact the number for troubleshooting or network outages.
4. New services and device upgrades
Verizon offers upgrades on your current service plan. If you wish to downgrade or upgrade your current plan, you can do so by:
Dial 1-800-225-5499.
Inform support of your intentions to upgrade, or
Request a downgrade from your current plan
This service only applies to your wireless service.
5. Troubleshooting Devices
This is arguably the most critical service for consumers. Network outages can cause unprecedented losses in business. It can also be frustrating when using the services for non-work-related activities.
If you ever have issues troubleshooting your devices, be sure to
Dial the Verizon Fios telephone at 1-800-922-0204.
Have the device type and number ready for your live customer support.
6. The number for account billings and payments
If you happen to have any inquiries in regard to billing, rates, and accounts:
Have your account information ready.
Dial 1-800-922-0204.
Wait for approximately 5 minutes. The wait time might be shorter.
You will be transferred to live customer support.
Verizon Fios Mailing Address
You can send your payments or mail to Verizon through P.O. Box 15124 Albany, NY 12212-5124.
Live Chat and Email Options For Verizon Fios.
You can access live chat options from the Verizon website. They have an integrated chat system that you can use to contact the support team.
You will also be able to get in touch with Verizon on both Facebook and Twitter. Unfortunately, there is no email chat available for Verizon.
Important Social Media Pages For Verizon Fios
Verizon can be contacted on both Facebook and Twitter.
Verizon Fios Help Pages And FAQ
For any queries regarding the plethora of services offered by Verizon, they can be contacted on either Facebook, Twitter, or via the in-page support on their website, available at https://www.verizon.com/business/contact-us/.
Some FAQs are:
What channels are available in my area?
To see the complete list of T.V. channels in your area, sign in to Verizon.com. You can then look through your plan. Select 'check availability to see the channels available in your area.
Is there a difference between the Verizon apps?
Yes, there is. With the Fios T.V. app, you can access your viewing anywhere. It is a multi-platform app that works on both IOS and Android that allows you to watch your Verizon T.V. anywhere.
My Fios app enables you to manage all your Verizon Fios accounts with ease.
Where can I get installation instructions?
Instructions are available for download on the Verizon website. You can find installation instructions in PDF format for both the VMS110 and other set-top boxes.
Do I need an A.V. cable for my T.V.?
To get both audio and video on your Fios T.V., you will need an HDMI cable. This will help display crisp images and clear audio from your television.
CEO And Upper Management For Verizon Fios
Some of the executive team of Verizon Fios includes;
1. CEO Hans Vestberg
Hans Vestberg is the CEO of Verizon. He has had vast experience in the telecommunications industry. He had previously worked as the CEO of Ericsson before moving to his current role in 2017.
2. Executive V.P. and group CEO Roman Dunne
Roman Dunne is tasked with running the group responsible for providing networking, data, and T.V. products. Prior to his current role, he had worked at 02 as the chief financial officer.
3. Executive V.P. and CFO Matthew D Willis
Matthew D Willis is responsible for exercising oversite on all financial activities at Verizon. He had previously worked as the treasurer for Verizon.
4. Executive V.P. and CEO-Verizon Business Tami Erwin
Tami Erwin handles the business portion of Verizon. This encompasses the employees, the entire supply chain as well as building relationships with governments.
Conclusion
There are so many ways to get in touch with Verizon. They have dedicated live support for all the services they offer. They also operate within reasonable hours to optimize the demands for customers.