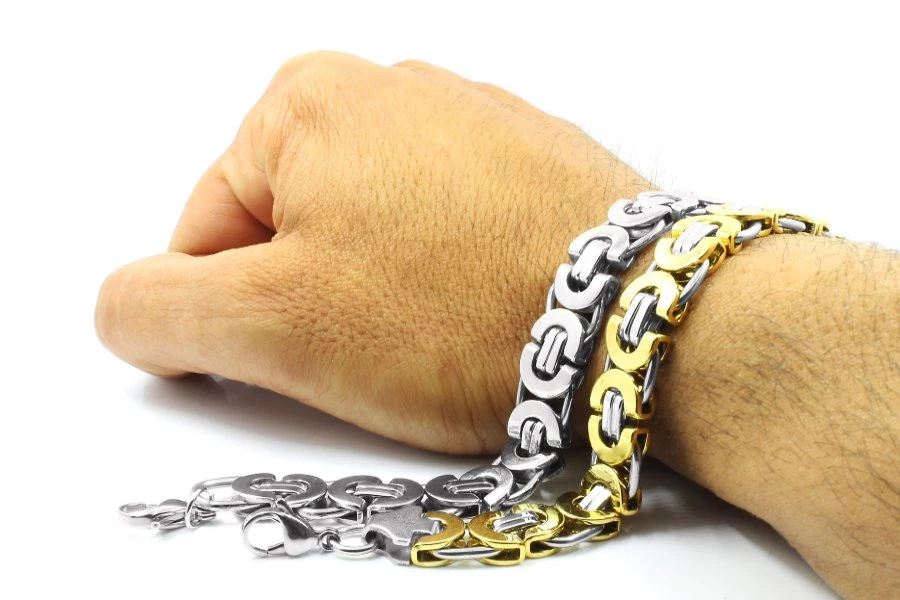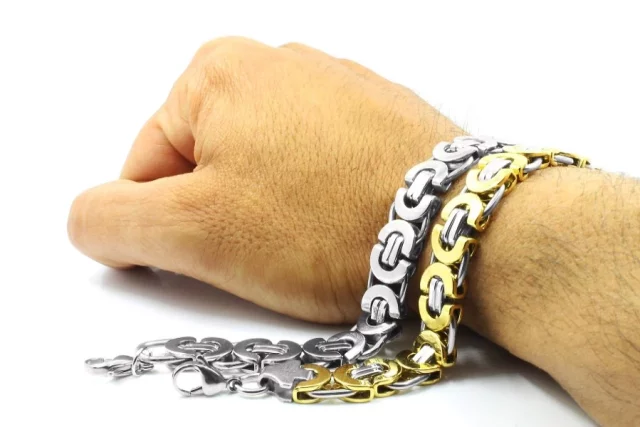 Men's jewelry was a controversial topic a decade ago, but due to its influence, it has finally gained acceptance. Now, men's jewelry is also taken under the same consideration as women's. 
There are various jewelry pieces that are necessary for men's jewelry collections. It would be best if you had a couple of rings, bracelets, chains, and more. Each should convey a different style that will allow you to mix and match to experiment with various styles. 
In this article, we'll explain the three jewelry combinations you should go for!
Why Wearing Jewelry Right Is Important?
We spend our time purchasing the ideal jewelry, but we put minimal effort into styling them. Here are some reasons why well-styled jewelry is more attractive than non-styled. 
It Looks More Balanced
You should note the fact that balanced jewelry is beautiful and appealing. If you go with two bold necklaces or chains, both will cancel their beauty due to boldness. 
That's why it is advised to match a bold necklace with a fragile one, as the small chain will enhance the style of the bold necklace and make it more captivating. 
The Order of the Jewelry
The jewelry pieces should start from small to large. Start with a small chain and increase the length and width of the jewelry after each layer. 
It Follows a Pattern
You can follow a specific pattern to make it look more captivating. You can either arrange them in odd numbers or a design to enhance the look. 
The Jewelry Pieces Complement Each Other
You might have wondered how celebrities can pull off weird jewelry pieces together. It is because the jewelry pieces that they've selected complement each other.
They are Not About the Hype but the Compatibility
The compatibility of jewelry pieces is highly essential. You cannot combine all trendy jewelry. Instead, it would be best if you opted for jewelry pieces that blend well and are attractive rather than hype. 
How To Combine Men's Jewelry?
Finding the ideal combination is necessary to pull off multiple jewelry pieces together. Here's how you can combine jewelry pieces yourself. 
Rings
If you want to stack up rings and still look classy, you're at the right place. You can combine vintage rings with new ones as they go well together. You shouldn't go overboard with rings, as they may hide the beauty of your fingers.
Note that long fingers can stack rings more fashionably than shorter ones. So, keep the size of your fingers in mind. 
Bracelets
The bracelets appear more dramatic than the rest of the jewelry. For stacking the bracelets, you can stack narrow and wide cuffs together, as they look exceptionally appealing. 
You can also combine hard bracelets with soft ones to appear more majestic. Another great way to stack bracelets is by following a gemstone theme that makes them balanced. 
Necklaces
Stacking and layering necklaces are the trend. You might've seen almost every fashion icon stacking necklaces to get the best outlook. If you want to stack necklaces, you can do that by wearing a bold one with the small ones. 
You should start layering from the smallest necklace to the largest and follow a certain pattern to make it look complete. Don't just wear a chain, but also wear studs and bracelets to complete the outlook. 
Three Unique Jewelry Combinations For Men
Want to try a unique jewelry combination by yourself? Here are three unique jewelry combinations that you should go for!
A Pearl Necklace with a Silver Snake Chain
The Pearl necklace is a symbol of elegance. It doesn't look good on men if they wear it alone. So, to spice things up, you can go for a silver snake chain. For those who may not know, the snake chain has links interlinked close together that make it appear dazzling and captivating. 
It creates a dominant vibe. Combining a delicate pearl necklace with a snake chain will look mesmerizing. You should definitely try this one, as it will make you feel like a fashion icon. 
Combine Three Different Chain Bracelets
Yes, you got that right! Go ahead and fetch your three favorite chain bracelets and be ready to create your ultimate bracelet look. Try combining a thick chain bracelet with a thin one. Also, in the middle, you should go for a chain bracelet with loosely linked elements that give it a fragile yet classic look. 
Keep the thin chain bracelet at the top, follow the loosely interlinked at the middle, and finally, the thick chain bracelet at the end. This will give a raw and masculine look to your arm. 
Dog Tag with Rope Chain 
Dog tags are military jewelry that you must have in your collection. Having a rope chain is also common, so you might have both items necessary to pull off the style. 
Start by wearing the medium-sized rope chain. You should go for a silver one as it is timeless and you'll be able to wear them on different occasions. Next, hang down your stylish dog tags to complete the look. 
It is no wonder, the best style you should go for. In addition, this look is highly versatile, and you can wear it anywhere you want. Plus, your attire should be more casual and raw rather than professional. 
Where To Purchase Versatile And Top-Notch Jewelry?
In order to wear these combinations, you purchase the jewelry elements. So, for a successful purchase, go for itsHot. It is a reputable brand that has almost everything stocked up for you. 
On itsHot, you can grab a gold Cuban link bracelet and some other popular jewelry items like Black Onyx Men's Ring, to complete your jewelry collection. They've been featured on various trendy platforms like The Guardian, BBC, and more. 
You can visit their store to purchase fashionable jewelry pieces that are not only high-quality but also affordable. So, be sure to check itsHot for jewelry for both men and women. 
Final Verdict
In this article, we introduced you to our top combinations for men's jewelry that you should opt for. Try them out, and let us know your reviews.