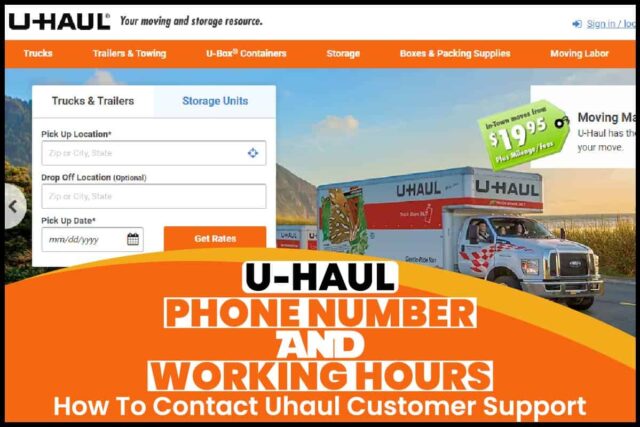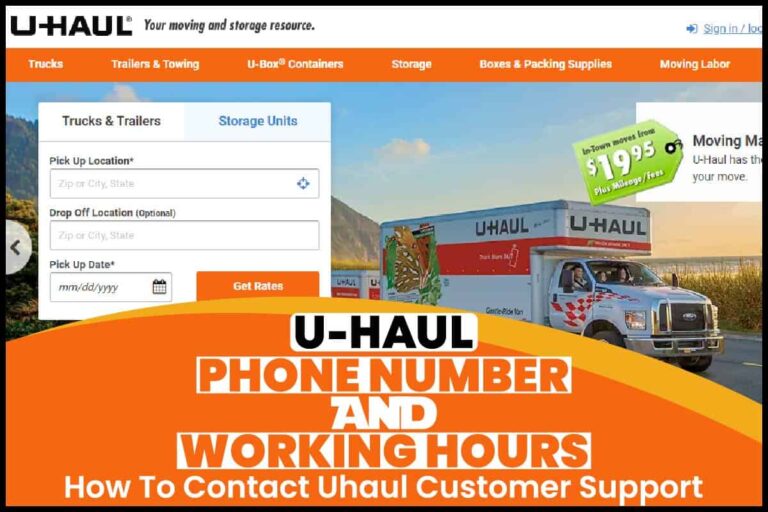 Are you thinking about a DIY move? If that is the case, you will need a rental truck to haul your belonging. Lucky for you U-haul is here for you. Situated in more than 21000 locations across the United States and ten provinces in Canada, their services are easily accessible.
U-haul is a storage and moving equipment company in America. The company is based in Phoenix, Arizona, and it has been in operation since 1945. Leonard Shoen came up with the idea of U-haul and started it in the garage owned by his wife's family in Ridgefield, Washington. 
This article will discuss Uhaul contact info, customer service, how to live chat, and many more. 
Uhaul Telephone Number List
You can get in touch with the U-haul customer support team using the following phone numbers.
1-800-468-4285: U-Haul Support telephone Number 

1-800-528-0355: Additional assistance: 

1-866-693-6683: Become a Storage Affiliate

1-800-528-0361: Retail Supply & Purchasing

1-800-468-4285: Reservations

1-877-990-8227: UhaulCarShare®

1-800-528-6042: Uhaul Corporate number for Sales

1-800-528-7134: Pay equipment Damage

1-888-886-0782: Report Impounded or Abandoned U-Haul Equipment

1-866-404-0355: Used Trucks for Sale

1-888-886-0782: Tickets

1-800-826-9633: Credit Department
U-haul Working Hours
Below are the working hours for the U-Haul center business. To find locations that offer after-hour equipment drop-off, use the location finder on their website.
On Mondays to Thursdays, the stores open from 7 Am – 7 Pm.

On Fridays the stores open from 7 Am – 8 Pm.

On Saturdays the stores open from 7 Am – 7 Pm.

On Sundays the stores open from 9 Am – 5 Pm.
Their customer service is available 24 hours a day. Feel free to contact the support any time with questions you have for assistance. 
How To Contact U-haul Real Person
So, you've made up your mind about DIY moving; what's next? Below is the procedure you can use to get live customer support on the line
1. The first thing to do is to dial 1-800-468-4285; this is the Uhaul customer support number.
There are some important voice menus to help you find the appropriate service, these include;
Press 1- if you need assistance with your new reservation.

Press 2- if you need assistance with your existing reservation.

Press 3- to talk to a live customer support agent.

Press4- for help with roadside emergencies such as accidents and breakdowns.2
2. To speak with a live customer support agent, press 3.
3. Stay on the line for a few seconds for your call to be directed to the appropriate agent. It's also necessary as they have a lot of customers to serve.
4. After a while, you will be automatically connected to a live agent. 
U-Haul has dedicated itself to offering the best customer service to its clients. They have plenty of platforms where you can get in touch with them. These include social media pages, email support, live chats, and help pages on their website.
All these efforts ensure flexibility and that their clients' questions and problems are resolved quickly and anytime. We'll discuss each category below. 
Email And Uhaul Live Chat Option
You can get in touch with the U-Haul customer support team via email anytime you want. They have several emails options, each offering different services; these include:
If you can't express your issues via email sufficiently, you can opt to use the live chat option. This option is quite applicable in situations where you need immediate and real-time feedback.
U-Haul live chat is available 24/7 to all its customers. All you have to do is follow the below procedures.
Visit the U-Haul website.

Then click on the U-Haul contact us section.

Select the 'chat now' option.

Wait for a few seconds, and a real agent will reach out. 
Social Media Pages For U-haul
Some of the social media links you can use to get in touch with the U-Haul support team include:
U-haul Help Pages And FAQs
Visit the U-Haul Help Page if you need any assistance. A team of highly talented customer support will sort your problems. 
Under the FAQ section, you get answers to some common questions asked by the customer. You are likely to find a solution to your problem under this section. 
U-Haul Top Management Team
Workers who have been with the company for between 2-5 years are confident with the leadership. 
On the other hand, those employed for 1- 2 years believe there is a lot to be done. Some of the upper staff includes: The U-Haul executive rating is at 'C.'
CEO –

Edward  Joe Shoen

Executive Vice President –

Jeremy Frank. Since March 2016. 

Vice president of marketing –

Joe Hemauer. Since March of 1986.

Vice president of communication-

Sebastien Reyes. Since January 2018.

Executive –

Elaine Powers.

Executive Vice President –

Chuck Hertzler 

Vice president of real estate –

Matthew Braccia. Since October 1996. 

Vice president Retail sales –

Steve Dudley. Since March 2014 

Chief accounting office –

Mary Gilbaugh Thompsons. Since July 2016.

Chief innovation officer –

Gargi Mishra.

Program Director –

Manoj Modi.

Executive wellness director –

Diana Brockhagen.
Conclusion
U-haul is one of the best storage and moving equipment companies in the United States.  If you are thinking of relocating, they have got you covered. While their services may be a bit higher, it's a reputable firm and handles relocations professionally. Your goods will be in good hands.