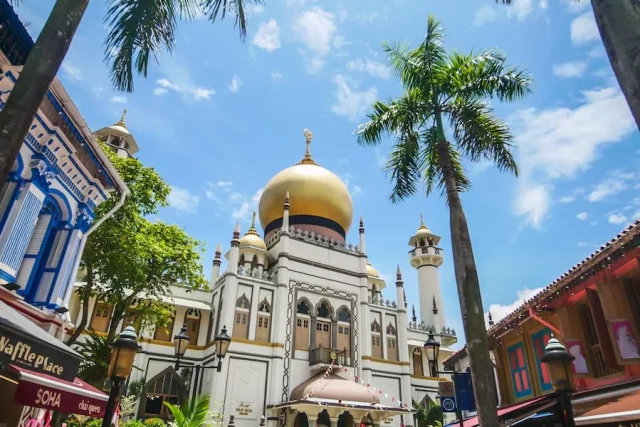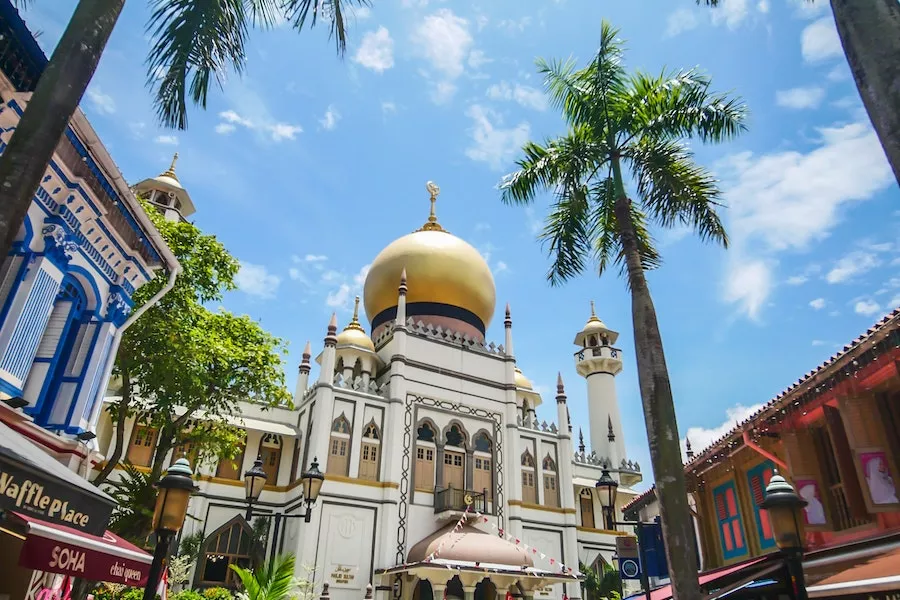 Traveling to the most touristy places in a country is always a habit. But what would happen if we allowed other destinations where few tourists have been before? On the one hand, we would be supporting different communities, and on the other, we would be getting to know places that, not being very visited, may keep more of their traditional wonders. Let's take a look at some destinations:
1. Hong San See Temple
Hong San See Temple is a must-see if you want to explore a Buddhist temple. Look closely at the granite columns with intricate designs of dragons, birds, phoenixes, and flowers. Because of its beauty and cultural significance, this temple was declared an Asia-Pacific Heritage Site by UNESCO in 2010.
2. Sultan and Bussorah Mosque
This spectacular structure is a national monument easily recognizable by its golden dome and soaring spires. The Sultan Mosque was built in honor of Singapore's first Sultan. Opposite the mosque is Bussorah Street. This avenue attracts many tourists because of its multicolored houses, stores, and restaurants.
3. Sri Mariamman Temple
Sri Mariamman was built in 1827 and is a clear example of the Hindu culture and history of the city. It is a trendy place for the Indian community, who visit the temple to pay respect to Mariamman, the goddess of health and protection.
The spectacular sculptures and historical pieces add to the remarkable reputation of this temple.
4. Temple of Buddha's Tooth
Located in Chinatown, the Temple of Buddha's Tooth Relics stands out because of its architectural style. You must visit it if you are in the country. Buddha's tooth is a relic that makes the temple one of the most sacred shrines.
5. Thian Hock Keng
Thian Hock Keng Temple, built in honor of Mazu, the sea goddess, is a center you must visit during your trip. Inside they offer free guided tours to understand its history and heritage better.
6. Bugis Street
This is one of the largest commercial districts in the country. Bugis Street has more than 800 stores. It is a shopper's dream. It is the most convenient shopping area at an affordable price; there are Korean, Japanese, and international clothing stores.
If you want to eat at a hawker center in the Bugis area, we recommend the one at Albert Centre Market, between Bugis Junction and Sim Lim Square.
7. National Gallery of Singapore
This distinguished gallery houses thousands of works of art and cultural pieces. The impressive art collection also includes creations from countries such as Brunei, Cambodia, Malaysia, Indonesia, Philippines, Vietnam, Thailand, Laos, and Myanmar.
8. National Museum of Singapore
Founded in 1849, the National Museum delves into the country's history. It highlights its impressive collection of art and heritage, as well as its galleries, murals, and digital presentations.
It is possible to travel to Singapore. However, you must apply for a visa. The countries of Armenia, Azerbaijan, Belarus, Georgia, Kazakhstan, Kyrgyzstan, Moldova, Russia, Tajikistan, and Turkmenistan are required to obtain this type of travel document.
Singapore e-visas are valid for 63 days after issuance. They allow multiple entries, with a 15-day stay per entry.
We recommend you contact iVisa experts when you need any travel documents. They have simplified the lives of many travelers by providing them with the necessary and accurate information; they are available 24/7.