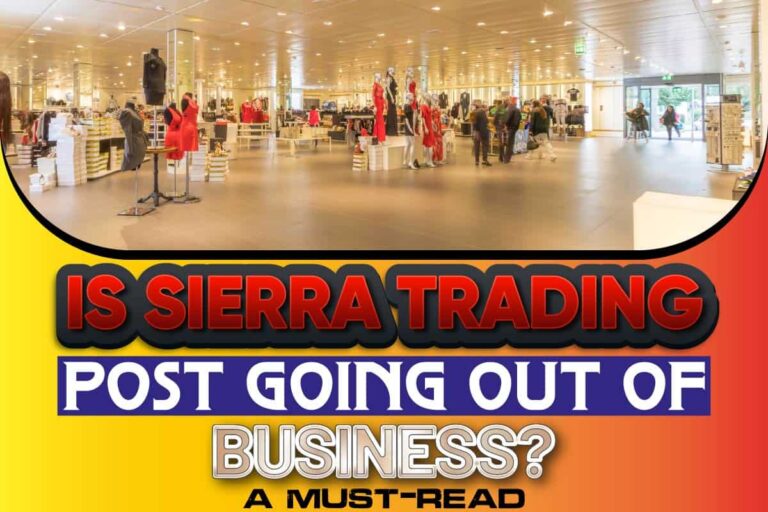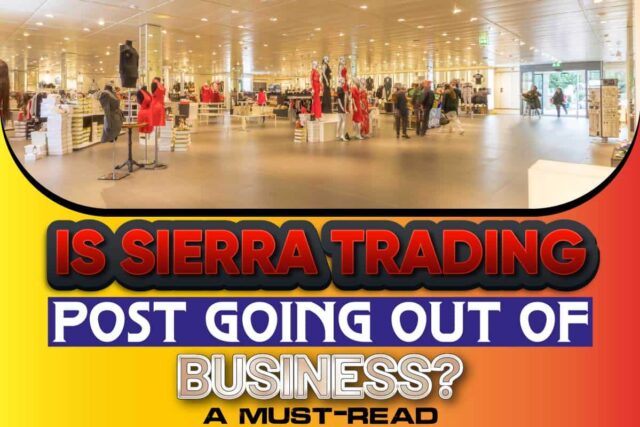 Sierra Trading Post is a Wyoming-based retail brand that offers a range of merchandise at discounted prices.
Sierra operates at least 46 retails stores across the country, sourcing products from more than 3000 manufacturers.
Since its inception, Sierra has been a top internet trading company, appearing in the list of Top 400 Internet Traders in 2004. The company has also appeared five times between 2005 and 2011 in the Top 500 list.
There are concerns that the company's fortune may be dwindling in recent years, and this leads to the question below.
Is Sierra Trading Post Going Out of Business?
Sierra Trading Post is still very much in business. Sierra is a profitable privately held firm with annual revenue of over $200 million. The company began selling online in 1999 and has a strong team of over 700 associates who have significant experience and knowledge in e-commerce.
In 2012, it became a subsidiary of TJX Inc. They bought the trading company for $200 million, and renamed it Sierra.
TJX purchased Sierra's facilities in Wyoming, Idaho, and Nevada as part of the deal. These facilities included retail outlets, head office, fulfillment centers, photographic studios, and customer call centers.
History Of Sierra Trading Post
Sierra Trading Post was established in 1986 in Reno, Nevada, where it continued operations until 1992. In 1992, the company moved to Cheyenne, Wyoming, after constructing its first building from funds obtained from a Small Business Administration (SBA) loan.
By 1994, the company had outgrown its storage capacity and had to seek another SBA loan. With the funds, they constructed a 36,000 square foot addition, including shipping and handling hardware.
During the 2009 financial crisis, the company laid off about 130 employees at its retail outlets and fulfillment centers in Cheyenne.
TJX bought the company in 2012 for an estimated $200 million. Activision, who owned Sierra Entertainment's assets, sold the domain sierra.com to TJX in August 2018. TJX thus changed Sierra Trading Post to Sierra.
What Sierra Trading Post Does
Sierra Trading Post focuses on offering high-quality outdoor gear sourced from thousands of products from different brands from all over the world.
Sierra's team of opportunistic buyers helps negotiate the best prices, making selections from a wide assortment of colors, fabrics, materials, and designs on behalf of consumers. As part of Sierra's treasure hunt for its customers, something new arrives every week.
As a TJX Inc. subsidiary, Sierra stores are frequently found adjacent or within a HomeGoods, TJ Maxx, or Marshall's store (all subsidiaries of TJX) in the same retail mall.
How Sierra Operates An Off-price Business Model
TJX Inc. subsidiaries like Sierra operate on an off-price business model. They offer their products 20-60% lower than their original market value.
So, how have they managed to operate on this business model yet emerged as a leading brand with its subsidiaries dominating the clothing and home finishing departmental stores in the US and the world?
Real brands, real value:
You must have noticed that TJX Inc. stores and its subsidiaries do not engage in promotional activities—discount sales, clearance sales, coupons, and the likes. Their low prices remain fixed all year long.
They believe that a combination of brand, fashion price, and quality gives true value to a product. Therefore, their actual promotional activity is offering value, as prices are low.
Smart shopping:
Every shopper's dream is to get the best quality for a low price. Knowing this, they act like collectors picking up items from the best brands and luxury merchandise.
They hunt for trendy apparel, footwear, accessories, furniture, kitchen wares, and adventure gear with a diversified retail stock listing.
These products are collected from all kinds of brands – designer labels, boutiques, and upcoming brands – allowing them to deliver top-notch items at a ridiculously low price.
They take advantage of clearance sales from these brands or manufacturers who have overproduced, allowing them to purchase enormous items at a bargain.
It's never the same selection twice:
The company's merchandise is not purchased seasonally. Instead, the company places priority on the quality, brand name, and designer of the product.
Hence, their customers come for timeless classics, high-ticket designer merchandise, saving them money on purchases.
About Sierra's Parent Company – TJX Inc.
Sierra's parent company TJX Inc. is a subsidiary of the Zayre Corporation and the leading discount clothing and home apparel company globally. The company has four major operating divisions:
Marmaxx – combining Marshalls and TJ Maxx (United States)

TJX Canada – Winners, HomeSense and Marshalls

TJX International – TK Maxx and HomeSense (Europe and Australia)

HomeGoods – HomeGoods and HomeSense (United States)
Borne out of three spin-off brands (T. J Maxx, Hit or Miss, and Chadwick's of Boston) of Zayre Corporations restructuring in the late 1980s, TJX has grown to become an enterprise ranked 80 Fortune 500 listing.
TJX Inc. has built expertise and a longstanding vendor-consumer relationship with the four subdivisions running for over two decades. This relationship has become immensely beneficial, helping them increase their growth strategies worldwide.
Sierra's Return Policy And TJX Subsidiaries
Since these sister companies sell similar products and are sometimes co-located in the same building, questions about their return policy often arise.
To put your mind to rest, you cannot return a product purchased from a Sierra store to a TJ Maxx store. Although, items bought from Sierra can be returned to any of their retail locations.
Sierra online purchases can be returned for a refund within 40 days. For items bought in a store, you can return them for a refund within 30 days.
Item must not be worn or used before you can be eligible for a refund. You have the option of receiving shop credit or a refund in the original manner of payment when returning an item.
Sierra Sister Companies Under TJX Inc.
Let's take a look at the other subsidiaries of TJX Incorporated.
J. Maxx:
This is an off-price departmental (has a wide range of consumer products in the same store) retail chain, with products ranging from children, women and men's apparel, toys, footwear, to beauty and skincare, accessories, home appliances, and kitchen utensils.
Being a spin-off of Zayre's, it is the TJX Inc. T. J Maxx's forerunner, America's largest clothing retail store, with more than 1000 retail outlets. Having a more luxurious display than other subsidiaries, it sells high-class jewelry and accessories. Some of the larger stores have a luxurious designer section—The Runway.
Marshalls

:
This may be the most famous of all TJX Inc. clothing departmental chains (and maybe the only retail outlet giving Macy's a run for their money).
As one of TJX Inc.'s subsidiaries, it is an off-price departmental store. It has retail outlets spanning over 1000 across 42 states in America and Puerto Rico and 61 stores in Canada.
HomeSense:
This is an off-price home fittings store operating in Canada and the United Kingdom. It can either stand alone, paired with a Marshall or Winner store. The three retail subsidiaries (Marshall, Winners, and HomeSense) make up TJX Inc., Canada.
HomeSense offers high-cost home fittings and home décor items: furniture, lighting, rugs, jute bags, but sells at a lower price than its rival stores.
Winners:
Winners was launched in 1992 as one of the first off-price departmental stores in Canada. It deals in apparel, footwear, household accessories and fittings, jewelry, beauty, and skincare products from high ticket designer brands.
Just like its sister retail stores, their products are offered at discounted rates. They do this by buying up items overproduced by designer brands, clearance sales from vendors of high-ticket items.
HomeGoods

:
This retail outlet is similar to HomeSense, except its retail outlets are located in the United States alone. Just like HomeSense, it deals in home décor and home fitting items, and kitchen utensils.
HomeGoods was launched in Framingham, Massachusetts as a small chain in 1992. But today, it has grown to over 800 outlets across America. It is paired with some TJX retail brands – Marshalls and TJ Maxx – in some of its locations.
TK Maxx

:
TK Maxx is so-called, to avoid confusion with the United Kingdom brand – T. J. Hughes. It is a subsidiary of TJX Inc. It is similar to its clothing and household off-price retail counterpart (T. J Maxx), except for the name modification in the UK.
It started as an e-commerce site in March 2009, where it sold only handbags. The company subsequently sold other accessories on the site later on. Six years after TJX launched the site, it opened its first Dutch store, located in Eindhoven.
Conclusion
Sierra Trading Post (now Sierra) is a subsidiary of the world's leading retail outlet company – TJX Inc. TJX changed Sierra Trading Post to Sierra following a $200 million acquisition in 2012.
Sierra Trading Post is still very much in business. The trading company is a profitable privately held firm with annual revenue of over $200 million.
Sierra offers high-quality outdoor gear sourced from thousands of products from different brands from all over the world.
TJX Inc. has built expertise and longstanding vendor-consumer relationships for decades. This great advantage is helping them increase their growth strategies all over the world.