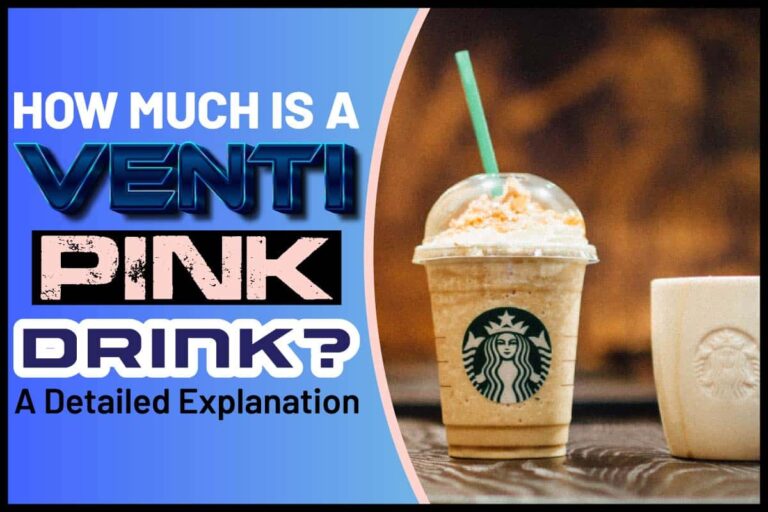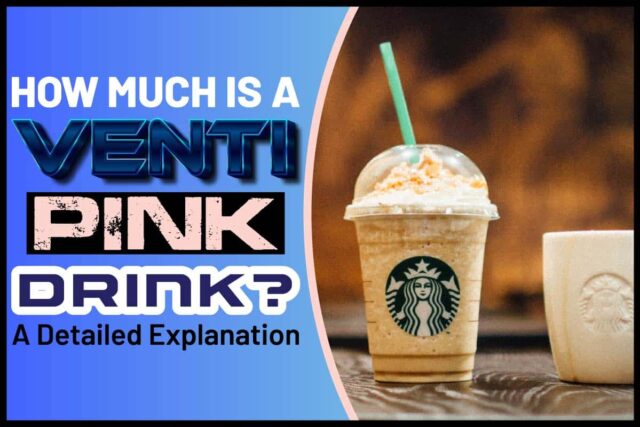 It is very likely that when you think about coffee, the first thing that comes to your mind is Starbucks. The Starbucks chain is the largest coffeehouse chain in the world. They have continued with a consistency that hasn't dwindled after many years.
When the hashtag #pinkdrink was all over social media a few years back, it was easy to trace the awesomeness of the creatively made drink to the Starbucks chain. Starbucks added the pink drink to its menu four years ago, and it has continued to maintain its popularity. 
So, let's find out. 
How much is the Venti pink drink? 
The Starbuck pink drink, a mixture of strawberry Acai, coconut milk, ice, and dried strawberry, costs $5.05 for the Venti-sized drink. 
The prices for the other sizes of the pink drink are $4.05 for the tall, $4.45 for grand, and $5.45 for Trenta. 
This post contains some interesting information regarding this topic. So, continue reading! 
What Is Venti? 
Venti, which is the Italian word for 20, is a size option in Starbucks. It is one of five options and the only option which varies depending on whether the drink is hot or cold. 
Venti hot is simply a hot drink in a Venti. You will get twenty ounces of coffee if you order a Venti hot. 
The Venti cold is a tad larger than the Venti hot. Presumably, the extra ounces are to create space for ice. The Venti cold is 24 ounces-worth of ice-cold drink. 
What Are The Other Starbucks Size Options? 
Asides from the Venti, you can choose from the four other options. These options are 
Short:
The short size is amongst the first Starbucks size options. It was one of the two available options at the start of Starbucks. It is the smallest available drink in the organization. At 8 ounces, short is available for only hot drinks. 
The demi is smaller than the shot, but it isn't talked about much because it is just a shot of espresso. 
Tall:
Tall is one of the old options available in Starbucks. It is almost as small as the shorts, but it's not small enough. The Tall, Is 4 ounces more than the short. It is available for both iced and hot drinks. 
Grande:
The Grande is the middle size. Grande, which means grand in about 2-3 different languages, is 16 ounces. It is also available in iced and hot drinks. 
Trenta:
Trenta, which is 30 in Italian, could have been 30 ounces, but it is not. Starbucks released the Trenta size when people thought Venti was the largest Starbuck could do. It is 31 ounces, which makes you wonder why it isn't 30. Trenta-sized drinks are iced only. 
What Is The Pink Drink? 
The pink drink is a simple combination of strawberry Acai with coconut milk and dried strawberry. Coconut milk, which is a water replacement, is the not-so-secret recipe of the pink drink. It is called the pink drink because of its color. Easy guess! 
Is The Pink Drink Healthy? 
It does come as a surprise to tons of people, but the pink drink is healthy. If you order a Grande-sized pink drink, here is the nutritional component you would get:
Cholesterol – 0mg

Fat- 2.5 mg

Calories-140 mg

Sodium- 65 mg

Protein- 1g

Carbohydrates- 27g
Does The Starbucks Pink Drink Have Any Health Benefits? 
The Starbuck pink drink has some health benefits because of the fruit content in it. Here are some of those health benefits: 
Weight loss:
Strawberry, one of Starbucks' pink drink ingredients, is helpful for weight loss. Strawberry is high in fiber and contains 26% of the carbohydrate. So, if you want to lose weight, you can drink this Starbucks pink drink.
Strawberry dietary fibers help feed the bacteria in your gut and enhance digestion. They are also low in sugar which makes them suitable for people with diabetes (check with your doctor first)
Increase bone strength:
The milk from the coconut is also beneficial to your overall health. It is high in calcium which is essential for healthy bones. It contains phosphorus 
There hasn't been any conclusive research done on the positive effects of coconut milk on bone health. Though, people have reported positive results from a regular intake of coconut milk. They claim that drinking coconut milk keeps them from developing arthritis. 
Increase in Insulin sensitivity

:
Some research studies suggest that eating passion fruit seeds can improve insulin sensitivity. An increased sensitivity equals a decrease in the risk of having diabetes. 
Boost immune system

:
Strawberry and passion fruit contain vitamin C, which is beneficial to your immune system. They can safeguard you from the harm caused by free radicals.
Does The Pink Drink Contain Caffeine? 
Yes, it contains caffeine. In every 16 oz, the drink has 45 mg of caffeine, a small amount of caffeine. The green coffee found in the berry hibiscus tea is the origin of the caffeine in the pink drink.
Is The Pink Drink Keto-Friendly? 
It isn't keto-friendly if you order a "regular" pink drink. But you can make your drink keto-friendly. Order your pink drink with unsweetened passion tango iced tea. Ensure that you tell the baristas not to put in any sugar or even water. 
How Can You Order A Pink Drink? 
There are many ways to order your pink drink. These ways are according to your preference. Here are a few ways you can order your pink drink:
The pink and purple combination:
Passion Iced Tea is combined with soy milk, vanilla syrup, and fresh blackberries to create the Purple Drink. You can order a mixture of the purple drink and the pink drink.
The vanilla and mocha combination

:
To begin, you order a Venti-sized pink drink. Then, add two pumps of vanilla and two pumps of white mocha as a special request. Then add ice. 
The Pink Drink Options 
There is quite a wide range of options available to you at Starbucks for milk, toppings, juice, flavor, tea, etc.
Pink drink milk options

:
Coconut

Heavy Cream

Nonfat Milk

2% Milk

Half & Half

Whole Milk

Almond

Soy
Pink drink juice options

:
Apple Juice

Guava Juice Blend

Peach Juice Blend

Light Apple Juice

Light Peach Juice Blend

Light Guava Juice Blend

No Apple Juice

Extra Guava Juice Blend

Extra Peach Juice Blend

Extra Apple Juice

Substitute Peach Juice Blend

Substitute Guava Juice Blend
Pink drink ice options

:
No Ice

Ice

Light Ice

Extra Ice
Pink drink add-in options: 
Strawberry Purée

Blackberries

Strawberries

Kiwi Inclusion

Dragon Fruit Inclusion
Pink drink tea option

:
Splash of Black Tea

Splash of Passion Tango Tea

Splash of Green Tea

Light Splash of Black Tea

Extra Splash of Black Tea

Light Splash of Passion Tango Tea

Light Splash of Green Tea

 

Extra Splash of Green Tea

Extra Splash of Passion Tango Tea

No Splash of Black Tea

No Splash of Green Tea

No Splash of Passion Tango Tea
Pink drink flavor options

:
Pineapple Ginger Syrup

Brown Sugar Syrup

Sugar-Free Vanilla Syrup

Caramel Syrup

Peppermint Syrup

Sugar-Free Cinnamon Dolce Syrup

Toffee Nut Syrup

Hazelnut Syrup

Raspberry Syrup

Cinnamon Dolce Syrup

Vanilla Syrup
Pink drink sweeteners

 

options:
Sugar

Cane Sugar 

Honey

Sugar In The Raw

Splenda

Classic Syrup

Honey Blend

Stevia In The Raw
Pink drink toppings options

:
vanilla Sweet Cream Cold Foam

No Cold Foam

Cold Foam

Vanilla Sweet Cream Cold Foam
Can I Make My Starbucks Pink Drink At Home? 
It is possible to copy the pink drink and try it out at home. It would help if you had a couple of ingredients and kitchen appliances to make the magic happen. 
What Ingredients Do I Need To Make My Pink Drink At Home? 
The ingredients you need for your Copycat Starbucks Pink Drink are straightforward and easily accessible at your local grocery store. 
Milk made from coconut 

Strawberries cut. It can be frozen or fresh. 

Tazo herbal tea concentrates iced passion. 

Ice

very-berry hibiscus-instant refresher 
If you're looking for a smooth and vitalizing treat that's light with a whiff of sweetness, this Copycat Starbucks pink drink mixture is for you. This drink is fantastic and what your body needs. 
How To Prepare My Pink Drink At Home 
It is a quick and straightforward process to achieve. Here is how to: 
Place aside a 16-oz cup half-full of ice. 

Set aside strawberries that have been cleaned and sliced in half. 

Fill a big measuring cup with 16 oz of cold water and add 1 Instant refresher packet, stirring to combine. 

Mix in 1 cup Tazo-iced passion tea until well stirred. 

Fill the cup halfway with tea mixture, then add sliced strawberries and top with coconut milk, stirring to combine.
Conclusion
The Starbucks chain has consistently been putting out quality products for years. And it doesn't look like they would be stopping anytime soon. The pink drink is one of those drinks that serve as a testament. 
The pink drink, which contains less sugar than any of the other Starbucks products, is healthy in several ways, which is quite reassuring. So, you can take a picture for Instagram with the hashtag #pinkdrink while sipping your pink drink, confident that you are not endangering your health.