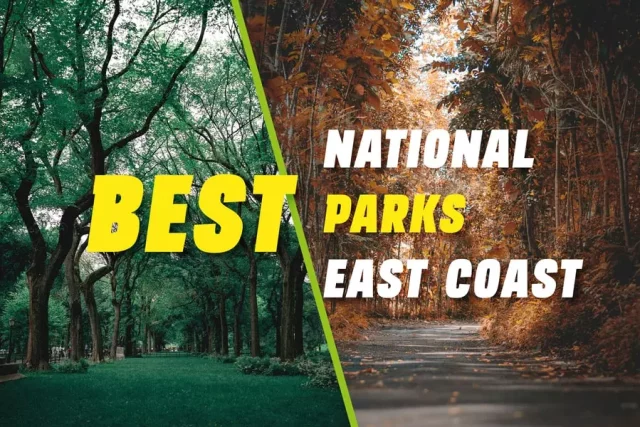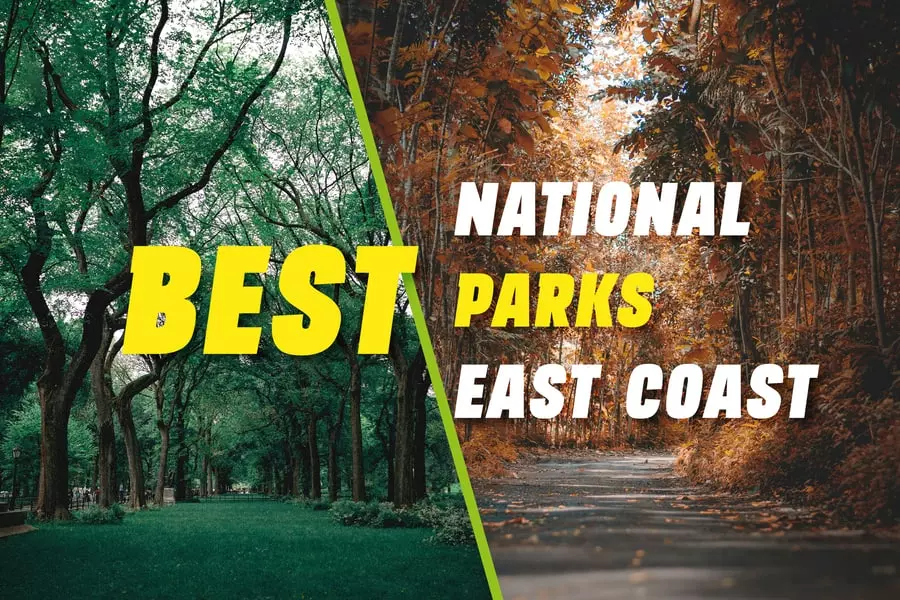 Are you looking for the best national parks east coast that you can visit during holidays? The region is home to breathtaking landscapes and some of the country's oldest forests.
The national parks on the east coast will leave you speechless with their natural beauty. These parks have waterfalls, lush forests, and plenty of wildlife.
Whether you're looking for a peaceful or adventurous getaway, these national parks won't disappoint! This article is for you if you love exploring nature and enjoying the great outdoors!
Keep reading to learn more about some of the best East Coast national parks, and plan your next trip today!
Best National Parks East Coast
1. Acadia National Park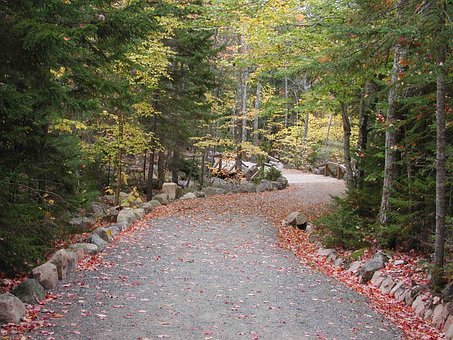 Highlights
It's open year-round

The highest mountain point is 1,530

Cruise tour

Campgrounds
Acadia National Park is in the state of Maine, just south of the border with New Brunswick. The park spans from the Gulf of Maine to the Appalachian Mountains.
Acadia is best known for its stunning views of the Atlantic coastline. Visitors can enjoy miles of pristine beaches and unique rocky shorelines.
The park is also home to incredible wildlife, including black bears and bald eagles.
Acadia is also great for outdoor activities, such as hiking, biking, and kayaking. The park has over 70 hiking trails, ranging from easy to difficult.
Visitors can also enjoy paddle boarding or canoeing on the park's many lakes. And if you want to learn more about the park's rich history, visit Acadia's famous gardens.
2. Harpers Ferry National Park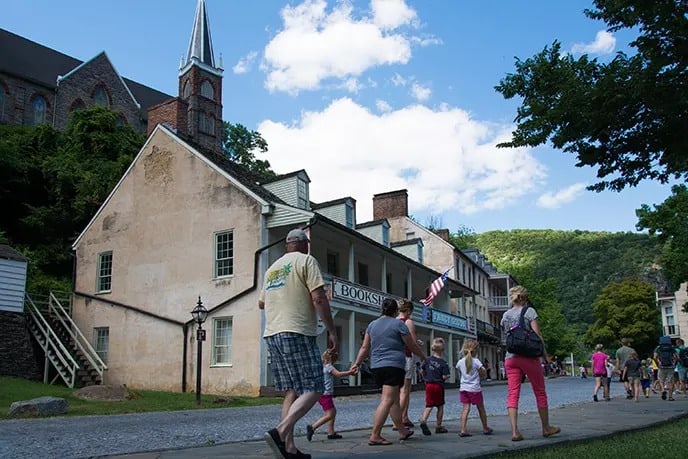 Highlights
Family and dog-guided ghost tour

Hiking trails (22 miles)

Rock climbing

Harpers ferry armory
Harpers Ferry National Park is in the state of West Virginia. The park's name is after the town of Harpers Ferry, which sits on the Potomac River. Harper Ferry was important during the 1830s when it was the site of a historic slave revolt.
The park is also home to a historic railway trestle. Harpers Ferry is great for exploring nature and learning more about the region's history.
There are several trails for hiking and exploring the park's natural beauty. The park is also home to the Appalachian Trail, which stretches from Georgia to Maine.
You can spend some days exploring the quaint historic community. Here you can stroll the picturesque streets, museums, exhibits, etc.
If you have a private vehicle, you'll pay $20.00 for a 3-day visit for a single. A person on foot or bicycle pays $15.00 for a 3-day visit—several shuttle buses transport tourists from the Visitor Center to Lower Town.
3. Congaree National Park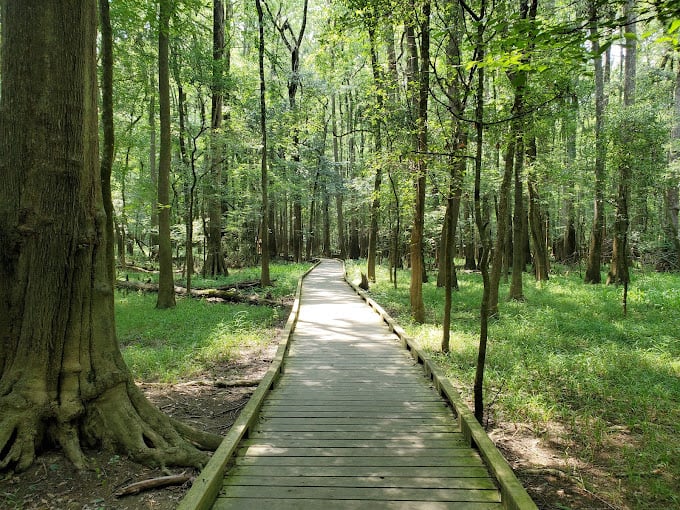 Highlights
Fishing is allowed

Restrooms are available

Ranger and volunteer guided programs on Saturdays

Has several trails
Congaree National Park is in the state of South Carolina.
Congaree is home to some of the oldest and biggest trees in the country. The park's trees are more than 100 years old, and some have a circumference of more than 30 feet.
Congaree is also home to many different types of wildlife. Visitors can spot alligators, beavers, and many different species of birds.
There are plenty of outdoor activities at Congaree, from hiking to canoeing or kayaking. Congaree park is a great place for bird-watching and wildlife photography.
The park has free -entry, but you must pre-book your tickets. You have to do this at least 48 hours in advance.
The park's campground cost is $10 per night for the regular tent. If you're with friends or family, you'll pay $20 per night. However, background camping is free.
4. Dry Tortugas National Park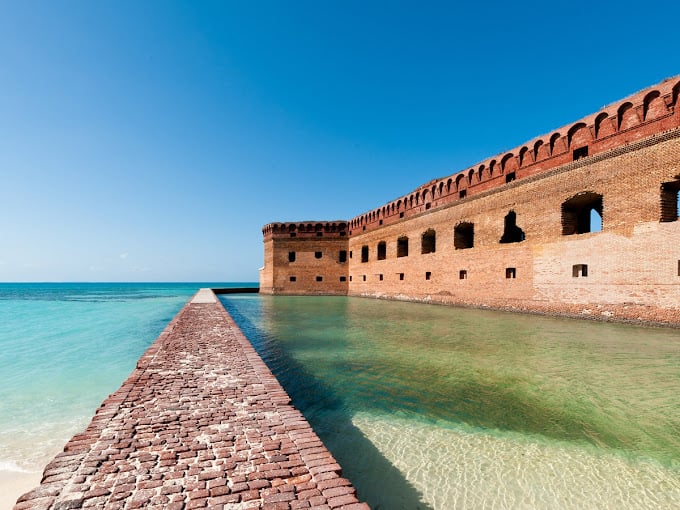 Highlights
Open all day year-round

Free entry for persons under 16 years

Restrooms are available across the park

Camps sites
Dry Tortugas National Park is in the Florida Keys. The park consists of a series of small islands more than 70 miles off the coast of Florida.
Dry Tortugas is a great place for adventure seekers. Visitors can explore the park's islands by kayaking or canoeing. The park also offers tours of the surrounding waters.
Dry Tortugas is home to some incredible wildlife and stunning views. Visitors can spot blue crabs, sea turtles, and many different species of birds.
Dry Tortugas is a protected marine park, which is an excellent place to snorkel or scuba dive. Visitors can explore the park's many coral reefs and learn about the unique wildlife.
The park has an entrance fee of $15.00 per person, valid for a week. Any person under 16 years is eligible for free entry. The best part is that the park is open all day year-round. But some islands are usually closed for nestling wildlife.
5. Everglades National Park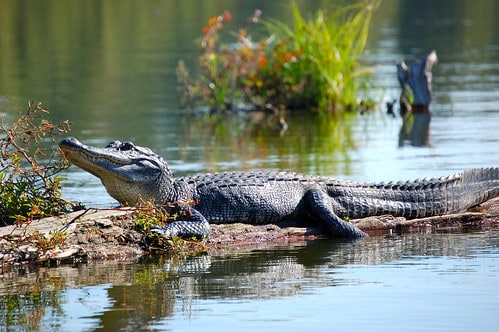 Highlights
Canoe or kayak trip

Hike on an interpretive trail

Sightseeing boat tour

Guided tour
Everglades National Park is in the state of Florida. The park spans more than 1.5 million acres, making it one of the largest parks in the country.
Everglades feature various landscapes, including mangrove forests, pine forests, and open grasslands.
The park's subtropical climate also creates a diverse habitat for wildlife. There are several ways to explore the park and experience its many natural wonders.
The park is usually open all year round. But people visit it mostly during the dry season than in the wet season.
Visitors can canoe or kayak along the mangrove forests of the Everglades. The Everglades park is also a great place for hiking and wildlife photography.
Everglades is an excellent place to enjoy a night in the park. The park's wide range of landscapes makes it an amazing place to stargaze.
6. Mammoth Cave National Park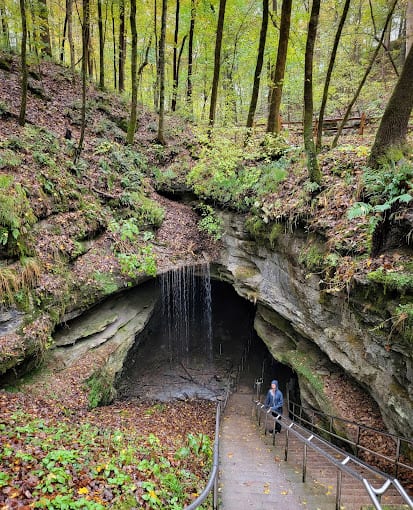 Highlights
There's kayaking, canoeing, and paddling

Fishing

Guided horseback tour

Three bike trails
Mammoth Cave National Park is in the state of Kentucky. The park's name is after its famous limestone cave system, one of the longest in the world.
Mammoth Cave is a great place to explore nature and learn more about the park's unique history. There are several hiking trails through the park's natural beauty.
Mammoth Cave also has an extensive tour system, making it a great place for families or anyone with limited mobility.
The park offers several tours, including an elevator ride and a boat tour. And if you're interested in learning more about the park's history, visit the visitor center.
It's free to enter the Mammoth Cave National Park. But you'll pay tour charges for picnics and reserve shelters.
7. Biscayne National Park
Highlights
Guided boat tour

Fishing

Free boating class

Snorkeling and diving

Free entry
Biscayne national park is a nature-focused national park in Miami, Florida, USA. The park is under the National Park Service.
It covers around 77 acres of land on the southernmost point of the Miami mainland. The park features extensive coral reef areas and mangrove forests.
There are also several walking paths and a fishing pier. Amenities include restrooms and parking lots. Biscayne national park also provides access to private residences with boat docks for launching small boats for fishing or bird watching.
You don't have to pay any entrance fee to visit the park. But you'll part away with $25 per night; this fee includes boat docking and a tent site. You'll only pay $15 per night for a tent.
8. Cuyahoga River National Park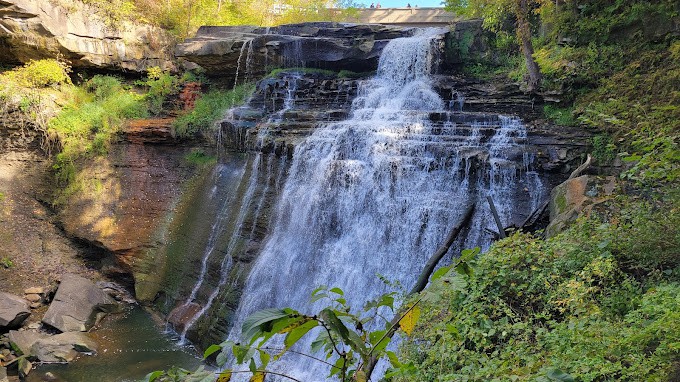 Highlights
Scenic railroad

15-foot waterfall

125 miles of hiking trails
Cuyahoga Valley National Park is a national park in Cuyahoga County, Ohio, United States.
It is one of the national parks entirely within Ohio; the other is Scioto Audubon Preserve. The park features several acres of forested riverbanks along the Cuyahoga River and its tributaries.
It's one of the smallest parks on the east coast and remains the only park to originate as a national recreation area. The park includes an observation tower, picnic areas, hiking trails, campgrounds, and several short nature trails.
Visitors can view wildlife, including woodpeckers, hawks, etc. Recreational activities include fishing, boating, and canoeing. Kayaking on the Cuyahoga River is popular among visitors.
It's free to visit the park, making it accessible for all. The park guides and map are available in several formats, i.e., text-only audio, audio-only audio description, etc.
9. New River Gorge National Park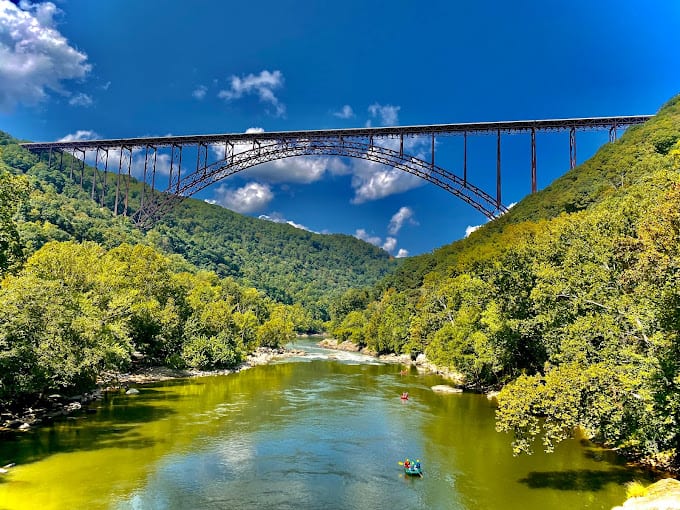 Highlights
Camping areas that offer quick access to boating and fishing

Whitewater rafting

Rock climbing

No entrance fees
The New River Gorge National Park is an area of the Appalachian Mountains in Wetzel and Nicholas counties, West Virginia. It has a narrow gorge carved out over millions of years by the New and Gauley rivers.
Because of its narrow width and cliffs, this national park features some of the most beautiful hiking trails in the east coast. They are perfect for both experienced hikers and beginners alike.
The park is also home to several popular waterfalls. There are ideal for waterfall enthusiasts who want to see various cascading falls while on vacation.
Visitors can also enjoy camping within the park, making it a great destination for families who want to enjoy time together in nature. The New River Gorge National Park is a must-see location for anyone who loves hiking and nature travel.
10. Great Smoky Mountains National Park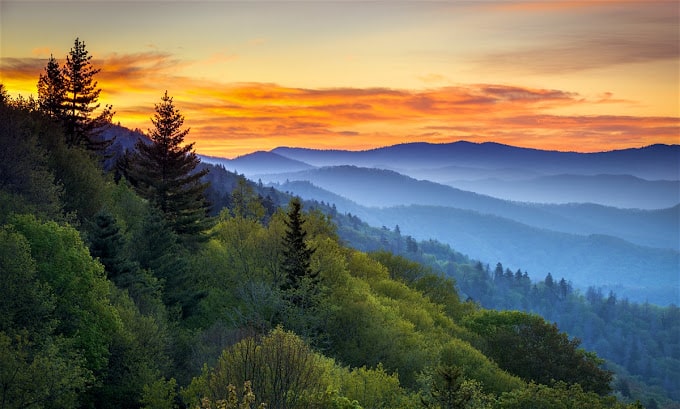 Highlights
Scenic mountain drive

Amazing nature trails

Toilet facilities are available

Highest mountain tops
The park is the most loved and visited in the USA. In 2021 alone, it had approximately 14.1 million visitors.
It's in North Carolina and Tennessee; it features a mix of mountains, lakes, and rivers. The park has some of the highest mountains in the USA, which include Mount Guyot, Clingmans Dome, etc.
There are more than 2,000 hiking trails in the park, including the Appalachian Trail, which runs along its entire length. The park also has some of the best fishing in the country, especially along its streams and rivers.
Its wildlife includes black bears, bald eagles, and wild turkeys. Like many other national parks, it is open year-round. However, some roads close during winter due to low temperatures and heavy snowfall.
11. Shenandoah National Park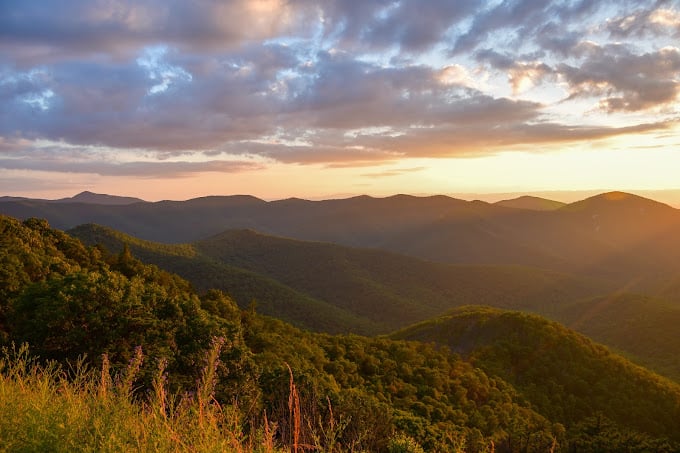 Highlights
Mountain hike

Rock climbing, carving, rappelling

Campgrounds with various facilities
Shenandoah National Park is a United States National Park in the Shenandoah Valley of Virginia. It is popular with hikers and campers. The park is absolutely an amazing place to visit.
While here, you'll be able to break from the hustle and bustle of regular city life. It has 500 miles of trails that lead visitors to panoramic views, waterfalls, protected wilderness, and much more.
A large part of the park's popularity is due to its many scenic overlooks along Skyline Drive, which provide views of both the mountains and the rolling hills below.
The park also has campsites, restaurants, and visitor centers that offer information on nearby cities and hiking trails. Overall the Shenandoah national park is full of recreational activities for the entire family.
Note that the ideal time to visit Shenandoah is from September to November and March to May. During these times, the park is usually quite pretty. Falls usually welcome the warm shades.
Reasons Why You Should Visit the East Coast
In the United States of America, 14 states fall under the East Coast region. These states have a rich cultural history and natural beauty unlike anywhere else in the country.
If you plan your next vacation and want to explore somewhere new in America, you should consider visiting one of these states.
If you love nature, agreeable people, beautiful cities, and exciting nightlife, you should visit the East Coast ASAP. Here are the reasons why you should do so when in America:
1. Get to Experience a Wide Range of Cultural Diversity
If you like other cultures, you should travel to the East Coast. Many cities in this part of the country have a diverse range of people and cultures.
For example, New York City is the most populous city in the region and one of the most diverse cities on the planet. It represents an endless variety of cultures.
Whether you visit New York City or Miami Beach, you will immerse in a cultural experience that will stay with you for a long time.
2. Witness Natural Beauty at its Finest
Many places are worth visiting if you love nature and want to see it at its finest. These places include Acadia National Park, Ellis Island, and Mount Constitution.
These are places that are suitable for everyone, no matter what your interests are. You can visit Acadia National Park to see breathtaking sights such as coastal views, waterfalls, and lighthouses.
Ellis Island is a former immigration station where millions of people passed through. Mount Constitution is a mountain that is perfect for viewing the sunset.
Many other places are worth visiting to see natural beauty at its finest. You can visit the National Mall, the Florida Everglades, and many other places.
3. Food and Music
If you love eating and listening to music, you will have endless options when visiting the East Coast.
There are many different types of cuisines that you can choose from when visiting the East Coast. You can try the traditional Southern cuisine or even the foods served by the local East Asian community.
When it comes to music, there are many places that you can visit to hear live music. You can visit the Apollo Theatre in Harlem or the Blue Note in New York City to listen to music from some of the most famous musicians in the world.
4. Breathtaking Road Trips
If one of your hobbies is traveling or you want to go on a road trip, you should visit the East Coast. Many beautiful locations are ideal for people who love exploring by car.
This place offers an exciting and rewarding trip that you will never forget. You can also visit Rhode Island, Virginia, etc. if you want to learn about famous landmarks.
You can visit South Carolina and see beautiful landmarks such as Charleston Harbour, Fort Sumter, or Patriots Point.
Conclusion
The best national parks in east coast offer endless adventure and beautiful scenery. There are so many amazing national parks to explore within this region.
They are worth visiting to explore nature or learn about the region's history. The best way to experience these parks is to plan a trip and visit as soon as possible.
The sooner you go, the more time you'll have to explore and discover the region's many hidden gems. These national parks are a great way to experience the east coast's natural beauty and learn more about America's history.