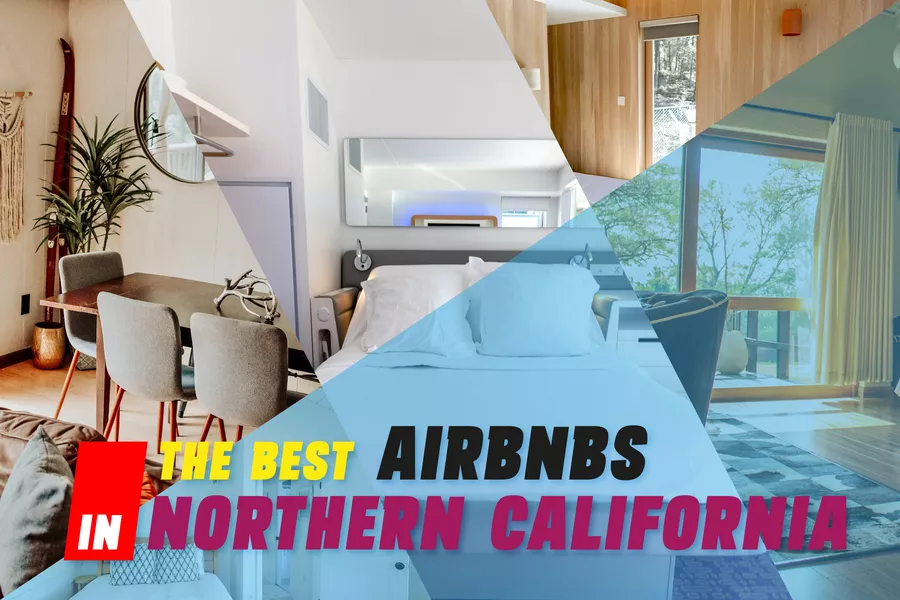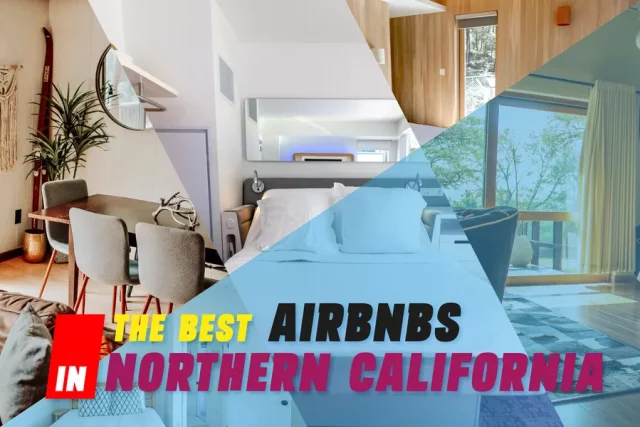 The best Airbnbs in California, i.e., those with an ocean view and great amenities, are the most desired by tourists/ travelers.
Truly an ocean-view resort/ hotel in California will cost you a lot of dollars. But surprisingly, you can still enjoy your time in California, courtesy of its beautiful Airbnbs.
You'll not only have a place to sleep, but you can also cook your favorite meals and save on dining. Plus, you'll have easy access to some of Northern California's top attractions and destinations.
Regardless of the type of stay you need, you'll find an amazing one on this list. So check out,
The Best Airbnbs In Northern California
Anyone in California can attest that it has a lot of natural beauty. California is popular for its beautiful parks, remote forests, coastline stretches, and more. You'll surely enjoy your visit to California.
While in California, you'll need to relax between the adventures, and Airbnbs can offer you this chance. Here is a list of the well-priced and most comfortable Airbnbs in California.

1. The Pinecone Treehouse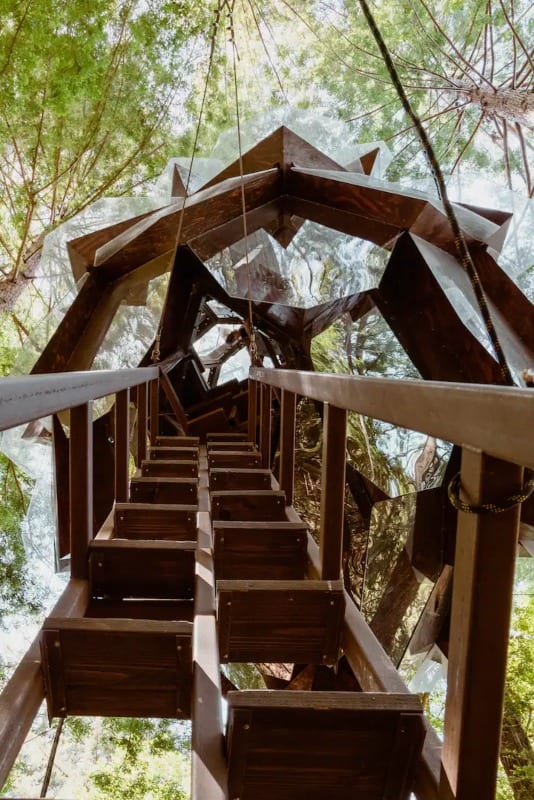 Highlights
Long-term stays allowed

2 guests: 1 bedroom, bed and bath

Free parking on the premises

Wi-Fi
You'll love the pinecone treehouse if you're a nature enthusiast. The amazing space floats high in the branches of redwood forests.
The treehouse sits about 60' from the ground on the downhill and 35' above the ground on the uphill. From here, you'll enjoy the 360 degrees view of the redwood forest's upper canopy.
The view is inspiring and will offer you a chance to have complete relaxation, reflection, and imagination. It's a place that'll help you rediscover your inner calm.
The structure is easy to access; it has a 30′ – 60-degree alternating step access ladder. You should use the harness and ascension safety system.
The ground-level bathroom features a composting toilet, hot shower, and sink. Guests must descend the ladder to access the bathroom, but the journey is worth it. You'll enjoy the shower with the amazing view of the forest canopy.
Note that the treehouse has full surround windows and thus gets chilly at night. Amazingly you'll get extra blankets should you need them. Ensure to carry warm clothing like wool socks, long john, winter hat, etc.
2. Inverness A-Frame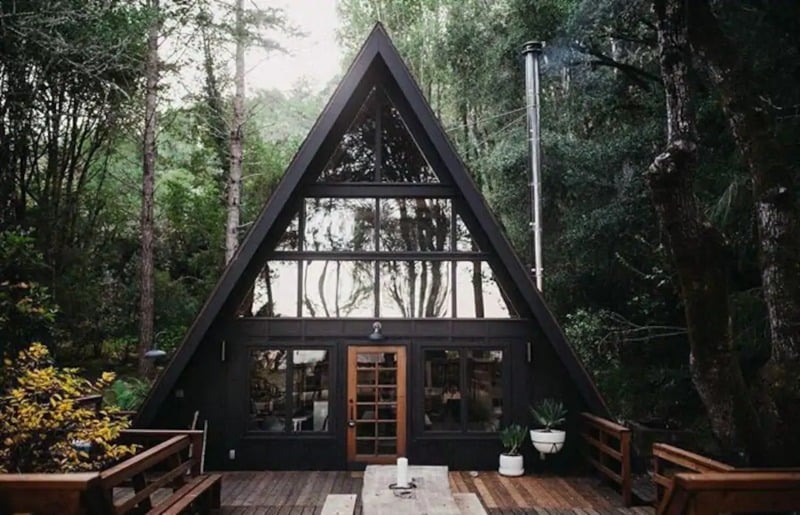 Location: Point Reyes Station, California
Highlights
6 guests: 2 bedrooms and baths, 4 beds

Free parking on the premises

kitchen

Security cameras on the property
The Inverness A-Frame and surrounding property are the best places for individuals after creative workshops, intimate celebrations, adventuring, etc. Inverness A-Frame is simply the best personal sanctuary from busy city life. The wild has everything you need to recharge fully.
The space is on Inverness Ridge, several minutes from Tomales Bay.
There are a lot of fun activities to do around Inverness A-Frame. You can spend your day kayaking, surfing, hiking, or swimming at the beaches.
The house is about a 5-minute drive or walks between three amazing small towns, i.e., Olema, Point Reyes, and Inverness. It's just an hour's scenic drive to beautiful Oakland or San Francisco.
While at Inverness A-Frame, you'll mostly hear birds and wind through the leaves. But there are times when you can hear ambient sounds from the highway.
You'll get exclusive use of the entire property while staying here. There are pink streamers that mark the property line.
3. Peaceful Treehouse With Ocean View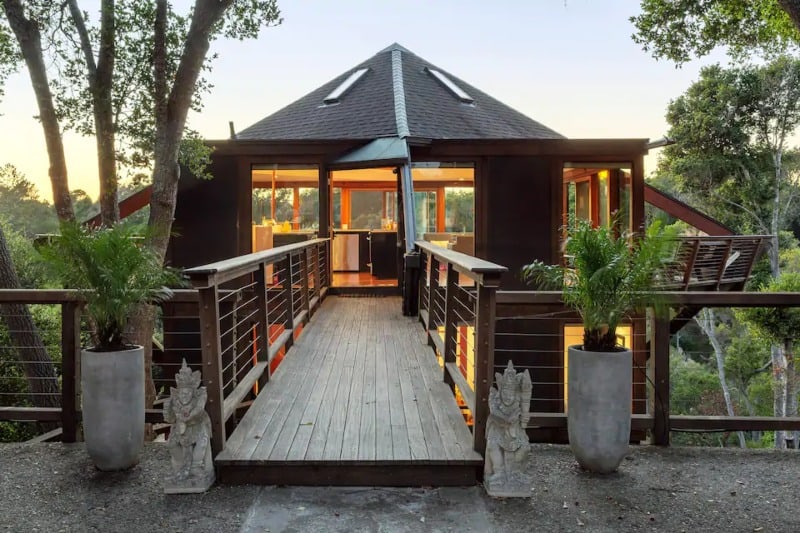 Highlights
6 guests: 3 bedrooms, 1 bath

Wi-Fi

Free parking on the premises

Full kitchen
The beautiful mid-century treehouse is the ultimate Zen experience. If you and your family or friends are after tranquility, then it's the best option.
The treehouse is among the most peaceful and interesting Airbnbs in Northern California. The peaceful treehouse with an ocean view has been featured in the sunset magazine because of its exceptional architecture.
It uses natural materials, including stone and wood, which calm the rooms. You can spend your day at the tree house reading or relaxing on the balcony hammock.
Alternatively, you can explore and enjoy the hiking trails around the treehouse.
4. Shasta A Frame Cabin With a View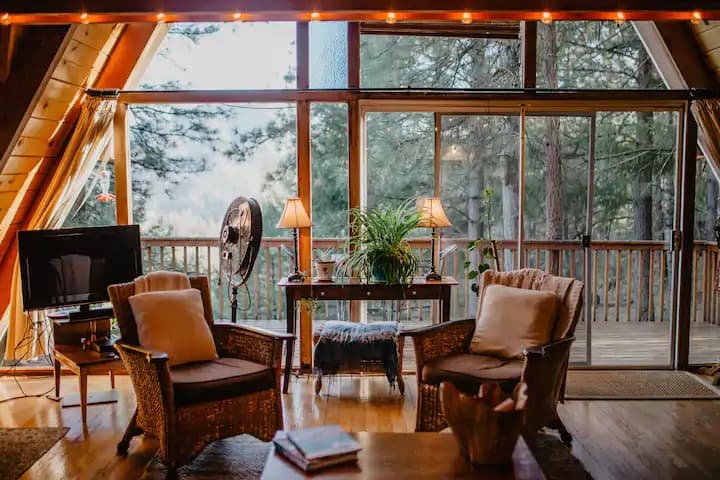 Location: Shasta County, California
Highlights
Lake and mountain view

EV Charger – Level 1

Security cameras on the property

Free dryer and washer – In unit
Do you wish for a cabin escape? The Shasta A-frame Cabin will help you achieve your dream. It's nestled on 4 wooded acres and overlooks Shasta Lake.
The large front deck and master loft looks out over the valley. You can enjoy the breathtaking views of Hirz Bay, granite cliffs, and mountain peaks.
Shasta A-frame cabin is between three lovely national parks – Crater Lake, Redwood, and Lassen Volcanic. You can experience the cabin's life and wild beauty any time of the year.
5. Eco Luxury Private Sanctuary/ The Farm House Oasis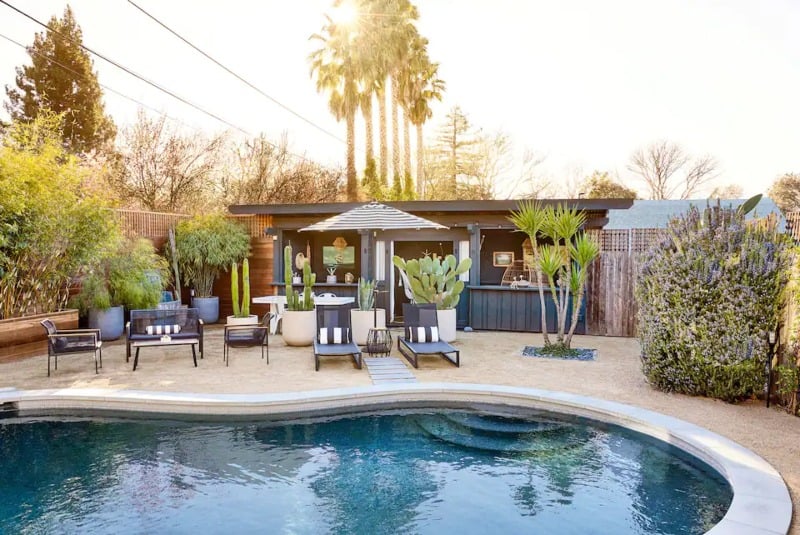 Location: Graton, California
Highlights
Private hot tub

Dedicated workspace

Pets allowed

Fast Wi-Fi – 598 Mbps
The Eco Luxury Private Sanctuary will take your staycation to the next level. It simply offers an all-inclusive private luxury boutique experience.
The farmhouse has amazing features, which include an outdoor shower, a private solar-heated swimming pool, an Italian-designed sauna, etc. There are also luxury and eco-friendly products in the home.
Additionally, Santa Rosa is home to several wineries and vineyards. You can take a relaxing walk to these places.
There's also a beautifully paved nature walk path behind the cottage, Joe Rodota trail. Here you can go biking, go for a relaxation troll, or walk your dog. The trail goes to Sebastopol in one direction and Forestville in the other direction.
6. The Cobb Haus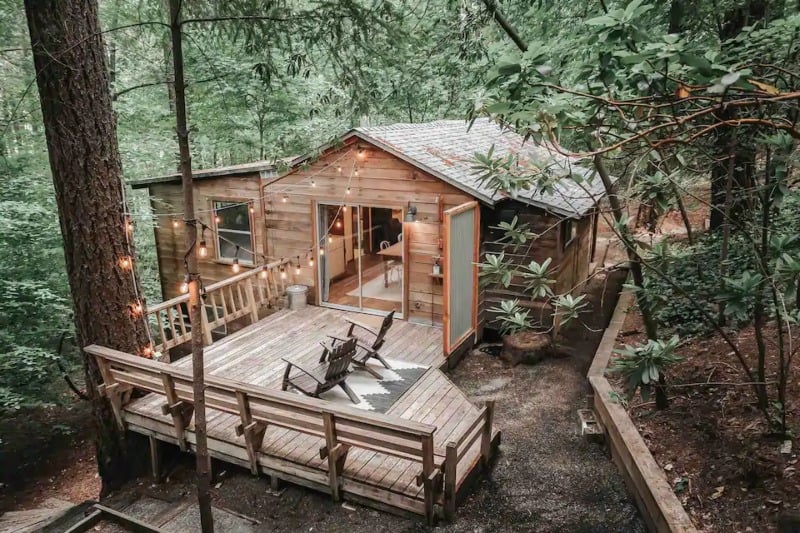 Location: Cobb, California
Highlights
Window AC unit

Indoor fireplace: wood-burning

Private patio and balcony

Kitchen
The Cobb Haus is at the end of a quiet road in a rural neighborhood. There are neighbors around the place, but the cabin is situated in a manner that it faces the forest. This means that the cabin is secluded and feels private when inside.
However, neighbors can see the deck. Cobb Haus is the best place for a weekend getaway for two.
The home has a spacious kitchen, outdoor shower, and spacious bedroom with queen sized bed. All in all, it has all the essential amenities that you'd need for a stress-free staycation.
7. The Hayloft – Downtown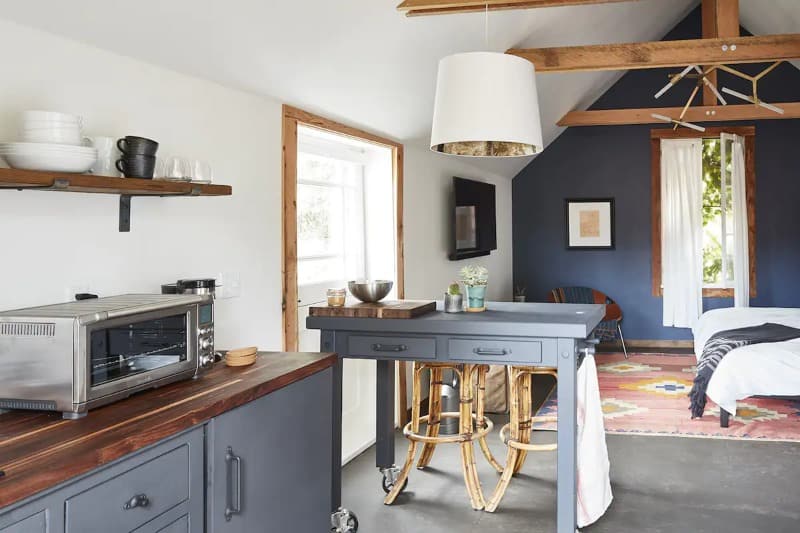 Location: Petaluma, California
Highlights
Free street parking

Luggage drop off allowed

Air conditioning

Carbon monoxide alarm
The Hay Loft – Downtown is a beautiful apartment just one block from Petaluma's Kentucky Street. The space is surprisingly quiet, making it the best place for couples' romantic getaways.
While at the Hay Loft, you can access over 30 restaurants and bars, coffee houses, art, antique galleries, and shopping. You can also take a coastal trip and learn about wine and breweries.
Hay Loft has a spacious king-size bed and a 50″ flat-screen TV. You can watch your favorite shows anytime.
The cute kitchenette has an induction plate, sink, refrigerator, K-cup coffee and tea, toaster oven, etc. You'll also love the bathroom, which has a walk-in shower. All the amazing amenities make the Hay Loft a great place for a staycation.
8. Private Guest Cabana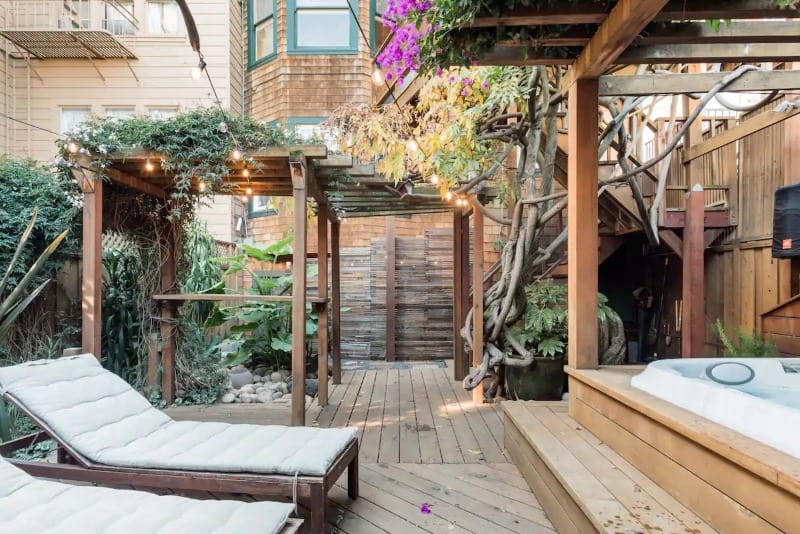 Location: San Francisco, California
Highlights
Room darkening shades

Carbon monoxide alarm

Children's books and toys

Private hot tub
Generally, space is usually limited in San Francisco. Therefore finding a house/ apartment that has a private patio can take a lot of work.
The Private Guest House offers you more than you'd expect. It opens into a garden and has a lounge and bathtub; its location is great. All these make it a special space for guests.
Private Guest Cabana is across the street, connecting to one of the most famous popular parks in San Francisco.
You'll also get the chance to enjoy La Taqueria, which is delicious Mexican food. Plus, there's the famous Tartine bakery.
9. Calistoga Craftsman Style Bungalow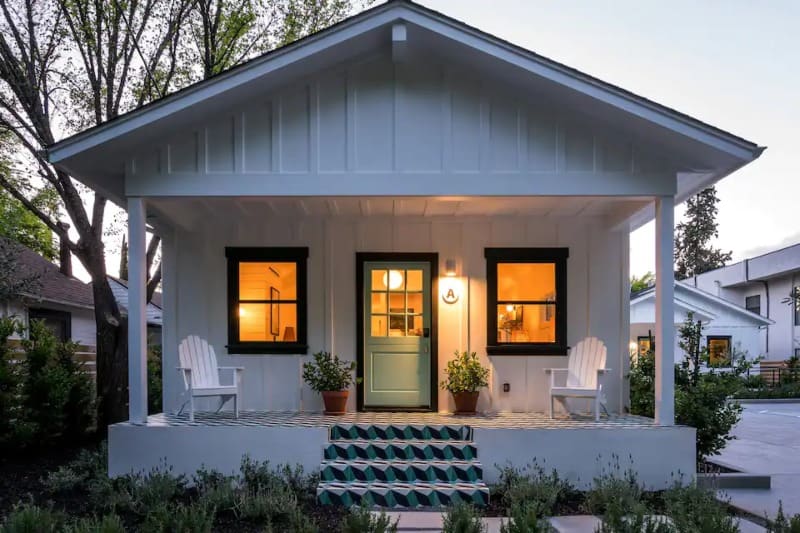 Location: Calistoga, California
Highlights
4 guests: 1 bedroom and bath, 2 beds

Private backyard (Not fully-fenced)

Dedicated workspace

Private patio or balcony
The bungalow is beautifully decorated and crafted to offer you all the comfort you need. The house is spacious, bright, and private and has airy decorations.
Enjoy your morning coffee or some of the best wine the valley offers from the private backyard. It features an amazing bed with fine and comfortable bedding.
The bathroom is large with enough premium toiletries, and it also has a spacious kitchen. The experience you'll get from the house will make you feel like you relocated to Calistoga instead of just visiting.
The quiet neighborhood has several bars and restaurants that you can visit. During the day, you can explore mud baths, local hot springs, and famous Napa Valley wineries.
10. Copper Lodge – River Retreat Near Yosemite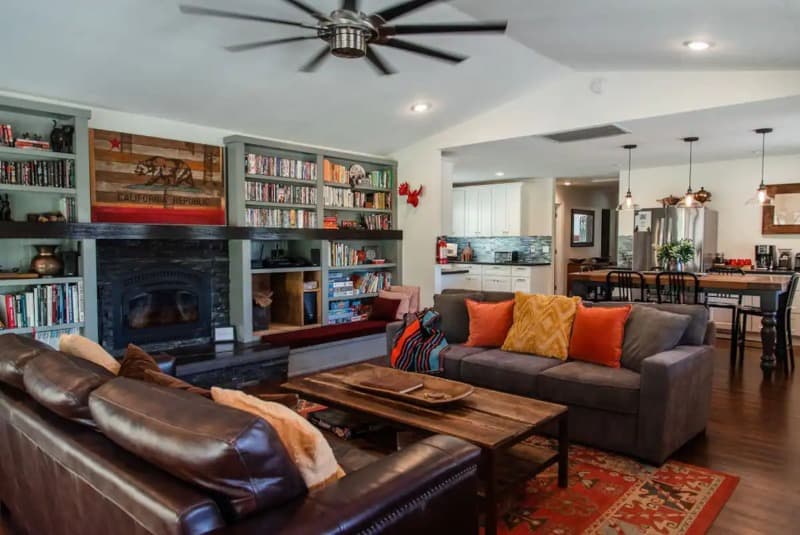 Location: Mariposa, California
Highlights
6 guests: 2 bedrooms and baths, 3 beds

Free driveway parking – 8 spaces

Private hot tub

Garden view
Yosemite national park is among Northern California's most beautiful and must-visit places. Yosemite is also quite popular because of its Apple wallpapers.
The national park might have several camping options, but fewer cabin rental choices exist. This is one of the reasons why Copper Lodge Retreat is a gem.
The rental cabin is conveniently located just near the Yosemite national park gate. You can relax and wash off at the nearby river on a lazy day.
There is also the outdoor shower or outdoor bathtub. Overall its setup will also help you immerse in nature and make memories with your friends and family.
11. Treehouse In Vineyard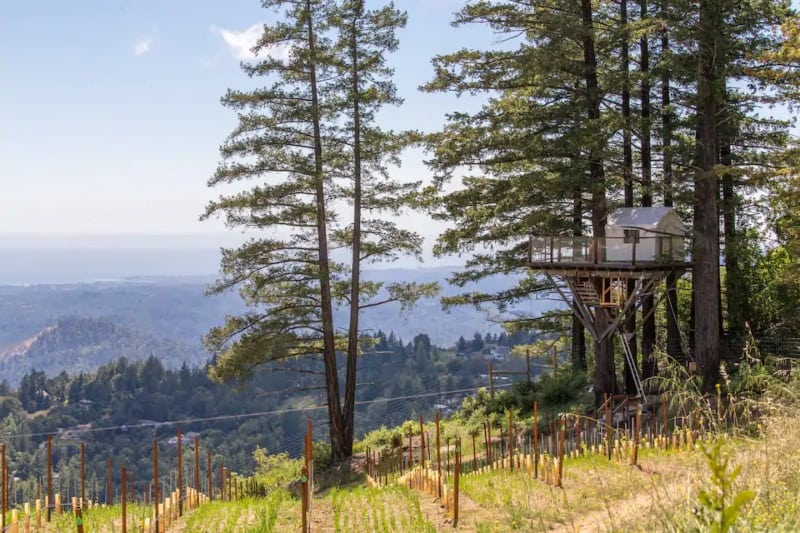 Location: Los Gatos, California
Highlights
Vineyard view

Patio or balcony

Mountain view

Free parking on the premises
The beautiful treehouse is on giant Douglas fir trees. That's in the beautiful Lago Lomita vineyards.
From here, you'll experience a beautiful view of the entire Monterey Bay. Sip a glass of your best wine as you watch the sunset over the Santa Cruz Mountains.
It's easy to access the treehouse that's 400 sq. ft. high. There's a ladder/ staircase that leads to the house with electricity, Wi-Fi, and a queen bed. You'll love a full bath on the main house's bottom floor.
12. Tahoe Cabin Oasis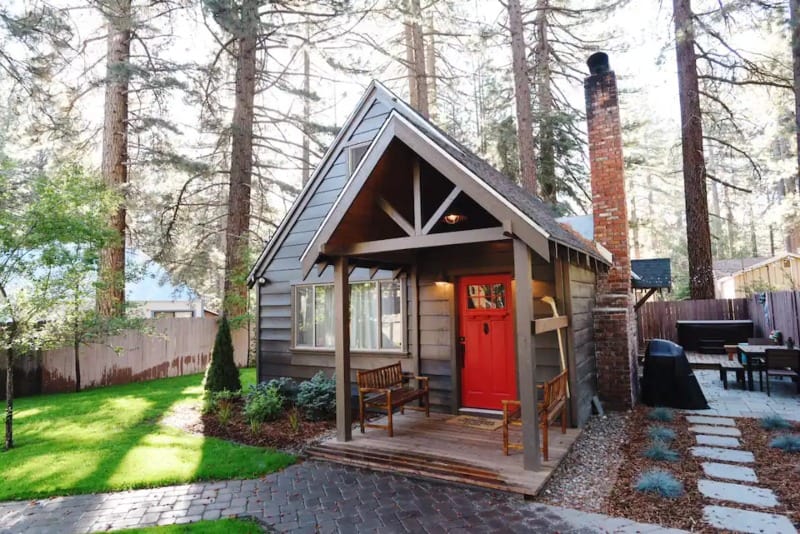 Location: South Lake Tahoe, California
Highlights
Private hot tub

Private backyard – fully fenced

Kitchen

Free dryer – in unit
Are you looking for a cozy cabin? If yes, then you should check out Tahoe Cabin Oasis. It's simply the epitome of cozy cabin living.
The cabin might have a small appearance, but it features 2 bedrooms and 2 bathrooms. It's the best romantic getaway place for a small family or couples.
It's in a central place, that's in South Lake Tahoe. From the cabin, you'll be a 5-10 minute drive from an amazing ski resort and numerous hike places.
The cabin has every amenity you need for your weekend. For example, there is a hot tub, outdoor fire pit, and gas grill.
13. Forest Camping Hut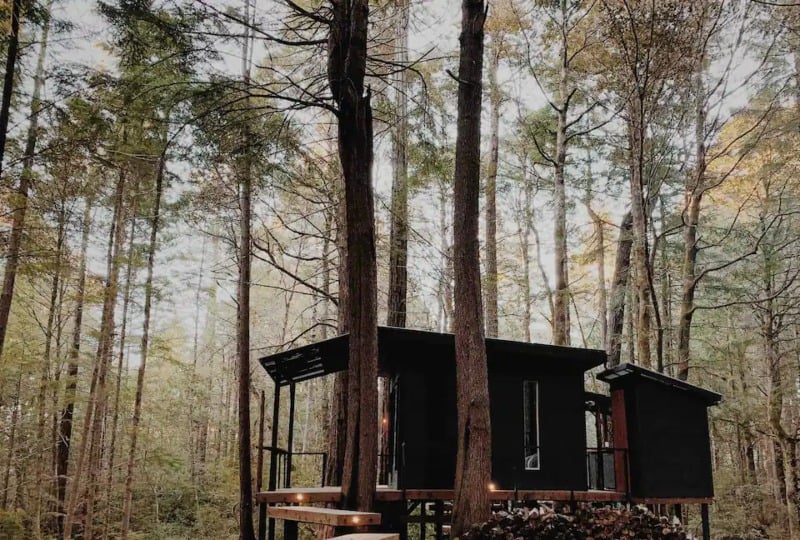 Location: Elk, California
Highlights
Garden view

Free parking on the premises

Security cameras on the property

Private balcony or patio
The forest camping hut will let you enjoy private time. It has a rustic design yet is so comfortable. The hut is in the redwoods, just a few miles from the beautiful Pacific Ocean.
It is the best place to disconnect and reconnect with yourself and your surroundings. It'll help you unplug and decompress from the city life that's usually busy and fast.
The forest camping hut is about five miles from Elk town and a few minutes drive to the historic Mendocino.
14. The Bird Nest Bungalow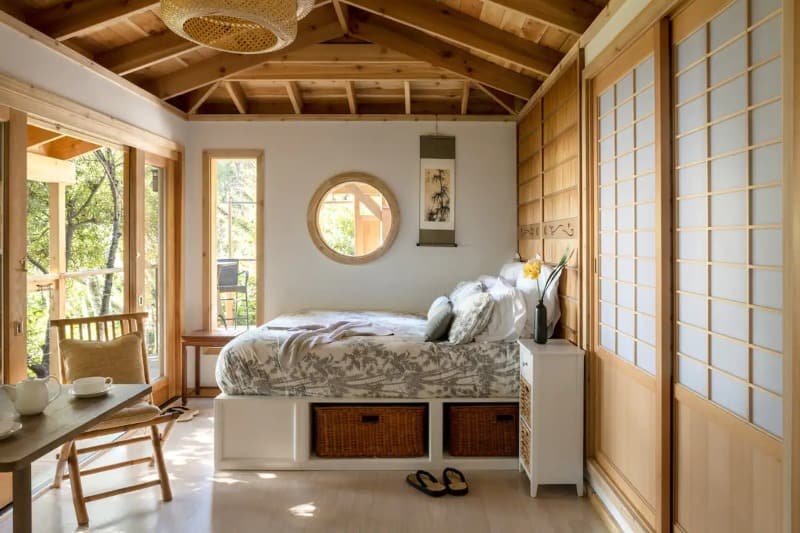 Location: Stinson Beach, California
Highlights
Self-check-in

Full kitchen

Free street parking

Wi-Fi
You'll love the bird nest bungalow if you're looking for something elegant. The space is in Stinson Beach. You'll enjoy the quietness of the lush hillside.
The Bird Nest Bungalow has a great Asian design that most people love. You'll enjoy the tranquil outdoor shower and its amazing soaking tub. You can also get a great ocean view while on your queen bed.
Watch the beautiful sunset while at deck sipping your finest wine; it's so private you can do your things without worries. The beach is only three miles away, which is five minutes walk.
15. Serene Gem In The Woodlands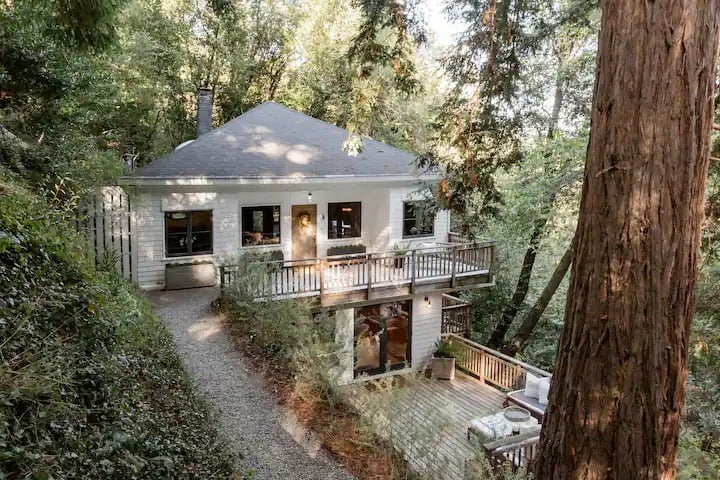 Location: Mill Valley, California
Highlights
6 guests: 4 bedrooms and beds, 2 baths

Full-equipped kitchen

Self-check-in

Wi-Fi
Do you want to spend time in the Mill Valley and enjoy hiking? The Mill Valley has several options for housing, but the Serene Gem is an exception.
While at Serene Gem, you'll get to hike at Three Wells and Cascade Falls. Serene Gem has a rustic vibe and is in a hideaway in the middle of towering treetops.
You'll get the chance to bask in the sounds and scents of nature as you take breakfast on the deck.
There's also a sun-drenched music room with all the essential equipment. You can brush up on your piano skills from here.
The house has a fully-equipped kitchen from where you can make your delicacies. You can then head to the outdoor cabin with your family and friends to enjoy the meal.
After hiking, you can relax on the deck. All rooms offer an amazing view of the surrounding forest. But generally, the Serene Gem could be a better place for guests with less mobility.
16. Handcrafted Hideaway Near Mendocino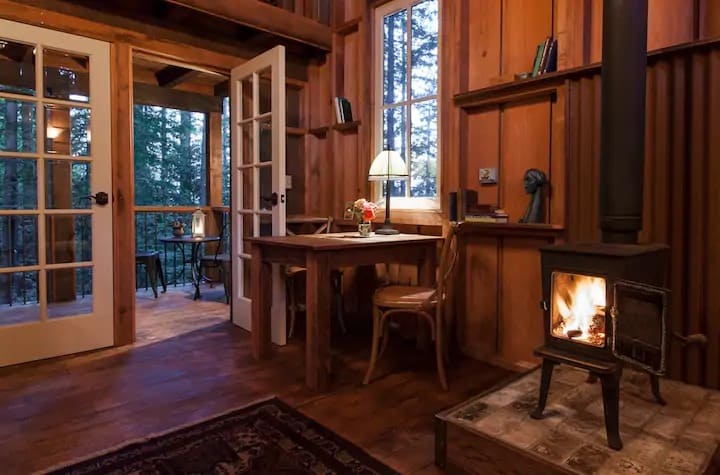 Location: Albion, California
Highlights
2 guests, 1 bedroom, bath and beds

Dedicated workspace

Private backyard – not fully fenced

Indoor fireplace – wood burning
The Owl Tree cabin is in the redwood in redwoods just some miles from the wild pacific ocean. It's in Mendocino, a historic village in Anderson Valley.
While at this artistic retreat, you can enjoy nature and tranquility. Booking does include the Mendocino county tourism tax.
Overall the cabin is quite remote and thus private. It has a loft bedroom, and its southern exposure deck offers a great sanctuary.
17. Navaro Guest House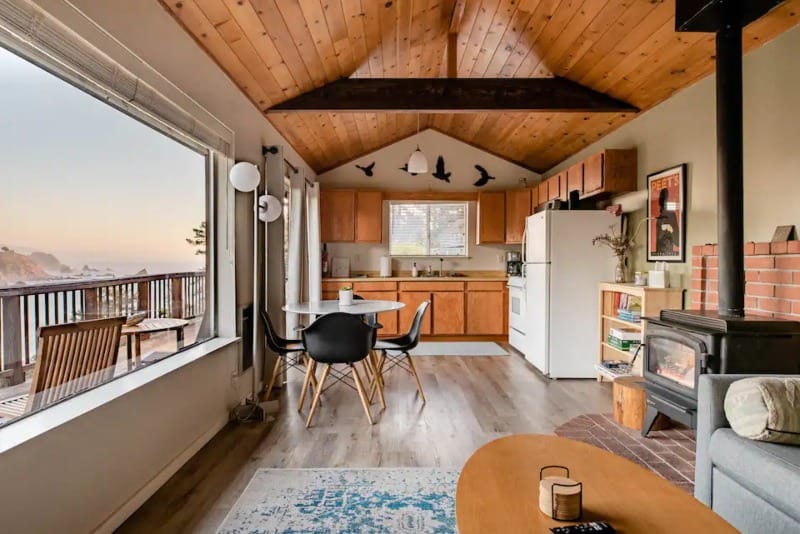 Location: Albion, California
Highlights
Beach access – beachfront

Ocean and river view

Pets allowed

HDTV with Amazon Prime Video, Netflix
The Navaro guest house is exceptional; you'll love all it offers. The house is on the Mendocino coast; you'll have an unobstructed view of the Pacific Ocean and Navarro River.
It features an expansive deck and has access to the hot tub. The fire pit/ BBQ area is shared with the main house.
You can carry your pet to this house as long as it's well-behaved. Generally, the guest house is the best place to relax, reflect and dream.
Conclusion
This article lists the best Airbnbs in northern California. All the Airbnbs on the list are well situated and have the essential amenities such as bath, kitchen, bedroom, etc.
From either Airbnb, you'll get the chance to enjoy California attractions and destinations. You'll also be able to save some dollars since the houses are so affordable.