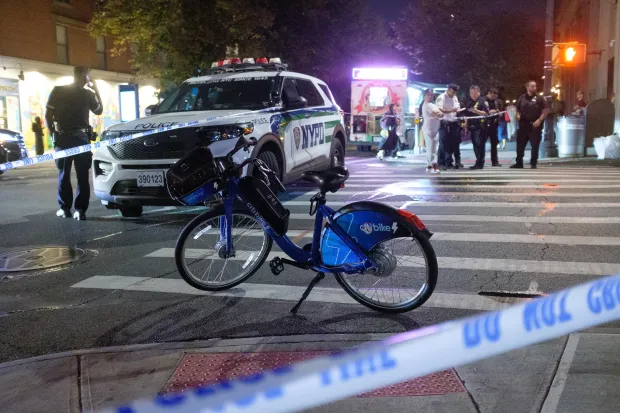 A beloved figure in local politics and a seasoned public relations specialist, Jacob Priley, found himself fighting for his life following a tragic bicycle accident in Park Slope. 
The incident, which occurred on Friday around 7:30 p.m. on Fifth Avenue near Union Street, has left Priley in critical condition, according to both police reports and statements from loved ones. Jacob Priley, aged 30, remained in a precarious state as of Sunday, days after the accident. 
The collision, which resulted in Priley being thrown from his bicycle, transpired while biking northbound on Fifth Avenue and executed an "abrupt left turn" onto Union Street despite having a green light. 
Unfortunately, this maneuver caused a collision with an SUV traveling southbound on Fifth Avenue, also with a green light, as confirmed by the NYPD.
The impact of the accident resulted in Priley suffering a traumatic brain injury, as reported on a GoFundMe page created by his loved ones, which has garnered over $70,000 in donations by Monday morning.
The driver of the SUV, a 58-year-old individual, remained at the scene, and as of Monday, no arrests had been made. Police sources noted that Priley was not wearing a helmet at the time of the incident.
Despite the gravity of the situation, medical professionals worked diligently to alleviate pressure on Priley's brain, and his vital signs remained stable. Zachary Duffy, a friend who provided updates on the GoFundMe page, stressed that these were initial positive signs, underscoring their importance in the broader context.
New Yorkers rallied in support of Priley, describing him as an extraordinary individual who consistently demonstrated his commitment to the city and his friends. In a heartfelt message on the GoFundMe page, Zachary Duffy implored everyone to reciprocate the support Priley has offered over the years.
Priley, employed as an Account Supervisor at BerlinRosen, boasts a significant track record in New York City politics and recently served as the Chief of Staff for state Senator Brad Hoylman-Sigal. Colleagues and friends hailed him as one of the kindest individuals they've had the privilege of working with.
Jacob Priley's family, who were by his side in New York City, expressed their gratitude for their overwhelming support and their determination to stand alongside him in his battle for recovery. They also requested prayers for his well-being.
Priley had actively contributed to street safety legislation, according to Transportation Alternatives, an organization advocating for safer streets. 
City Council Member Shahana Hanif highlighted the urgent need for improved bike infrastructure in Park Slope, referencing the tragic death of Arcellie Muschamp in 2021, who was fatally struck while crossing Fifth Avenue and Union Street with a stroller. 
Hanif emphasized the imperative for the Department of Transportation (DOT) to address these issues promptly.