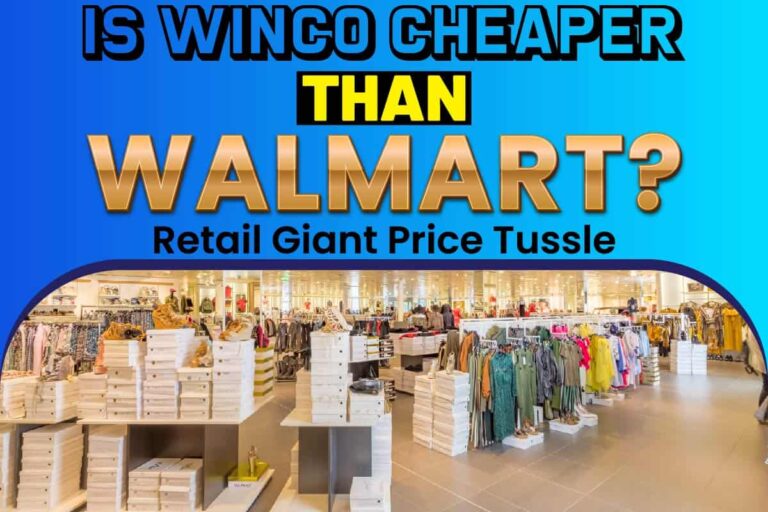 Grocery stores are always trying to outdo each other. They sometimes offer extra services for you to patronize them. These range from free cocktail bars to free home grocery deliveries to the free candies for kids. They all want your patronage.
But if none of these things gets your attention, then lower prices most definitely would. People are constantly looking for ways to save money, and buying groceries at lower prices is a welcome means.
So, let's answer this mind-boggling question.
Is Winco cheaper than Walmart?
Yes. You would get a similar item sold at Walmart at a cheaper rate in Winco. Often, Winco stores put up signs that compare their prices with other stores and chains. And almost every time, Winco prices are usually up to 50 cents and 1 dollar cheaper.
The money you'll save up by patronizing Winco might look meager. But when you add them up, they'll become bigger over time.
This post contains valuable information on this topic. Please read on:
Why Is Winco Cheap?
Winco is cheaper than Walmart and many other grocery stores because they buy and get grocery items directly from farms and factories. This direct purchase cuts away the middleman factor, automatically reducing costs, making it possible for them to sell at cheap rates.
They are also cheaper than most because, unlike other grocery stores, they don't spend vast amounts on advertising.
Lastly, they cut costs by not accepting credit cards and making their customers bag their groceries.
Why Does Winco Not Accept Credit Cards?
Winco doesn't accept credit cards because they are trying to avoid the costs of processing credit cards. They accept debit cards, though.
Does Winco Charge For Bags?
Yes, they do. It is about 10 cents for a disposable bag and about 88 cents for a reusable bag.
Is Winco The Cheapest Grocery Store In The United States?
Winco is one of the cheapest stores in the United States. There is no confirmation on whether it is the most affordable or not.
But it is one of the most inexpensive stores in the country, ranking above some known cheap grocery stores.
What Are The Cheapest Grocery Stores In The United States?
This list is in no particular order. There are many pocket-friendly grocery stores in the United States. Here are a few:
Aldi:
In a shopping comparison, a cart full of groceries at Aldi costs about $72.30. The exact list of items is $13 more expensive at Walmart and $21 more expensive at Kroger. Butter, juice, cereal and bags of oranges were the items that saved buyers the most money.
Aldi can save money by limiting some of the things that other grocery stores offer. A large amount of the food items are from in-house labels. Additionally, each item is only available in one type or size. Customers have to bag their groceries themselves. They also need a quarter to get a shopping cart.
Aldi's store expansion continued through 2018 up until now. They had a goal of 2,000 stores in the United States. The supermarket chain has 1,500 locations in 34 states and about 1400 items in the stores. This 1400 is less when compared to what other stores have.
Fareway:
Fareway is a chain of stores located in the Midwest. The Simple Dollar has a smaller store and fewer employees, but it has a broader range of products than some other grocery stores. Experts say that the array of products at Fareway's is slightly better than Aldi's.
Fareway stores, like a few of their competitors, made Consumer Reports' list of the grocery stores with the best prices. Winco was on the list too.
According to those experts, a significant fraction of people will leave a grocery store searching for lower prices to patronize. Fareway got ranked as the most expensive.
Costco:
Have you heard people going on and on about Costco? Are you wondering what is causing the rave? Then it would be best if you visited the Costco warehouse stores. It is one of the cheapest places to shop for your groceries.
Consumer Reports data ranks it as one of the cheapest stores in the United States. Not everyone can maximize their bulk sizes, and some people aren't fans of warehouse stores. But, if you wish to shop for your groceries at Costco and you know how to go about it, you're on your way to saving a good amount of cash on groceries.
Trader's Joe:
Trader Joe's belongs to the owners of Aldi. And it's a thriving family business. The store looks and feels like a boutique store. But that's probably because of the number of specialty items that you get in Trader's Joe. It is more than you can find in stores like Whole Foods.
Trader Joe's dedication to quality and value got them a place on Consumer Reports' list of the grocery stores with the best price. Trader Joe's has a broader amount of recognizable brands; frozen meals, granola bars, and cereal than Aldi.
Sprouts and Fresh Thyme:
Sprouts and Fresh Thyme are two of the most popular grocery stores in the country. The store's emphasis is on affordable, fresh produce. Sprouts is currently one of the country's fastest-growing food retailers.
Sprouts and Fresh Thyme are two of the most rapidly expanding grocery stores. The chains are well-known for their low prices. Both companies intend to keep opening new locations. "We're moving three times or more the average inventory of a store per week," says Sprouts CEO.
Salvage grocery stores:
Salvage grocery stores buy those items that other stores can't or won't sell and resell them to customers at a much lower price. These items usually have a dent on them, and are torn or are close to expiring. If you want a particular brand but don't want to pay the total price, this could be a good option.
You can find the store's specialty items at the bargain markets. If you're not concerned about spoilage, you can consume many products after the expiration dates on the label. Money Crashers has more information on what to look for if you decide to shop at a store like salvage.
What Are The Most Expensive Grocery Stores In The United States?
Of course, shopping for groceries isn't cheap. So, it best you take your money to a place that isn't trying to charge you double for something you can get cheaper elsewhere. Here are some overpriced grocery stores in the United States, in no particular order:
The fresh market:
Regional store chains are usually more expensive than national chain stores. But people believe that these regional stores are the only ones with high prices, which isn't true. The Fresh Market is proof that nationwide chain stores can also have high prices.
In the United States, the fresh market ranks among the costliest places to shop for groceries. When you go grocery shopping in the Fresh market, you get charged high prices for items you can get for less at other grocery stores or the farmer's market. The only advantage is that they sell high-quality products.
Jewel Osco:
This regional store is in the Midwest. The people in the Midwest should watch the Jewel-Osco closely. This chain got ranked among the most expensive in the United States.
According to Forbes, this chain has lost some of its start-up glory, at least the Chicago stores. They reckon that the running of the stores is by employees that seem overworked, the shelves are disorganized and poorly stacked. So, if you're going to spend your money here, it is best to be sure what you're getting is worth it.
Whole Foods:
You have probably heard somebody complain about going to whole foods and spending their entire paycheck on groceries, or you might have experienced it.
According to Consumer Reports data, whole foods is one of the most expensive
grocery chains in the United States. Years ago, they attempted to justify their high prices by saying that they matched the high-quality products they sell. However, you could get identical products for less, elsewhere.
Amazon purchased the nationwide cabin, and their prices dropped. But according to money reports, even with the reduction in costs, they are still expensive. This conclusion says a lot.
Acme:
Acme is a grocery store chain in the Northeast. It is on the list of the costliest grocery stores in its region and the country. Acme is one of the most expensive places to get your grocery shopping done. Philadelphia Magazine named Acme as the most expensive place to shop for your groceries in Philadelphia.
Many of their prices cost more than Whole foods, which is surprising because many people consider whole foods the most expensive of them all.
Conclusion
Winco and Walmart are cheap grocery shopping options. But if you had to choose the more affordable option, then Winco would be your best bet. Winco put in place systems that enable them to sell at the lowest prices possible. They cut out the middlemen. Unlike Walmart, they don't accept credit cards.
This post is an overview of how Winco manages to maintain low prices and what stores are the least and most expensive in the United States.