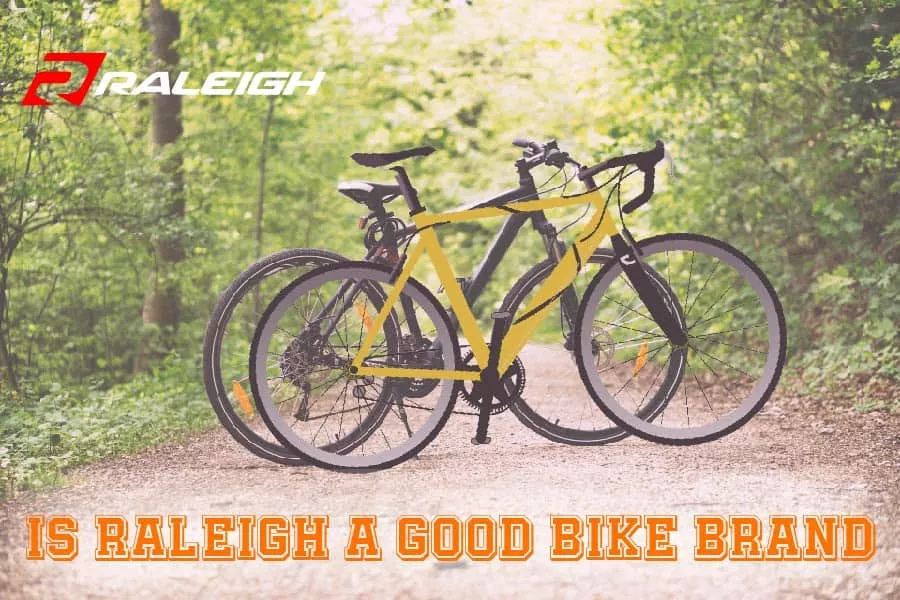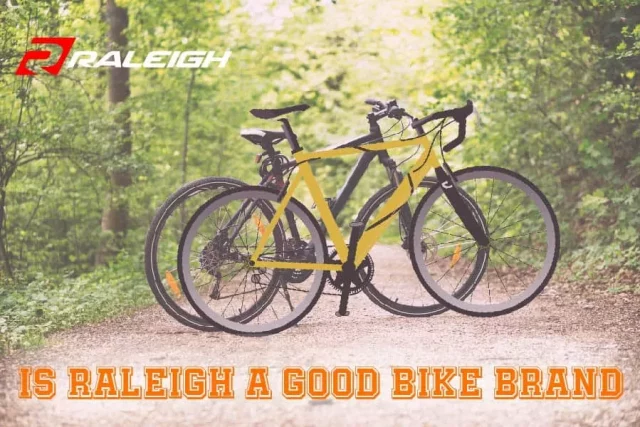 Raleigh produces unique bike designs for all riding styles. It allows every rider to execute trail and downhill tasks.
The iconic bike brand is from British engineering and is widespread globally.
Paul Angois and Richard Woodhead set up the company in 1885 as a small bike workshop in Nottingham, Raleigh Street.
The brand's glory days were in the 1900s; some popular bike models were Burner BMX, Grifter, and children's chopper. Raleigh bicycles are known to be robust, light, and tough.
If you want to buy a Raleigh bicycle and wonder whether it's a good brand, you are on the right article. In this article, you'll find all the information.
Is Raleigh a Good Bike Brand?
Raleigh is a famous brand with an excellent reputation. It makes and sells high-quality and trustworthy products.
Raleigh is quite famous because of its diverse products.
Raleigh bicycles have great reviews for both mountain and road bikes. Other than producing quality bikes, Raleigh is constantly developing their models.
Today, there are several modern competitors, but Raleigh managed to be the lead bike manufacturer in the market.
Despite its long history, it doesn't lag. It manufactures bicycles for children, men, and women, and you can ride through city routes, mountain trails, etc.
Raleigh brand makes bikes for beginners and pros; therefore, it's safe to purchase from them. It has plenty of models, and you'll find a bike for the rock mountain to city terrain.
It has Raleigh's entry-level models for beginners. Therefore if you are a beginner, it's the best choice since you can quickly adapt. Note that bicycle mastery needs practice.
Practice brings confidence, and you'll be able to use more complex bikes after some time. Raleigh has an excellent reputation, history, innovativeness, and manufacturing process that make their products a good buy.
History Of Raleigh Bikes
Raleigh manages to stay in bike market competition because of continuous improvements. The company's history is long, and that's since 1885.
Paul Eugene, a French man, and Richard Woodhead, an English man, set up the company in England. Raleigh's company growth was relatively steady, and by springtime, the bikes were advertising in local newspapers.
A British inventor, Frank Bowden, chose cycling after an illness and purchased one of Raleigh's bikes. Raleigh's bike quality impressed Frank Bowden, and he did acquire the company in 1888, naming it Raleigh Cycle Company.
Raleigh Cycle Company was among the largest bicycle manufacturers by 1913. It became a world leader in bicycle manufacturing company in 1920 and could make approximately 100,000 bikes yearly.
There were many challenges, such as World War II, but Raleigh's growth was still healthy. Its sales and production rose, and Raleigh manufactured 5400 bikes a week.
Raleigh Company did sign a professional Olympic cyclist known as Reg Harris. The introduction of the famous chopper bike was in 1969, selling 1.5 million bikes. The introduction of the Grifter bike to the market was in 1976 and the burner series in the '80s.
The company's reputation did continue growing steadily, and in 1990, it was the British 1st bicycle manufacturer to mass-produce mountain bikes with suspension. It's among the oldest bike companies in the world.
Where Are Raleigh Bikes Manufactured?
The Raleigh bike is British-born, but bicycle manufacturing is not in the United Kingdom since 2002. Its headquarters are still in the UK in Eastwood, Nottinghamshire, but it doesn't have manufacturing and assembling companies in the United Kingdom.
Accell, a Dutch company, did purchase Raleigh in 2012. Accell owns several bike brands globally, which means the partnership expanded Raleigh's market.
However, the Raleigh brand still has an excellent focus on its original British market. Overall, Raleigh pledges that its heart is still England, Nottingham despite manufacturing and assembling the bicycles in Germany and Vietnam.
Today's Raleigh Bikes Quality
To date, Raleigh is still famous for high-quality manufacturing bikes. It has bikes for almost all purposes, and you will find excellent quality commuter bikes to mountain bikes.
The different bicycles have varying saddle types, handlebars, and tires. They all vary depending on the route type that the bicycle is to operate from.
For example, the mountain bike will need tires with a firmer grip than the Raleigh road bike. It's because the mountain surface is rougher, and only a firmer grip can endure it for long.
Raleigh bike frames are pretty lightweight, but they depend on bike type. Plus, the framework has smooth paint, is stylish, and has a clear finish that makes the bike stand out.
Raleigh offers a variety of options, and this caters to all groups, such as pro and beginner cyclists. Production of several quality options is possible because of the company's manufacturing experience and longer involvement in the cycling world.
However, Raleigh's ultimate goal is to offer riders the best quality bike for their specific skill set, ambitions, and confidence. You can be sure of incredible quality with Raleigh despite the bike type you select.
Reason To Buy Raleigh Bikes
Value for money
The Raleigh brand makes a wide variety and quality bikes, and you will surely get value for your money. Bike price is dependent on the bike's complexity and design.
Road bikes are usually cheaper than mountain bikes because they have fewer gears, plus their tires don't need much grip. The designs of Raleigh bikes allow them to navigate various surfaces and routes without difficulties.
It's because they have the entire necessary components that riders need without overspending.
Quality
Raleigh's top-notch quality is its most significant selling point. The bicycle materials are high-quality, lasting longer despite the use, weather conditions, or terrain.
Plus, the bicycle paintwork will stay intact after years of use and long as you take good care of it.
Variety
There are many Raleigh bike models in the market. Therefore whether you are a professional or beginner, you'll surely get a back that suits your needs.
Plus there are bicycles for mountaineers etc. Raleigh brand also offers children and adult bicycles. If you need a durable and excellent quality bicycle for your child, then it's the perfect manufacturer to buy from.
The bike brand is for cycling enthusiasts, and therefore it ensures its products are top notch and offer a wide model range for various cycle routes.
Experience
The bicycle brand has existed for centuries from the 19th century and has a lot of experience in bicycle manufacturing.
It makes high-quality bicycles that ensure the cyclist has a great experience. When purchasing a bicycle for the Raleigh brand, be sure to get a high-quality bike and value for your money.
In addition, Raleigh is a very trustworthy company with reliable products. Therefore buying a bicycle from them will surely be a long-term investment and serve you for years.
Durable
Everyone needs a bicycle that will last longer since it makes an excellent long-term investment. However, you should note that the bicycle will only last longer if the design permits it.
There are bicycle designs that are specifically for rugged trails. The bicycle's materials are resistant and robust. Such bikes are high quality and thus more durable, allowing them to stay longer.
With the Raleigh bike, you won't worry about maintenance, and their excellent quality makes them need less maintenance. The bicycle frame is lightweight, and this design makes it easier to navigate. It helps you avoid accidents that will lead to bicycle dents or scratches.
The bikes are also known to endure different weather conditions. Therefore the bike's exteriors will still look pristine after years of usage.
Alternative Raleigh Brands
The bicycle became popular in Europe during the 19th century. Today the bicycle is still among the popular transportation means globally. Others use bicycles for recreation because it's a fan and recycling sport.
Unlike other activities, cycling is healthy and straightforward, plus it doesn't need additional resources other than human power.
In the modern world, cars and planes are pretty popular, but you should note that most parts in these automobiles and airplanes first appeared in bicycles.
It simply means that the bicycle's invention significantly impacted technological and societal development. By 2003 there were more than one billion bicycles globally.
There are also many bicycle manufacturers, and here is a list of the best alternatives.
Giant
It is a Taiwan brand among the world's largest bicycle manufacturers. By 2014 it had more than 6.6 million bicycles globally and an estimated income of more than 1.8 billion.
Giant did begin in 1972 to make cycling better.
GT
The company is in the United States in Santa Ana, California. It was founded in 1979 and is famous for the BMX bikes.
Marine
It's another famous American brand that specializes in mountain bikes. However, it also makes bicycles for other cyclist categories. Their bicycles' price is either high or mid.
Conclusion
Raleigh is a great company and builds excellent quality and durable bikes for all rider categories. With Raleigh, you'll be enjoying a ride that has been around for centuries.
The England bicycle brand did begin as a small bicycle shop in Nottingham. Today it's among the largest bicycle manufacturers globally.
Overall, Raleigh is a good bicycle brand and will offer you value for your money. Plus, the brand offers variety, and you'll most likely find one for your needs.