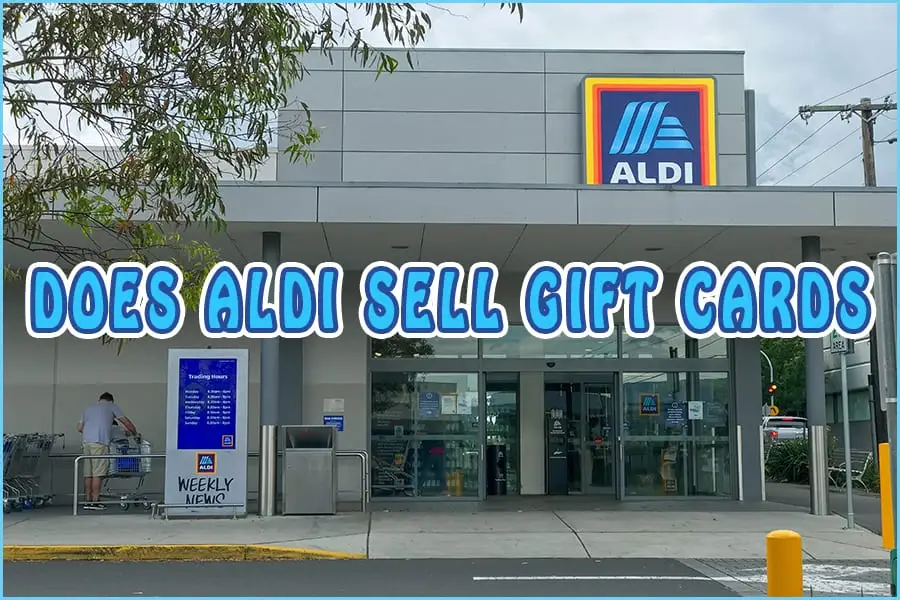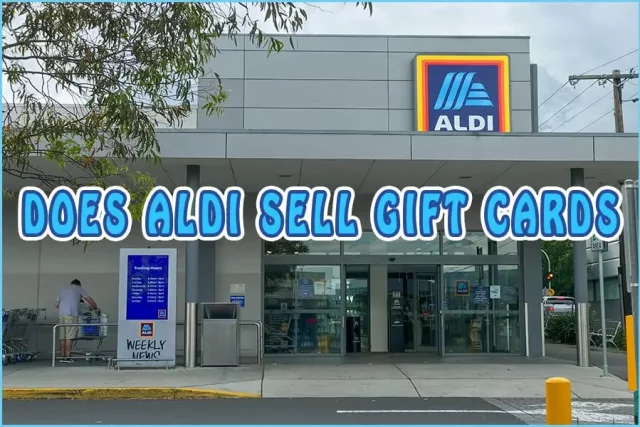 Aldi stands for Albrecht Discount and is a grocery giant popularly known for its super-discounted prices.
The grocery store is known for its low designs, and customers flock to Aldi for amazing deals. You can buy several things from the store, such as groceries, pantry items, household supplies, etc.
With amazing deals and its recognition for selling merchandise at discounted prices, many wonder if the retailer sells gift cards.
The article has all information you need to know about Aldi gift cards. It starts by answering your question.
Does Aldi Sell Gift Cards
Yes, the giant supermarket sells gift cards, including Aldi and third-party gift cards. You can buy the Aldi gift cards any time of the year and load them up to $100. But you can only buy third-party gift cards during holidays, and their price points vary.
However, Aldi-specific cards come with various restrictions, unlike third-party ones.
Where To Buy Aldi Gift Cards
You can purchase the Albi gift cards from their store; mostly, they're near the gum and mint section.
Currently, the store doesn't sell the cards online, and therefore you must be wary of websites claiming to sell them. However, there's an exception when you buy several business cards for an organization or business.
You can order using email and include values, quantity, and restrictions here. Make the payment using a check from the organization or business account. The grocery store doesn't allow a personal check for this transaction.
The Amount You Can Put On Aldi Gift Card
The maximum amount you can load on your Aldi gift card is $100, while the minimum is $5.
However, if you want to load more than $100, you'll have to buy several cards. In addition, the Aldi website states that the amount increments are in the sets of $5 up to $100.
Note that you can load additional money after using up the initial fund. However, if you do not add money within 90 days of using the entire card's funds, it'll be deactivated. Meaning you won't be able to add funds or use the card.
The only available solution will be to purchase another Aldi gift card.
How Does Aldi Gift Card Work
Using the Aldi gift card at any of their stores is so straightforward. All you need to do is give the card to the store cashier during checkout.
The cashier will then scan the card, and if it has enough funds, it'll automatically pay for the items.
However, if the funds are insufficient, you'll have to pay the remaining balance using your debit or credit card.
After the payment, the cashier should inform you about the remaining card amount. Alternatively, you can check the receipt bottom for the card balance.
In addition, you need to know that you can't use Aldi gift cards online. There's no online platform to use the card since Albi is yet to introduce this feature.
Restrictions
There are a few restrictions when using Aldi gift cards. Firstly you should understand that this card isn't redeemable for cash or other gift cards except in places required by law. The store cannot also use the card on your previous returns or purchases.
You also need to know that the card is nonrefundable, and its value is irreplaceable if stolen or lost.
On the other hand, the card lacks an expiration date but will deactivate after 90 days if it's without funds. Lastly, you can use the card to buy anything in Aldi grocery other than other gift cards.
Can One Purchase Alcohol With Aldi Gift Card?
Alcohol lovers should rejoice since they can use the Aldi gift card to buy alcohol unless the rules state otherwise.
But basically, you can use the Aldi gift card to purchase anything in-store. However, some Aldi gift cards are specifically for food.
It means you can only buy food with them and not alcohol.
Third-Party Gift Cards Sold At Aldi
Other than Aldi-specific gift cards, the store does sell third-party gift cards. But the gift cards are usually available only during special seasons like the winter holidays.
Besides their seasonality, location and stock availability affect the gift cards selection. Here is a list of various gift cards at Aldi according to different categories.
Food and Drinks
Chili's

Chipotle

Applebee's

The Cheesecake Factory

Dunkin'
Retail
Apple gift card

American Eagle

Amazon

Best Buy

Barnes and Noble
Entertainment
Binge

AMC Theatres

Fandango

Events Cinema

Hoyts
Prepaid
Master Card

Visa

Eftpos

America Express

Only 1 Visa
Transport and Leisure
Uber

Shell

Boating Camping Fishing
There are many more gift cards under the listed categories. You can visit any Aldi store for more information.
Aldi Retail Store
Aldi is a German discount store that is family-owned. It has several supermarket chains with more than 10,000 stores in about twenty countries. The discount store is estimated to be making approximately more than $50 billion annually.
The founder of Aldi was Anna Albrecht in 1913, but it was taken over and expanded by brothers Theo and Karl Albrecht.
Later in 1960, the business was divided into two groups, Aldi Nord and Aldi Sud. The two businesses operate under the same no-frills principle.
Today they operate on a much broader global scale and are found in almost all major countries. Aldi is popular because of its no-frills store design and low prices. The groceries in Aldi have low prices because they carry a private label.
In addition, the store limits store hours and enforce the cart-rental system to lower labor costs.
Why People Love Aldi
If you aren't living within a shopping distance of one of these German-based grocers, you aren't lucky.
Today, Aldi has about 1600 stores in 35 states. Here is a quick primer for those that haven't had the chance to visit any Aldi store.
The store's main focus is offering its customers high-quality food at an affordable price. You'll love them after shopping at Aldi because they consistently and conveniently deliver high-quality and affordable food.
It would help if you shopped at this giant retailer once to learn what the fuss is all about.
Consumers rave about the store's award-winning wine and organic food options that sell for less. You can also buy some exclusive name-brand products.
Aldi believes that every person deserves quality food regardless of their budget. It allows you to save money while feeling good about the stuff you are buying.
Therefore the company distributes more than 90% of its merchandise through its in-house lines.
The private but affordable labels enable shoppers to stock their fridges with cheap, healthy food. In the process, it might end up encouraging a new summer diet.
The store has many brands, but the most loved ones include Little Journey lines, LiveGFree, Specially Selected, and Simply Nature.
How Does Aldi Manage To Stay Profitable
Many consumers wonder how the company manages to stay profitable, and yet it sells its items at hugely discounted prices.
However, you should know that Aldi makes money through a streamlined, simple approach to selling things consumers take home.
The store's focus is to help people save money on essentials by not charging for the unnecessary.
Overall, the simplicity of their stores keeps them in competition while others continue to struggle.
Frequently Asked Questions (FAQs)
Does Aldi Sell Gift Cards For Other Stores?
Yes, Aldi sells gift cards for other stores. However, gift cards are only available during holiday seasons. Amazingly there is a wide variety of gift card selections, including transport, leisure, retail, entertainment, etc.
Where Can One Buy Aldi Gift Cards?
Aldi gift cards are only available for purchase in their physical store and not online in the US. They are mostly toward the store's entrance or the checkout aisle.
Does Aldi Sell E-Gift Cards?
Unfortunately, Aldi doesn't sell e-gift cards in the USA. However, they are available for purchase in other countries like the UK.
Does Walmart Sell Aldi Gift Cards?
No, Walmart doesn't sell Aldi's gift cards because it is one of their competitors. Many grocery stores, including Aldi, have competed with Walmart for years.
Do Aldi Gift Cards Expire?
No, the gift cards do not expire as long as they have enough balance. Therefore, you have to ensure the gift card has funds not to be deactivated.
Can One Buy Aldi Visa Gift Cards?
Yes, the giant store has cards, and all you need is to pay a $5 fee for activation.
Conclusion
This article answers most consumers' questions "does Aldi sell gift cards?" Aldi sells their cards and third-party cards. They can be an ideal gift for any occasion.
You can put any amount between $5 and $100 in an Aldi gift card, making it a lucrative option. The amazing part is that you can buy anything from the Aldi in-store using the gift card. Lastly, the gift card is easy to use, which offers convenience.